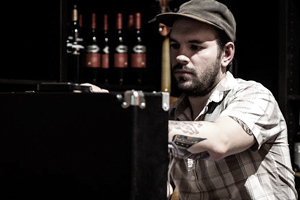 Aaron Zarzutzki
(on
ie-013
)
Kingston-based experimental musician and visual artist Aaron Zarzutzki (1987), recently performing and releasing as Zoots Houston, describes himself as 'an improviser of various sorts'. He works primarily with misuse and perversion of objects and systems. As he says, virtuosity, volatility, futility and capability are thought of. Known for his self-made electronics and as an innovative turntablist, Zarzutzki has recorded and released remarkable duo albums with like-minded artists such as Brent Gutzeit, Nick Hoffman, Graham Stephenson, Richard Kamerman and Fred Lonberg-Holm.
---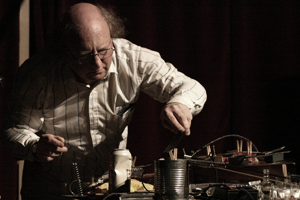 Adam Bohman
(on
ie-004-2
)
London-based experimental musician and visual artist Adam Bohman (1959) has been operating on the outer fringes of underground music for decades. Working with home-built instruments, found objects, tape cut-ups, collages, ink drawings and graphic scores. Favouring acoustic sounds over electronics, he explores the minute tendrils of sounds coaxed from any number of non-musical instruments and objects. He is a member of British experimental groups Morphogenesis, The Bohman Brothers, Secluded Bronte and the renowned London Improvisers Orchestra.
---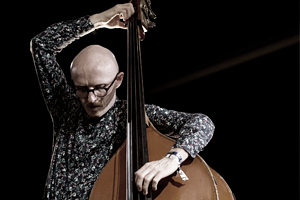 Adam Pultz Melbye
(on
ie-025
)
Danish double bass player, composer and researcher Adam Pultz Melbye (1981) currently lives in Berlin. He has toured extensively as a solo artist and with several own and co-led projects in Europe, the United States, Japan and Australia. He creates sound installations and is a frequent collaborator of dancers, filmmakers and visual artists. His most remarkable on-stage collaborators include Axel Dörner, Evan Parker, Lotte Anker, Pat Thomas and Julia Reidy. He is currently undertaking practice-led PhD-research at Sonic Arts Research Centre in Belfast.
adampultz.com
---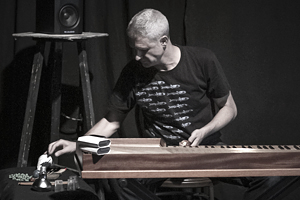 Alejandro Rojas-Marcos
(on
ie-026
)
Pianist and improviser Alejandro Rojas-Marcos (1966) participates assiduously as a composer and interpreter in dance performances. His collaborations with Israel Galván, Niño de Elche, and Pedro G. Romero stand in the vanguard of flamenco. The search for a sound that is free from the social and aesthetic values historically associated with the piano prompted him to explore the clavichord, an instrument traditionally used privately by composers and organists as a creative aid. This idea of the instrument as a search tool constitutes the launching point of his work.
---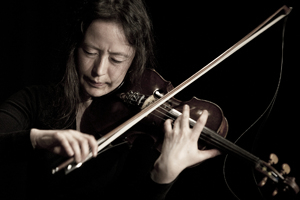 Alison Blunt
(on
ie-021
)
London-based violinist Alison Blunt's (1971) fascination with sound, motion and space has led her into various international projects exploring boundaries between art forms and new music. Has worked with a diverse array of artists, ensembles and theatre projects. Her activities include commissions for radio, film, theatre, dance and composing, arranging and recording all kinds of music. Member of Barrel, Barcode Quartet, Hanam Quintet, the London Improvisers Orchestra; and has recorded with Trevor Watts, Weryan Weston and Hannah Marshall.
alisonblunt.com
---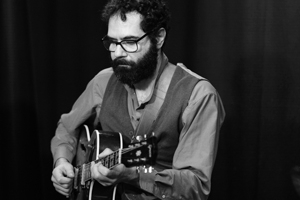 Anastasios Savvopoulos
(on
eff-006
,
eff-008
)
Greek guitarist, improviser and composer Anastasios Savvopoulos (1980) is currently residing in Berlin. As a self-taught composer, he is mainly interested in the temporal forms of experience and the complexity of auditory phenomena that impact subjective perception and memory. Encounters with the theater of Artaud and his radical emancipatory project of the body through ritual, gesture and speech; Deleuze's concepts of deterritorialization, multiplicities, difference and repetition; as well as Bergson's duration and intuition shape the conceptual body of his theoretical and practical direction.
---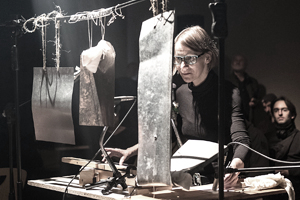 Annette Krebs
(on
ie-022
)
Before German sound artist Annette Krebs (1967) began developing her instrument series Konstruktion, she gradually deconstructed her original instrument, the guitar. During this period she collaborated with Keith Rowe, Taku Sugimoto and many others. Since 2013, she has been playing assemblages made of highly amplified metal pieces, strings, objects and microphones. These instruments, from Konstruktion #1 to Konstruktion #4 originated from the necessity to realize sound visions that couldn't be played with traditional instruments and setups.
annettekrebs.eu
---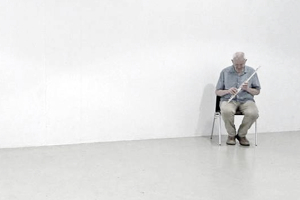 Antoine Beuger
(on
ie-007
,
ie-023
)
Dutch minimalist composer Antoine Beuger (1955) studied with Ton de Leeuw at Sweelinck Conservatorium in Amsterdam in the mid-seventies. In 1990 he began composing after an interruption of about a decade, and two years later he founded Edition Wandelweiser together with composer Burkhard Schlothauer. His compositions have been interpreted by Konzert Minimal, Ensemble Dedalus, Jürg Frey, Radu Malfatti, Greg Stuart and Cristián Alvear – among others. Since 1996 he has been artistic director of Edition Wandelweiser Records.
wandelweiser.de/beuger
---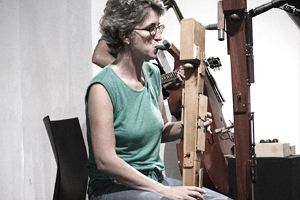 Bárbara Sela
(on
ie-026
)
Recorder and bassoon player from Madrid residing in Sevilla, Barbara Sela (1969) is an early music interpreter and teacher. She collaborates with numerous ensembles in diverse venues, thus sparking a special interest in her instrument's projection of sound concerning space, grouping, and perception. Her interest in the timbral possibilities of the recorder without withdrawing it from its intimate, natural environment is a gateway into the field of free improvisation.
---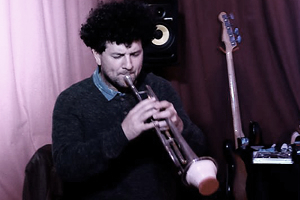 Benjamín Vergara
(on
ie-013
)
Trumpeter, improviser and educator Benjamín Vergara Portales (1982) was born in Santiago de Chile, and now based in the city of Valdivia, Chile. His work focuses on composed contemporary music, free jazz, improvised and experimental music. Professor in music improvisation at School Of Music And Sound Art at Universidad Austral de Chile (UACh), Vergara has collaborated with a huge range of musicians, ensembles and multi-disciplinary projects. He is the director of experimental music festival Relincha, occurring since 2014 in the city of Valdivia.
benjaminvergara.com
---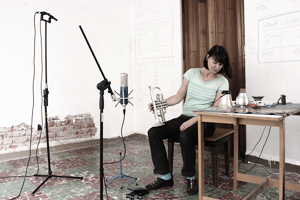 Birgit Ulher
(on
ie-005
,
ie-011
)
German trumpet player Birgit Ulher (1961) studied visual arts, which still have an important influence on her music. Since moving to Hamburg in the early eighties, she has been involved in free improvisation and experimental music. Since then she has established a distinguished grammar of sounds beyond the open trumpet. Since 2006 she has been working with radios and uses extended speakers, fed with radio noise in her trumpet mutes. She has collaborated with Lou Mallozzi, Rhodri Davies, Damon Smith, Roger Turner, Sven-Åke Johansson...
birgit-ulher.de
---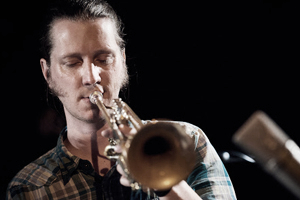 Brad Henkel
(on
eff-006
)
Brad Henkel (1985) is a trumpet player and composer from the States, currently based in Berlin. With a primary focus on improvisation, using a broad color palette of pitched and unpitched sounds, he creates and participates in music which is rooted in the free jazz, contemporary composed and Echtzeitmusik traditions. He studied jazz trumpet in Los Angeles with Bobby Shew and Clay Jenkins, and improvisation and composition with Jeff Kaiser and John Fumo. He also studied improvisation with Tony Malaby, Ralph Alessi and other staples of the New York scene.
bradhenkel.com
---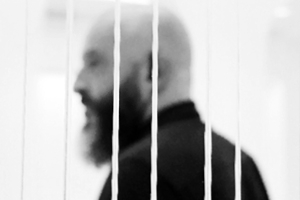 Bruno Duplant
(on
ie-018
,
ie-029
)
For prolific composer, improviser and multi-instrumentalist Bruno Duplant (1968) composing, improvising and playing music is similar to imagining, creating, and sometimes decomposing new spaces/realities and new entities. But it is also a reflection on memory, not the historic one, but memories of things, spaces and moments. His music – strongly inspired by writings of Gaston Bachelard and Francis Ponge, and by composers such as Cage, Luc Ferrari, Eliane Radigue or Rolf Julius – is imbued with sweet melancholy. For some time, his photographic practice and poetry join his musical practice – in many crossings, for many exchanges.
---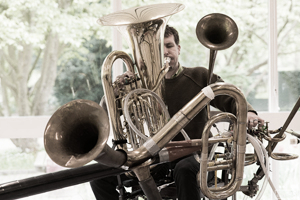 Carl Ludwig Hübsch
(on
ie-010
,
ie-023
)
Born in Freiburg, Germany, Carl Ludwig Hübsch (1966) grew up playing clarinet in local brass bands and drums in punk bands. In the early eighties he swapped clarinet for tuba. He studied electronic music with Klaus Weinhold, later in Cologne he studied as guest in the composition class of Johannes Fritsch. Since 1990 Hübsch has lived in Cologne where he finally awarded a livelong stipendium at his own university. Has played in numerous big bands, small groups and recorded music with Jaap Blonk, Axel Dörner, Mazen Kerbaj, Christoph Schiller etc.
huebsch.me
---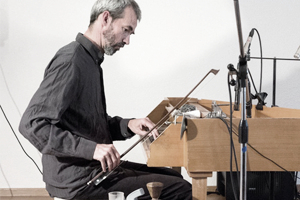 Christoph Schiller
(on
ie-011
)
Christoph Schiller (1963) studied fine arts at the Kunstakademie Stuttgart and HfBK Hamburg, later studied music theory and piano with Daniel Cholette in Basel. He has been playing concerts of improvised music on piano since 1987, recently the piano has been abandoned in favour of the lighter spinet, for which he has developed specific playing techniques which are influenced by inside piano techniques. He has recorded among others with Marianne Schuppe, Michel Doneda, Sebastian Lexer, Jonas Kocher, Harald Kimmig and Pierre-Yves Martel.
christophschiller.net
---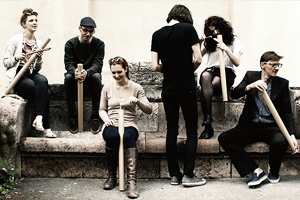 Conceptual Soundproductions Budapest
(on
ie-007
)
Hungarian collective Conceptual Soundproductions Budapest was founded by German composer and theoretician Nikolaus Gerszewski at the Hungarian University Of Fine Arts in 2014. The group with its ever-changing line-up concentrates on experimental and conceptual music starting with and after Cage, including the classic avantgarde – Cardew, Wolff, Riley etc. – as well as the manifestation of experimental traditions in contemporary music – e.g. artists in and around the Wandelweiser collective –, and the compositions by members of Conceptual Soundproductions Budapest.
---
Craig Shepard
(on
ie-028-2
)
American composer Craig Shepard (1975) is a sound artist and trombonist who writes music related to stillness. He directs event series Music For Contemplation, leads silent walks, and scores music for large groups outdoors. His recent large-scale projects include Broken Silence, On Foot and Trumpet City. His music is published by Edition Wandelweiser, and has been described as 'dreamlike melancholy', 'touchingly beautiful' and 'truly invulnerable'. Shepard has performed with Christian Wolff, the Merce Cunningham Dance Company and many others.
onfoot.org
---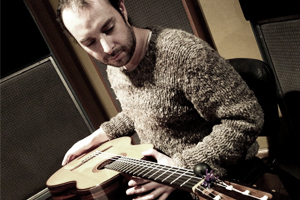 Cristián Alvear
(on
ie-008
)
Chilean guitarist Cristián Alvear Montecino (1979) is dedicated to perform, premiere and record contemporary composed and experimental music. Constantly performing in Chile as well as at international festivals and concert venues in Europe and Asia. Over the recent years he has concentrated his efforts in performing educational concerts in the rural areas of the Los Lagos region in Southern Chile. His works have been published by outstanding record labels such as Edition Wandelweiser, B-Boim, Another Timbre, Rhizome.s and Potlatch.
cristianalvear.com
---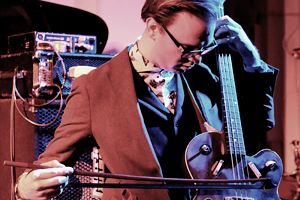 Dan Peter Sundland
(on
eff-008
)
Oslo-born, currently Berlin-based Dan Peter Sundland (1986) is a unique electric bass player and composer active in the free jazz and improvised music scenes of Norway and Germany. His playing is set apart by his expressive, wide ranging playing techniques, including cello-like bowing and a varied palette of percussive colours. He has been featured with musicians including Axel Dörner, Tobias Delius, Henrik Munkeby Nørstebø, John Hollenbeck and Steve Heather; and nominated for ECHO Jazz Newcomer of the year in 2017 with Clara Haberkamp's trio.
danpetersundland.com
---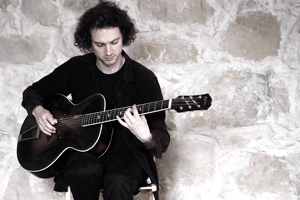 Daniel Thompson
(on
ie-003
)
Guitarist Daniel Thompson (1981) was born in Norfolk, England and has been based in London since 2005. After studying with guitarist John Russell for two years, he has collaborated with emblematic musicians of the London improv scene such as Caroline Kraabel, Sue Lynch, Evan Parker, Adrian Northover, Alex Ward, John Edwards, Guillaume Viltard, Olie Brice, Philipp Wachsmann and Adam Bohman – to name only a few. Some of his recordings can be found on labels such as Creative Sources, Leo, Confront, Raw Tonk or Linear Obsessional.
danielthompsonguitar.com
---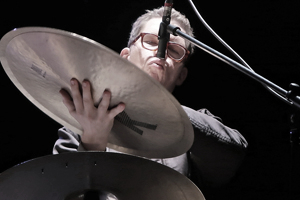 Dré A. Hočevar
(on
eff-006
,
eff-008
)
Dré A. Hočevar (1987) is a Slovenian composer and researcher based in Amsterdam. Currently, he is conducting his PhD studies at the Centre For Research In New Music, University Of Huddersfield. The central subject of his research and composition praxis is .meta [dynamic cognitive-apparatus formation, application, and analysis systems]. He is the artistic director and founder of .alfabet, Institute For Research In Art, Critical Thought And Philosophy, and is frequently leading workshops, seminars, and lectures in composition, performance, research.
theōriaedoxa.com
---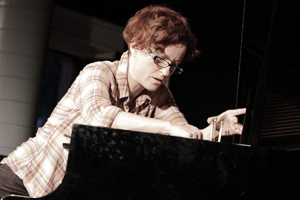 Elisabeth Harnik
(on
ie-021
)
Austrian pianist, improviser and composer Elisabeth Harnik (1970) has created a multi-faceted body of work by blurring genre boundaries through various collaborations in the field of improvised music, interdisciplinary projects and contemporary compositional works. As an improviser she works within an electro-acoustic inspired sound-world, using specific preparations and extended techniques while pushing the limitations of the piano. Her performances draw from physicality and introspection, intuitive playing and high precision.
elisabeth-harnik.at
---
Emilio Gordoa
(on
ie-025
)
Berlin-based Mexican vibraphone player, percussionist and sound artist Emilio Gordoa's (1987) work has been presented at numerous festivals worldwide, and is often characterised by collaborations with other art forms. He is redefining the vibraphone as a sound source, treating it with preparations and extended techniques, and is a busy composer as well, writing graphic scores for various ensembles, theater plays and documentary films. He has performed with Ute Wassemann, Nate Wooley, John Butcher, John Edwards and Butoh dancer Yuko Kaseki.
emiliogordoa.com
---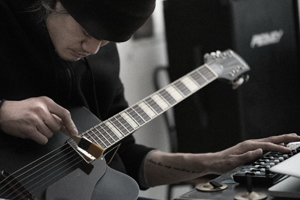 Eric Wong
(on
ie-017
)
Berlin-based artist Eric Wong (1981) was born in Minneapolis and grew up in Hong Kong. He studied psychology at the University Of Minnesota, and subsequently audio production and engineering at the Institute Of Production And Recording. As an improviser, composer and sound artist, as well as an experimental guitarist, his main focus lies on sound textures, sound perception and spatial experience. In 2016 he co-curated and performed at UnStumm Hong Kong, a cross media improvisation performance with artists from Germany and Hong Kong.
ericszehonwong.tumblr.com
---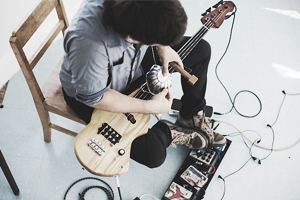 Éric Normand
(on
ie-009
)
Rimouski-based composer, improviser, bassist and instrument designer Éric Normand (1977) defines himself as an epidisciplinary musician. As an improviser, he has developed a personal and radical playing on his home-made electric bass, equipped with contact microphones and objects feedbacking and vibrating by small electronic devices, creating electric flux interrupted by instrumental gestures. With this set, he runs regular duos with Xavier Charles, Jim Denley, Philippe Lauzier, Magda Mayas, Pierre-Yves Martel and Martin Tétreault.
ernormand.wordpress.com
---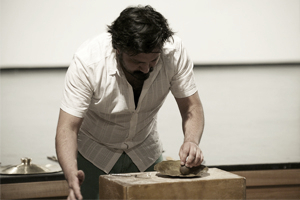 Felipe Araya
(on
ie-005
)
Felipe Araya (1978) from Chile has been playing drums and percussions since 1994, supported himself by self-learning and constant exploration. Since 2007, he is active in the fields of experimental and improvised music; by now, he mostly uses his Peruvian cajón horizontally, as a table surface: he rubs, strikes, strokes, scrapes, swipes, slides, drops, stirs and excites different objects and materials, some designed for sound while others not. He has worked with Chilean improvisers Edén Carrasco, Santiago Astaburuaga, Nicolás Carrasco and many others.
felipearaya.org
---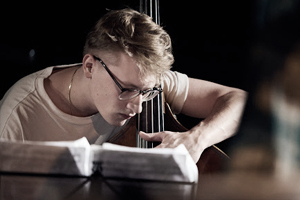 Felix Henkelhausen
(on
eff-006
)
Felix Henkelhausen (1995) was born in Oldenburg, Germany and started with classical piano and cello lessons at an early age. Later he became interested in the double bass and started his pre-studies at the HfK Bremn with Detlev Beier at the age of 16. Since 2014, he is studying at the Jazz-Institut Berlin with Greg Cohen. Other of his mentors have been Robert Landfermann, Jim Black and Drew Gress. Despite his young age, he has played with international renowned musicians such as Nate Wooley, Gebhard Ullmann, Toby Delius, Lotte Anker and others.
felix.henkelhausen.net
---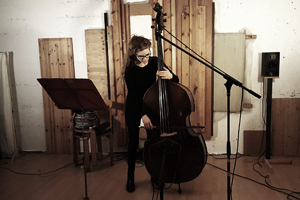 Félicie Bazelaire
(on
ie-031
)
Félicie Bazelaire (1986) is a double bass and cello player based in Paris. She shares her time between concerts and performances, studying pedagogy through her master's degree at the Paris Conservatory, and teaching at the Orsay And Auxerre's Conservatory. She is mostly interested in classical chamber music, and contemporary music with her various solo projects, with Ensemble Hodos and with the French large orchestra ONCEIM, led by Frédéric Blondy. She investigates the relationship between musicians, composers, improvisers and the actual music.
sites.google.com/site/feliciebazelaire
---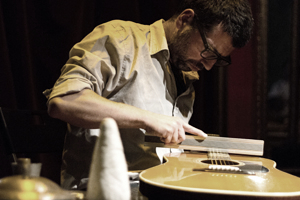 Ferran Fages
(on
ie-026
,
ie-032
)
Guitarist, composer and improviser Ferran Fages (1974) works within various musical contexts, but most of his discography and experience centers around improvisation. Marked by an interest in minimalist and austere approaches, his music decontextualizes the relationship between soft acoustic sounds and bold electronic sounds. His interest in resonance and interpretive gestures serve him as a support in the search for the elasticity of sound. His recent works have been released on labels such as Another Timbre, Edition Wandelweiser or Confront.
ferranfages.net
---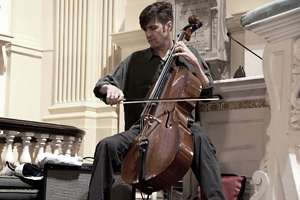 Fred Lonberg-Holm
(on
ie-013
)
Chicago-based cellist Fred Lonberg-Holm (1962) has played and studied music in a variety of situations from The Juilliard School to the gutter. A former student of Anthony Braxton, Morton Feldman, Bunita Marcus and Pauline Oliveros, his primary projects are his Valentine Trio and The Lightbox Orchestra. He is also a member of a number of ongoing collective projects as well as participating in numerous one-off ad-hoc or in frequently convening ensembles. He plays in various groups led by renowned saxophonists McPhee, Brötzmann and Vandermark.
lonberg-holm.info
---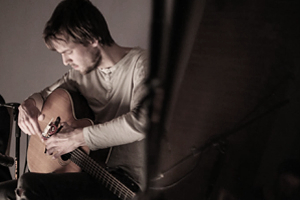 Fredrik Rasten
(on
ie-019
,
ie-031
)
Norwegian guitarist, improviser and composer Fredrik Rasten (1988) is based in Oslo and Berlin. Mainly focusing on the musical possibilities within just intonation and related sound phenomena, and in his work he is reaching for an actively listening state wherein to intuitively explore the complexities of tone and harmony. As a performer he is mainly playing acoustic guitar, using real time retuning of the instrument, vocal shadings and different preparations to create warm and fluctuating resonances. His active bands include Oker, Pip, Volumes and Arches.
fredrikrasten.com
---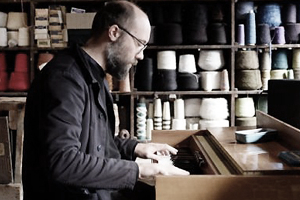 Frédéric Tentelier
(on
ie-029
)
French artist and musician Frédéric Tentelier (1981) creates musical theater performances and sound installations. He has been making music that is intended to confront with particular spaces and time within a theatrical set. The music he composes – with field recordings, Fender Rhodes, organs, banjos or objects – is recorded in specific spaces from graphic scores, topographic maps, harmonic translations or improvisations. He considers field recordings as harmonic and musical materials but also as temporal materials structuring musical forms.
frederictentelier.com
---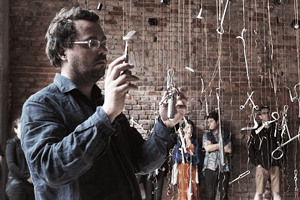 Gerard Lebik
(on
ie-020
)
Polish saxophonist, improviser, composer and sound artist Gerard Lebik's (1980) music and radical sound works oscillate between improvised and composed forms. Using acoustic and electronic media, he focuses on such phenomena as time, space, and perception of sound waves. Founder and curator of Sanatorium Of Sound festival and platform for experimental and new music in Sokołowsko, Lebik has collaborated, recorded and performed with Phil Minton, Keith Rowe, Jérôme Noetinger, David Maranha, Lucio Capece and Ryoko Akama among many others.
gerardlebik.net
---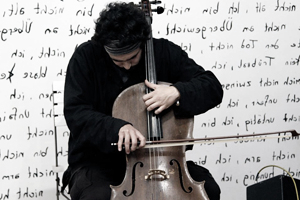 Guilherme Rodrigues
(on
ie-024
)
With his intuitive approach to improvisation and exploration of timbres, Berlin-based Portuguese cellist Guilherme Rodrigues (1988) is using both classical and extensive techniques. His work probes the physicality of the space in which listening occurs. His music, comprising both acoustic and electro-acoustic works, has been described as delicate, intense, focused and highly physical. He is part of label Creative Sources Recordings, music director of Hošek Contemporary art gallery and active member of Ame Zek's Reanimation Orchestra.
guilhermerodrigues.net
---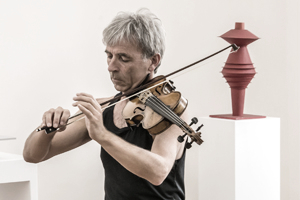 Harald Kimmig
(on
ie-014
)
Harald Kimmig (1956) is a German improvising violinist and performance artist. In his work he explores sounds and musical and other artistic forms by means of improvisation and their connections with other art forms. In addition to his constant collaboration with the Kimmig-Zimmerlin-Studer string trio, he gives concerts in various formations. He teaches improvisation at the Musikhochschule Trossingen, the TIP – Schule für Tanz, Improvisation und Performance – in Freiburg, and he is a regular guest educator at Swiss music academies.
haraldkimmig.de
---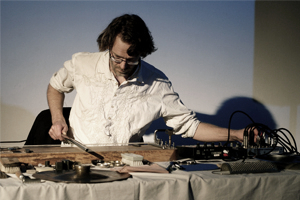 Herman Müntzing
(on
ie-002
)
Swedish musician Herman Müntzing (1964) is mainly interested in the fields of improvised and experimental music. Since the late nineties he has been working as a musician and educator with different Swedish and international groups, and has collaborated with Phil Minton, Eugene Chadbourne, Lotte Anker, Sten Sandell, Mats Lindström, Raymond Strid and Martin Klapper. He is giving lectures and workshops in many different situations, often striving for a brand new approach to the boundaries between sound and noise and music.
hermanmuntzing.com
---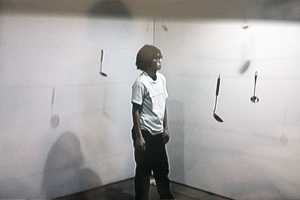 Hiroyuki Ura
(on
ie-008
)
Japanese musician and sound artist Hiroyuki Ura (1984) lives and works in Tokyo. He started out music as a drummer, but soon his attention turned towards experimental electronic music, lowercase improvisation and soud art. Since 2014, he has been running Twolines with Shinjiro Yamaguchi, regurarly collaborates with multimedia arists, dancers, sculptors, and musicians such as Brian Labycz, Léo Dupleix, Jason Roebke and Frank Rosaly. In the last couple of years he is recording, mixing and mastering for labels like Hitorri, Ftarri and Meenna.
ura.two-lines.org
---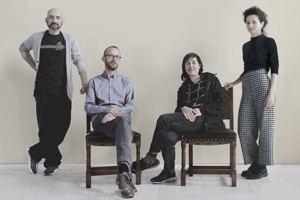 Hydra Ensemble
(on
ie-035
)
Rotterdam-based quartet Hydra Ensemble features cellists Nina Hitz and Lucija Gregov, double bassist Gonçalo Almeida and Rutger Zuydervelt on electronics. The ensemble is a juncture of four distinctive expressions finding common ground – together they form a four-headed entity that emerges from highly pensive collective improvisations, creating an intricate patchwork of concurrent melodic lines, textural explorations and expansive drones. Its sonic language exists on the cracks of free improvisation, minimalism and experimental foreboding ambience; and is as ominous and majestic as the multi-headed Greek mythical animal they are named after.
---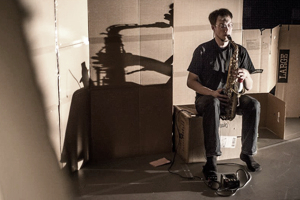 Ilia Belorukov
(on
ie-001
)
Ilia Belorukov (1987) is a saxophonist, improviser and composer from Saint Petersburg, Russia. He is heading to the directions of lowercase electroacoustic improvisation, free improvisation, free jazz and modern composition. He practices an experimental approach of sound extraction on his alto saxophone and various electronic devices. Among many others he has collaborated with Keith Rowe, Radu Malfatti, Norbert Möslang, Lucio Capece, Birgit Ulher, Annette Krebs and Lauri Hyvärinen. Since 2011 he has been co-managing the label Intonema.
belorukov.blogspot.com
---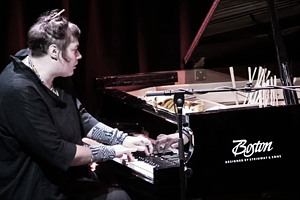 Ingrid Schmoliner
(on
ie-025
)
Pianist and voice artist Ingrid Schmoliner (1978) lives and works as a freelance musician, composer, curator and pedagogue in Vienna. Artistically she navigates among genres of new music, avantgarde jazz, free improvisation and folk music. Further focus of her work is on interdisciplinary collaborations with dancers, choreographers and media artists. She has performed and recorded with artists such as Udo Schindler, Joachim Badenhorst, Pascal Niggenkemper, Elena Kakaliagou, Thomas Stempkowski and Hamid Drake.
ingridschmoliner.klingt.org
---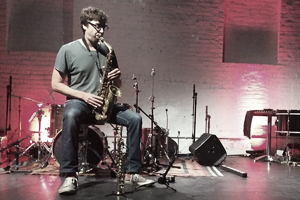 Jason Mears
(on
ie-012
)
From Alaska, Jason Mears (1974) is a saxophonist, improviser and composer who is now living and working in New York. He has been a member of Anthony Braxton's Trillium E Orchestra, Wadada Leo Smith's Silver Orchestra and Harris Eisenstadt's Canada Day Octet. His most recent project, his very own electro-acoustic ensemble explores the multidimensional possibilities of his unique compositional system. Has performed with Nate Wooley, Vinny Golia, Jeb Bishop, Leroy Jenkins, Damon Smith, Jason Roebke, Harris Eisenstadt and so on...
jmearsmusic.com
---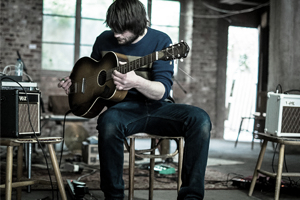 Jean D.L.
(on
ie-030
)
Jean De Lacoste (1984) from Ghent, Belgium is simultaneously working as a musician and as a video artist, but the approach he has to organized sounds and organized images seems reversed: his music – either when he plays the guitar or when he uses field recordings – is an imagetic and hazy soundscape, while his musically structured films try to provoke abstract emotions through the titillation of memories and fantasies. He has been working mainly in solo, but has also collaborated with artists such as Alan Courtis, Julia Kent, Sébastien Biset or Sandrine Verstraete.
jeandl.net
---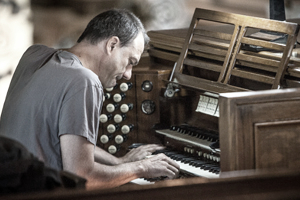 Jean-Luc Guionnet
(on
ie-022
)
Jean-Luc Guionnet (1966) is a French artist whose practice encompasses composition, improvisation, filmmaking and philosophy. Has toured extensively as a saxophonist, and has spent the past 20 years performing on historic church organs around the world. For him, music is one of many methods by which to test reality: approaching his instruments as imperfect vehicles of artificial intelligence, his attentive engagement applies speculative pressure to the expressive limits of their material properties. Running long-term duos with Éric La Casa and Seijiro Murayama.
jeanlucguionnet.eu
---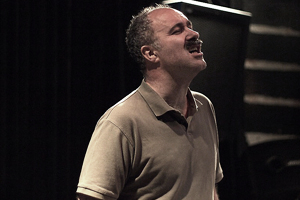 Jean-Michel Van Schouwburg
(on
ie-004-2
)
Jean-Michel Van Schouwburg (1955) is an improvising singer and vocal performer from Waterloo, Belgium. He has developed throat singing, overtone, jodel, mouth sound, falsetto and multiphonic techniques, and invented several unique languages since the early nineties. He is working with the trios Sureau with Jean Demey and Kris Vanderstraete, and Trio 876 with Matthias Boss and Marcello Magliocchi; and has recorded albums with Paul Dunmall, Marjolaine Charbin, John Russell, Philip Gibbs, Adam Bohman and Lawrence Casserley.
orynx-improvandsounds.blogspot.com
---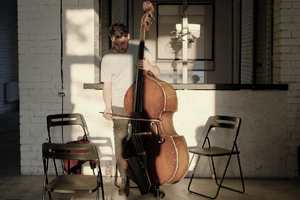 Jon Heilbron
(on
ie-019
)
Berlin-based Australian Jonathan Heilbron (1990) is a double bass player, improviser and composer working in the areas of contemporary composed, improvised, experimental and orchestral music. Through his solo performances on double bass and bontempi chord organ, he focuses primarily on the act of listening, with a constant awareness of the immediate context, be they outdoor environments, suburban settings or more traditional concert venues. Heilbron also explores microtonal harmonic shifts, revealing unexpected and intriguing sonic interactions.
jonheilbronmusic.com
---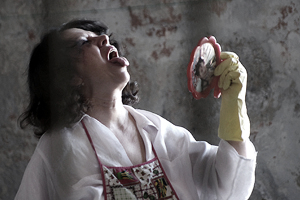 Katalin Ladik
(on
ie-004-2
)
Novi Sad-born Katalin Ladik (1942) is a Hungarian performance artist, voice performer, actress and writer. Parallel to her written poems she often creates sound- and visual poems, writes and performs experimental music and audio plays. She explores language through visual and vocal expressions, as well as movements and gestures. Her work includes performances, recordings, photography and collages in both urban and natural environments. In 2016 she was one of the four recipients of The LennonOno Grant For Peace alongside Ai Wei Wei, Anish Kapoor and Olafur Eliasson.
---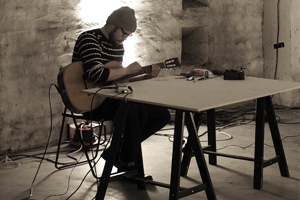 Lauri Hyvärinen
(on
ie-003
)
Helsinki-based Lauri Hyvärinen (1986) uses guitar as his main sound source. His sound and music related activities are of theoretical and practical nature, of which improvisation remains as his primary medium and interest. Hyvärinen utilises the possibilities of improvisation, compositional and minimalist structures in search for shared and intensified social and spatial constructions. Besides his solo ventures he has worked with musicians such as Jack Wright, Alan Wilkinson, Ilia Belorukov, Taku Sugimoto, Naoto Yamagishi and Morishige Yasumune.
laurihyvarinen.com
---
Lee Patterson
(on
eff-007
)
British sound artist Lee Patterson (1971) has devised and performs with a selection of amplified devices and processes. Whether working live with amplification or recording within an environment, he has pioneered a range of methods to produce or uncover complex sound in unexpected places. From rock chalk and springs, to aquatic plants and insects, he eavesdrops upon and takes inspiration from places and situations otherwise considered mute. Patterson's collaborators have included some of today's most respected experimental musicians and filmmakers.
---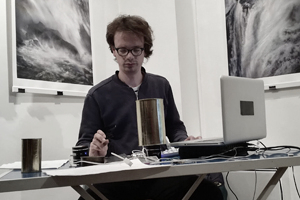 Léo Dupleix
(on
ie-031
)
Paris-born composer and improviser Léo Dupleix (1988) initially studied piano, but switched his focus to experimental and improvised music. In performance, he uses a variety of sonic elements including motor-produced vibrations, sine tones, white noises, feedbacks and field recordings. He previously lived in Tokyo for an extended period and has worked with a number of Japanese improvisers. In recent years, Dupleix has also been active as a composer: in 2018 he wrote the commissioned piece Melodies, Harmonies, Iterations for Suidobashi Chamber Ensemble.
---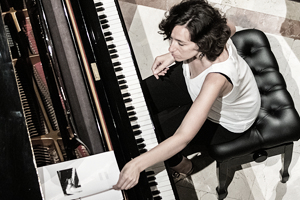 Lluïsa Espigolé
(on
ie-032
)
Barcelona-based pianist Lluïsa Espigolé (1981) is intensively engaged in contemporary music: her activity is focused on performances and premieres as soloist, chamber musician, and increasingly in interdisciplinary projects, sound performances and free improvisation. She develops pedagogical activities with universities as well as with musical institutions in particular on piano music of the XX. and XXI. centuries and multimedia repertoire. She is currently professor of contemporary piano and chamber music at the CSMA University Of Music in Zaragoza.
lluisaespigole.com
---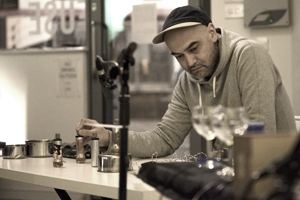 Makoto Oshiro
(on
ie-008
)
Tokyo-based artist and performer Makoto Oshiro's (1978) primary medium is sound, but he also combines other elements including light, electricity and movement of objects. In his live performances he uses self-made tools and instruments based on electronic devices, everyday materials and simple junk. His installation work handles sound as a physical and auditory phenomenon and focuses on characteristics such as vibration and interference. Released his first solo album on Hitorri, and has recorded collaborative works with Tetuzi Akiyama, Shinjiro Yamaguchi and Roger Turner.
---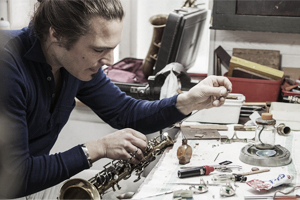 Markus Krispel
(on
eff-003
)
Markus Krispel (1977) started his musical career as a member of Vienna-based bands called Licht and Ron Bop, later he released solo materials under the aliases Der Polizist and Lesco Lak, homemade recording projects with all kind of instruments he could find and got interested in. Years later he got seriously into the alto saxophone and joined the Neu New York Music Institute at Celeste, Vienna, initiated by saxophonist Marco Eneidi in 2005 – now called the Monday Improvisers Session, still taking place on every Monday evening at the very same venue.
markuskrispel.eu
---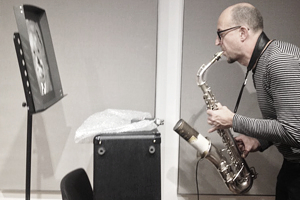 Martin Küchen
(on
ie-002
)
Swedish saxophone virtuoso Martin Küchen (1966) feels equally at home in free jazz bands and in projects which move towards the avantgarde. He has been active on the free jazz scene since the mid-nineties, when he performed on the streets and in Stockholm metro stations. By now, he became one of leading new voices in contemporary improvised music, leading bands like Trespass Trio, Angles and All Included. His recent collaborations include duos with Keith Rowe, Anders Lindsjö, Dimitra Lazaridou-Chatzigoga or Steve Noble.
martinkuchen.com
---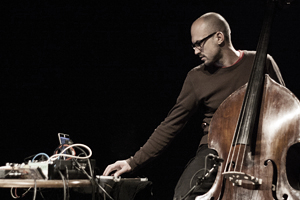 Matija Schellander
(on
eff-003
)
Austrian composer and improvising musician Matija Schellander (1981) is based in Vienna, mostly using double bass, modular synthesizer and speakers – processing input, moving air output. Over the last couple of years, he has focused on music for solo double bass. During his stay in Berlin he developed a project consisting of three parts that incorporates space, movement, light and sound. He has worked with composers and musicians such as Isabelle Duthoit, Burkhard Stangl, Kazuhisa Uchihashi, Okkyung Lee, Andrea Neumann or Enrico Malatesta.
matija.klingt.org
---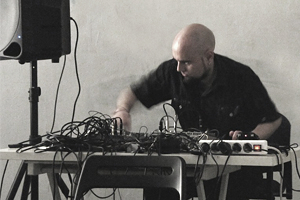 Miguel A. García
(on
ie-001
)
Miguel A. García (1980) from the Basque Country is one of the most dynamic sound artists on the Spanish scene. His works focus mainly on electroacoustic improvisation and composition. He uses sounds taken from electronic devices residues, often interrelated with field recordings or acoustic instruments, in the search of an intimate, intense and immersive experience. Has collaborated with Jean-Luc Guionnet, Wade Matthews, Sébastien Branche, Alfredo Costa Monteiro, Seijiro Murayama, Lee Noyes, Richard Kamerman – among many others.
xedh.org
---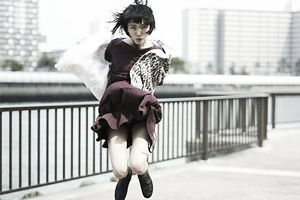 Minami Saeki
(on
ie-018
)
Movie actress, dancer and singer Minami Saeki (1990) studied classical ballet, contemporary dance and classical singing, and has acted in films such as Village On The Village (by Yukinori Kurokawa in 2016) or Natsu No Musumetachi: Himegoto (by Teiichi Hori in 2017) – among many others. Recently she is mostly active as a singer and composer who has worked with Taku Sugimoto, Manfred Werder, Stefan Thut, Junichiro Tanaka, Wakana Ikeda, Masafumi Ezaki and Takashi Masubuchi – only to name a few. Her album entitled Songs is a collaborative work with legendary guitarist Taku Sugimoto.
---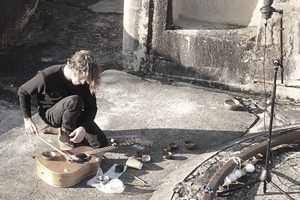 Nick Ashwood
(on
ie-027
)
Nick Ashwood (1990) is an Australian guitarist from Hobart, Tasmania, now residing in Sydney. He works with improvised and composed experimental music, and focuses have been on the possibilities of the steel-string acoustic guitar by means of preparations, just intonation and bowing. He has toured throughout Australia and New Zealand, member of the Splinter Orchestra, and has collaborated with artists such as Laura Altman, Amanda Stewart, Jim Denley, Robbie Avenaim, Annette Krebs, Isabelle Duthoit, Franz Hautzinger and Johnny Chang.
nickashwood.wordpress.com
---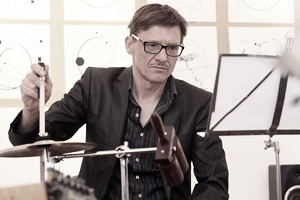 Nikolaus Gerszewski
(on
ie-007
)
Budapest-based German composer, theoretician and fine artist Nikolaus Gerszewski (1964) works with diagram notations and graphic scores in his compositions. Since 2008, his music has been regularly performed in Europe and the United States – his work, which he calls Ordinary Music, constantly focuses on the issue of an open result composition. In 2014, he founded Conceptual Soundproductions Budapest at Hungarian University Of Fine Arts, with the objective of combining conceptual thinking with experimental music practice.
ordinary-art.com
---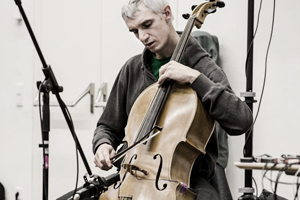 Noid
(on
ie-020
)
Vienna-based sound artist and cello player Arnold Haberl (1970), commonly known as Noid, understands his work as a fundamental research, leading to a wide range of contradictory outcome, spanning from cello solo and tape pieces to compositions for ensembles, improvisation scores or performances with electronic or hybrid instruments, from sound-installations to videos and imaginary music. Consequently ignoring the border between sound art and music, his main interests are the research on space and his lifetime occupation with the cello.
noid.klingt.org
---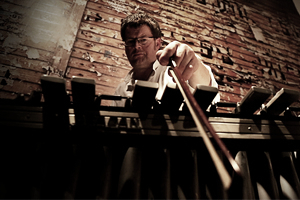 Oliver Mayne
(on
ie-004-2
)
Experimental vibraphone, electronics and analogue synthesizer player Oliver Mayne (1971) first encountered improvisation in a duo with a Brazilian pianist whilst living in Nottingham, England, but got more seriously involved in the adventurous side of music after moving to London, attending the weekly improvisation workshops run by Eddie Prévost of legendary British improvisation group AMM. He has been involved in various recordings through the years, including releases on Glitterhouse, Clinical Archives, Aural Terrains and Inexhaustible Editions. Currently he lives and works in Budapest, Hungary.
---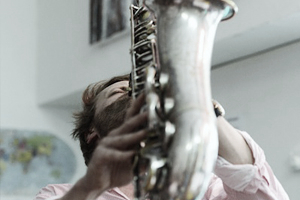 Peter Ehwald
(on
eff-008
)
Berlin-based composer and performer Peter Ehwald (1979) studied saxophone at the music academies of Weimar and Köln, at the Royal Academy Of Music in London, and at City College New York. His composition Alanis was performed at Carnegie Hall in spring 2007. Ehwald plays free jazz and free improvisation with countless small units, he is a member of Christian Krischkowsky's quartet and Stefan Leibinger's Trioplus; and leads his own groups Double Trouble and Paragon. His works have been released via labels such as Unit, Konnex or Jazzwerkstatt.
peter-ehwald.net
---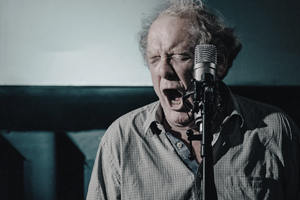 Phil Minton
(on
ie-010
)
British vocalist and voice artist Phil Minton (1940) started to play trumpet and sing with the Mike Westbrook Band in the early sixties. For most of the last fifty years, he has been working as an improvising singer in various groups, orchestras and situations. Numerous composers have written music especially for his extended vocal techniques. He has a quartet with John Butcher, Veryan Weston and Roger Turner, and ongoing duos, trios and quartets with above and many other musicians such as Audrey Chen, Sophie Agnel, Okkyung Lee and Joëlle Léandre.
philminton.co.uk
---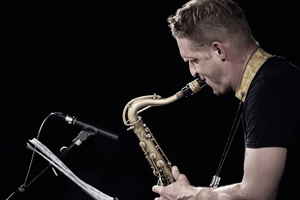 Philipp Gropper
(on
eff-006
)
Saxophonist Philipp Gropper (1978) was born in Berlin and began to play his chosen instrument at the age of 7. He studied jazz saxophone at the UDK Berlin and played with the concert section of Bujazzo for two years under Peter Herbolzheimer. He has since been busy as a freelance performer and composer, dedicating most of his time to developing his very own musical ideas. Gropper has recorded more than fifty albums and has been awarded several prestigious prizes. He has been a member of the Jazzkollektiv Berlin since 2009.
philippgropper.com
---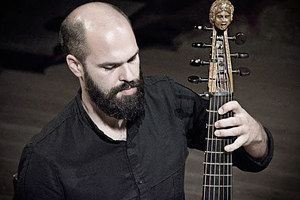 Pierre-Yves Martel
(on
ie-023
)
Although he is a double bassist and viola da gamba player, Pierre-Yves Martel (1979) identifies himself first and foremost as a sound artist whose work oscillates between research and experimentation. Having created an authentic musical language through non-conventional techniques and instrumental preparations, he also works outside of instrumental music, using a variety of objects rife with new sonic possibilities, from contact microphones and speakers to motors, wheels, surfaces and textures. He lives in Montréal, Québec.
pymartel.com
---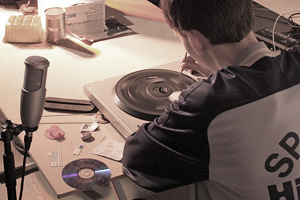 Piotr Tkacz
(on
ie-017
)
Text- and graphic-based open scores are of special interest to Polish turntablist and music theorist Piotr Tkacz (1985) both from practical and theoretical perspective. He is part of projects such as Kurort, Radioda, Stupor, Tkacze; and has recorded with Pascal Battus, Herman Müntzing and Alice Hui-Sheng Chang. Tkacz has been invited to prestigious festivals such as Ostrava New Music Days, Musica Electronica Nova, and gave lectures in the National Museum Of Ethnography in Warsaw, Academy Of Performing Arts in Prague, and Kulturhauz in Toruń.
piotrtkacz.tumblr.com
---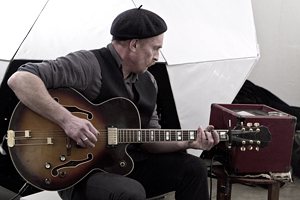 Ross Lambert
(on ie-016)
Northern Irish guitarist Ross Lambert (19xx) has been involved in, initiated and been a connector between a wide variety of improvisatory music since his first exposure and immediate commitment to it in Sheffield via Derek Bailey during the mid-eighties. Although his work is painfully under-documented, he has collaborated with a huge number of musicians, including Ami Yoshida, Evan Parker, John Butcher, Jean-Luc Guionnet, Tetuzi Akiyama and Rhodri Davies – as well as his close friends Seymour Wright, Sebastian Lexer and Eddie Prévost. His recordings have been published by Matchless and Earshots!.
---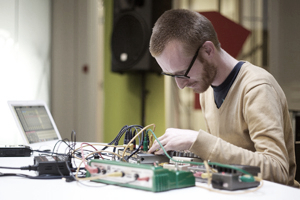 Rutger Zuydervelt
(on
ie-030
,
ie-035
)
Rotterdam-based composer and sound artist Rutger Zuydervelt (1978) started recording under the alias Machinefabriek in 2004. His music combines elements of electro-acoustic experiments, minimalism, field recordings, ambient, drone and noise. The music can be heard as an attempt to create sonic environments for the listener to dwell in. Finding tension in texture, tone and timing, the result can be very minimalistic at first glance, but reveals its depth upon closer listening, because as he says: the devil is in the details.
machinefabriek.nu
---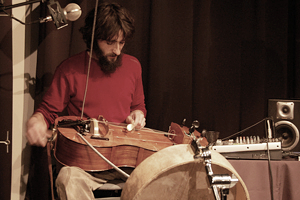 Samo Kutin
(on
eff-007
)
Slovenian multi-instrumentalist Samo Kutin (1982) is comprehensively devoted to research and manipulate the various potentials of his main instrument, the hurdy-gurdy, in the field of free improvisation. In extreme acoustic dimensions – from silent noise to loud drones, from soft blows to unbearable screeches – he is using unconventional preparations and extreme amplification, handling both contact microphones and acoustic resonators. Runs regular international duos with Jean-Luc Guionnet, Daichi Yoshikawa, Boris Baltschun, Lee Patterson, and most recently with Martin Küchen.
---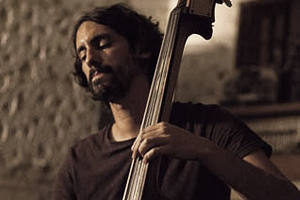 Santiago Astaburuaga
(on
ie-008
)
Santiago de Chile-based composer, interpreter and researcher Santiago Astaburuaga (1980) played bass and wrote music for groups such as Yonhosago, Klaine Trío, Akinetón Retard and Proyecto Ensamble between 2000 and 2012. Since 2010, he has been a member of '&' collective that focuses on creating and interpreting experimental scores, and translating and publishing texts. His composed works has been released on remarkable record labels – Caduc, Lengua De Lava, Impulsive Habitat and Marginal Frequency.
---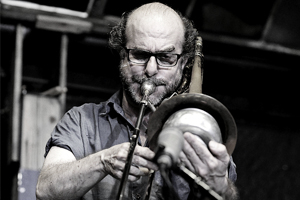 Sebi Tramontana
(on
ie-024
)
Munich-based Italian jazz musician and improviser Sebi Tramontana (1960) tried out the guitar, then the soprano saxophone before settling on the trombone during his early twenties. Since the late eighties, he has rapidly become one of the key figures of European free improvisation, playing with all-star ensamble Italian Instabile Orchestra, Moers Brass Quintet, Transalpin Express Orchestra, and small groups and duos with his long-time collaborators such as Frank Gratkowski, Jeb Bishop, Georg Gräwe, Fred Lonberg-Holm or Joëlle Léandre.
---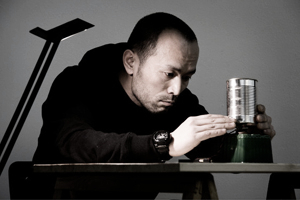 Seiji Morimoto
(on
ie-017
)
Born in Tokyo, Seiji Morimoto (1971) studied musicology at the Kunitachi College Of Music, graduating in 1996. He is mainly interested in uncertain acoustic appearances between common objects – for example water and stones – and the technical medium. He is the curator of concert series Experimentik at Tik Nord in Berlin, and has collaborated, recorded or performed with Takehisa Kosugi, Keitetsu Murai, Ignaz Schick, Jamie Drouin, Luciano Maggiore, Crys Cole, Yan Jun, Seijiro Murayama and countless other renowned sound artists.
seijimorimoto.com
---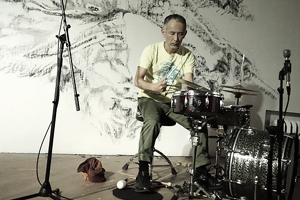 Seijiro Murayama
(on ie-016)
Percussionist Seijiro Murayama (1957) was born in Nagasaki, Japan. He started performing improvised music in the early seventies, under some influence of composer-trombonist Vinko Globokar and musicologist Fumio Koizumi. His artistic principal is to work with the idea of the plural or inter-disciplinary relationships between music and other disciplines of art such as dance, video, paintings, photos and literature. His approach is based upon the attention to space and place, to the energy of the audience and to the quality and perception of silence.
seijiromurayama.com
---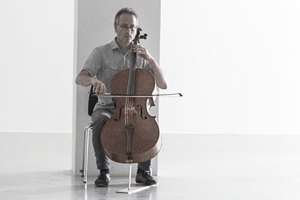 Stefan Thut
(on
ie-031
)
Swiss composer and cellist Stefan Thut (1968) is interested in processes and scores that invite both performers and listeners to delve into a world. Through his compositions he provides relatively determined systems in order to develop a praxis. In addition to instruments applied in traditional ways, he also uses everyday materials as components in his work. As an interpreter he has been performing music by his fellow and affiliated composers of Edition Wandelweiser. He studied music at the Lucerne Conservatory and at Boston University School of Music.
stefan-thut.blogspot.com
---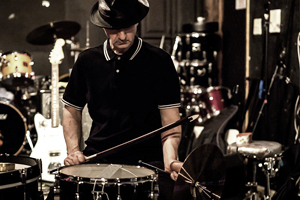 Stephen Flinn
(on
ie-012
)
Stephen Flinn (19xx) is an American composer, improviser and percussionist – based in New York and Los Angeles – who works with unusual sound sources, including self-made instruments and found objects. He has performed and recorded with dozens of prominent artists such as Viv Corringham, Ian Smith, Denman Maroney, Hannah Marshall, Tony Wren and Steve Beresford. For the last decade he has been using the drums and percussions to teach reading, writing and social skills to intellectually and physically challenged teens and young adults.
stephenflinn.net
---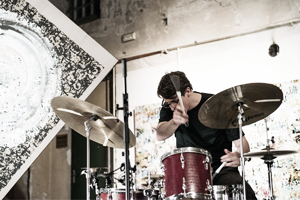 Szilveszter Miklós
(on
eff-003
)
Hungarian free jazz drummer Szilveszter Miklós (1983) began his musical career on violin but soon he switched to drums. Graduated at the Franz Liszt Academy Of Music in Budapest but he still believes that his real education is based upon the experience of playing live with his older and experienced musician friends. Regularly performs with leading Hungarian free jazz musicians and participates in international groupings alongside with top-shelf instrumentalists including Peter Brötzmann, Ken Vandermark, Rudi Mahall, Alexander von Schlippenbach and Han Bennink.
---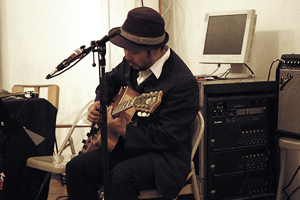 Taku Sugimoto
(on
ie-018
)
Japanese guitarist Taku Sugimoto (1965) initially gained attention in the late nineties for his restrained, melodic playing, unusual in the world of free improvisation. Later his music became increasingly abstract, all but eliminating melody and featuring extended periods of silence. He has collaborated with other Japanese musicians involved in the Onkyo movement, such as Otomo Yoshihide, Toshimaru Nakamura or Sachiko M; and with musicians from European free improvisation scenes – notably trombonist Radu Malfatti and guitarist Keith Rowe.
japanimprov.com/tsugimoto
---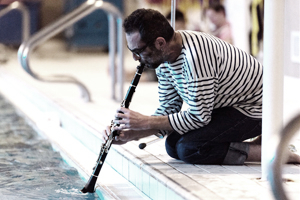 Xavier Charles
(on
ie-009
)
The work of French clarinetist Xavier Charles (1963) ranges from electro-acoustic improvisation to harsh noise via sound poetry. His musical research currently ranges from performance on the clarinet to installation of vibrating speakers, at the edge of improvised music, noise rock and electro-acoustic sound art. Among many others, he has worked and recorded with Axel Dörner, Franz Hautzinger, Leonel Kaplan, John Butcher, Lionel Marchetti, Otomo Yoshihide, Martin Tétreault, Ingar Zach, and the independent Dutch music group The Ex.
xaviercharles.com
---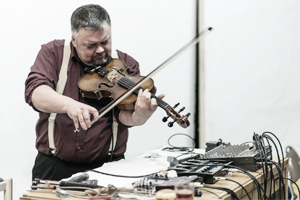 Zsolt Sőrés
(on
ie-004-2
)
Zsolt Sőrés (1969) is an improvising intuitive musician, experimental sound artist, writer and editor based in Budapest, Hungary. His music is characterised by formation strategies and immediate transitions, the use of unstable acoustic systems and continuous sound layers which can develop towards sound economy. His recent collaborations in the context of free improvised music include performances with Franz Hautzinger, Isabelle Duthoit, Christian Kobi, Hilary Jeffery, Christian Skjød, Thanos Chrysakis, Richard Barrett and Richard Scott.
ahadmaster.blogspot.com