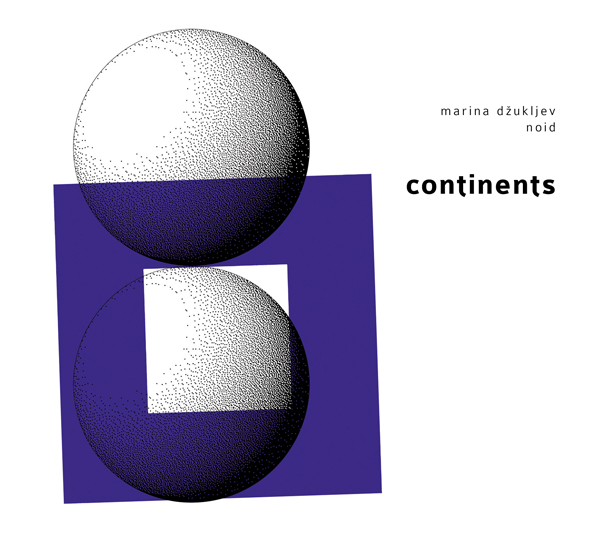 1. Onma (18:57)
2. Eilne (5:38)
3. Vomp (7:35)
4. Umg (17:55)
· Marina Džukljev: church organ
· Noid: cello
All music by Marina Džukljev (SOKOJ) & Noid (AKM)
Recorded by Arnold Haberl at Protestant Church in Nickelsdorf, Austria on 10-11/7/2019
Mixed by Arnold Haberl
Mastered by Ilia Belorukov
Cover artwork by Dunja Janković
Photos by Cristina Marx / Photomusix
Graphic design by László Szakács
Produced by László Juhász
Special thanks to Hans Falb at Konfrontationen, Nickelsdorf; Dunja Janković at ŠKVER, Mali Losinj; and Cristina Marx at Photomusix, Berlin
Released: April 2023 / first edition of 300 cds
Direct purchase: Bandcamp / Discogs
---
REVIEWS ↓
"A fantastic duo of church organ and cello that steers into vaporous arrangements to formulate engaging, dissonant drone masses. The contrast and intersection of the two instruments' timbres are revelatory, enhancing every sonic movement and expression. Džukljev and Noid explore discordant shards with precision. Quiet aural screams generate tension and unpredictability through frequency interference. A hardened edge emerges in the auditory periphery, trying to throw up boundaries to keep our focus from falling into the funereal abyss. In the closing stretches, hollow bass tones grow around the heightened cello textures, searing a lasting mark in the final notes." / Brad Rose, Foxy Digitalis, 2 May 2023
"Continents documents a commissioned piece of Serbian keyboardist Marina Džukljev, playing here on a church organ, and Viennese extremist cellist Noid (aka Arnold Haberl), developed during a small residency in Nickelsdorf in July 2019 and performed during the free music festival Konfrontationen at Protestant Church in Nickelsdorf, Austria, in July 2019.
Džukljev and Noid collaborate also in the trio Flowers we are… with the fellow Viennese sound architect, bassist and electronics player Matija Schellander. Džukljev is an active performer and educator in the fields of free improvisation, classical and contemporary composed, and applied music, and has played and collaborated with Szilárd Mezei, Mia Dyberg, Manja Ristić, dieb13, Vasco Trilla, among many others. Noid is a sound artist who understands his work as a never-ending research, leading to a wide range of contradictory outcomes, spanning from solo cello performances and tape pieces to compositions for ensembles, improvisation scores, or performances with electronic or hybrid instruments, and from sound installations to videos and imaginary music.
Continents is an arresting sonic journey in a unique space and in time, with a most elusive sense of time. It blurs the distinction between sound art and music and employs beautifully the acoustic qualities of the space of the protestant church in Nickelsdorf. It contrasts the restless attempt to extend the sonic range of Noid's amplified acoustic cello, with its accumulations of delicate, multiphonic tones and overtones, and the unsettling, quiet and almost static drones of Džukljev's church organ, with its clear and sometimes distorted tones, and varies its fragile dynamics with subtle changes in density and fine adjustments in microtonality." / Eyal Hareuveni, Salt Peanuts*, 9 May 2023
"The Serbian pianist, Marina Džukljev, effortlessly pushes the envelope of novel sound with every new release. Since her duet with turntablist dieb13, she has just landed 'Continents', an electroacoustic recording that fortifies her explorative brio, in tandem with the Viennese cellist Noid.
Settled on a church organ during the legendary Konfrontationen festival at the Austrian-Hungarian border in 2019, Džukljev plays in antiphony towards Noid, all the while congregating to a joint pitch in the fashion of microtonal reductionism.
The opening 'Onma' is reminiscent of Japanese meisters and is almost equally engaging. By 'Elbe', the duet overtakes the massive stance fore – a stringy business of unleashing their own exorcism. As the mechanical sounds start leaking from the building's pores, the cello releases a symphony of sorts, and by 'Vomp', the church's mother ship turns into an aquarium where harmonies abound.
The final piece, in duration of an average tune by The Swans [sic!], hits it deep in quite the opposite direction – hardly stirring the level of mezzopiano. The boat was rocked, and the sailors hadn't wasted a drip." / Vid Jeraj, Telegram, 12 May 2023
"Die serbische Pianistin Marina Džukljev, die sich empfiehlt durch das Spiel mit Szilárd Mezei, Dieb13, Mia Dyberg und Rudi Fischerlehner und als Kuratorin der Festivals In Opposition in Novi Sad, ist kürzlich schon im MRM Trio mit Richie Herbst begegnet. Arnold Haberl alias Noid, Cellist der besonderen Art, Lehrbeauftragter für MultiMediaArt an der FH Salzburg und seinerseits Koordinator der Reihe 'Der Blöde Dritte Mittwoch' in Wien, ist durch Veröffentlichungen auf Mikroton und sein Spiel einst mit Mattin, als Ease mit Klaus Filip oder auch mit Led Bib schon länger als furchtloses improvisierendes Wesen eingeführt. Der Zusammenklang seines klingt.org-Sounds mit dem Kirchenorgelklang von Džukljev rührt her aus dem Juli 2019 und der Protestantischen Kirche in Nickelsdorf – dass Noid auf sowas steht, zeigt er am 6.7.2023 wieder mit 'chthulu doesn't dream' und H.-J. Knaust an der Orgel der Kollegienkirche, Salzburg. Aber jetzt erstmal: 'Onma' etc. Anders als es das Cover artwork andeutet, geht es da nicht darum, das Runde ins Eckige zu bugsieren oder einen Kreis zu quadrieren. Einen Hinweis gibt Noid eher damit, dass er Éliane Radigues 'Occam IV' für Viola ein phantastisches Stück genannt hat. Denn Džukljev brummt einen wummernden, ozeanisch-'radiguesken' Orgeldauerton, und Noid schleift, wetzt, laubsägt dazu die Saiten. Bis beide auch zu 'flöten' beginnen, Noid in helldunkel bewegten Wellen. Die Orgel spinnt einen sirrenden Halteton, das Cello spielt Venus im Pelz. Wummrig pulsend, zittrig bebend, leise fiepend und reibend gestalten sie den Zusammenklang mehr als Dasein denn als Fortgang – 'Eilne' kommt definitiv nicht von Eilen. 'Vomp' dagegen schillert als Vamp mit Oomph, mit blitzenden Zähnen, knarrigen Registern, das Cello Ton in Ton mit den zirpend und sirrend oszillierenden Frequenzen. Schließlich 'Umg' mit nochmal langem Atem, feinem Hauch, feiner Glasur, pfeifend und plonkend, sonor, flautando, diskant und rau knarrend zum dunkel summenden Om der nicht aus der Ruhe zu bringenden Orgel." / Rigobert Dittmann, Bad Alchemy, BA 120, 27 May 2023
"Excellent new music from Marina Džukljev (church organ) and Arnold Noid Haberl (cello), 'Continents' on Inexhaustible Editions. Drony but rough, eerie and deep as well, always surprising and engrossing. Really good." / Brian Olewnick, Facebook, 28 May 2023
"Also, Marina Džukljev (church organ) and Noid (cello) are new names for me. In July 2019, they spent two days at a protestant church in Nickelsdorf, Austria, to record four pieces of music. With the church organ, we are talking about one of my favourite instruments. A loud and complex beast, especially in situ, but also here, it is a massive presence. Džukljev plays sustaining tones and pulls up and closes registers firmly. Tones collide in space and meet up with Noid's cello. He sometimes scratches and scrapes, essentially providing the variation in the first two pieces, 'Onma' and 'Eilne'. In these pieces, there is a contrast between both instruments, resulting in a beautiful collision of sustaining and broken-up sounds, more in the long 'Onma' piece. In 'Eilne', things work towards what we hear in the following piece: long-form drone music. This is relatively subdued in' Eilne', but in 'Vomp', it is noisy and overbearing. This is, for me, the highlight of the release. In 'Umg', the final piece and at almost eighteen minutes the second longest, the two return to a quieter approach, with the organ all subdued and the cello at times plucked, other times bowed and forming another intense piece, a different kind of intensity, but a great one as well. If we look at the total release, one can see it as a trip, going slowly uphill, reaching the peak and descending from there. Excellent stuff." / Frans de Waard, Vital Weekly, 1 August 2023
---
RADIO PLAYS ↓
· Nová hudba at Rádio Devín, RTVS – Rozhlas a televízia Slovenska, Bratislava, 3 September 2023
· No Wave at Tilos Rádió, Budapest, 24 September 2023