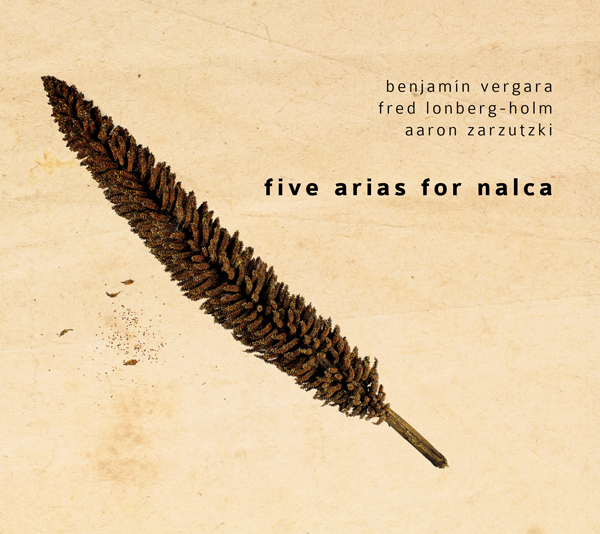 1. Aria I (12:07)
2. Aria II (4:54)
3. Aria III (8:20)
4. Aria IV (3:15)
5. Aria V (6:58)
· Benjamín Vergara: trumpet
· Fred Lonberg-Holm: cello
· Aaron Zarzutzki: synthesizer, objects
All music by Benjamín Vergara, Fred Lonberg-Holm & Aaron Zarzutzki
Recorded at Elastic, Chicago on 8/12/2016
Recorded, mixed and mastered by David Zuchowski
Cover image courtesy of Muséum d'Histoire Naturelle de la ville de Toulouse
Graphic design by László Szakács
Produced by László Juhász & Benjamín Vergara
Released: December 2018 / first edition of 300 cds
Direct purchase: Bandcamp / Discogs
---
REVIEWS ↓
"Five Arias For Nalca was released by Inexhaustible Editions in 2018. Album was recorded by Benjamín Vergara (trumpet), Fred Lonberg-Holm (cello) and Aaron Zarzutzki (synthesizer, objects). The musicians are experienced and talented improvisers. Their music is based on experimental jazz, contemporary academical and experimental music, electroacoustics, electronics and modern composing techniques. The experimental ways of playing, extractions of unusual tunes, weird timbres or complertely outrageous coloristics gently fit together with expansion of technical abilities and inventive musical decisions. Musicians are using dozens of styles and genres of contemporary academical and experimental music. Most part of the decisions is based on radical, shocking, fresh and evocative ideas. They get a nice mix from turbulent and intense free improvisations, radical experiments and turns between calm and abstract improvisation, terrific culmination or subtle and contemplative search of new timbres. Musicians got together expressive melodies, dramatic and harsh tunes, sharp harmony, abstract and gorgeous background, repetitive series, minimalism elements, as well as concrete, sonoristic and electronic music tunes. Musicians had been improvising with dozens of different musicians – they are famous in contemporary academical, experimental, electroacoustic music scene and free jazz improvisations.
Five Arias For Nalca is based on abstract and gorgeous musical pattern who contains wide range of styles, manners, modes, instrumentations and composing techniques. The album is based on experimental jazz, free improvisation, free, creative or any other style of avant-garde jazz. Abstract, luminous and contrasting improvisations are mixed up with dozens of styles of contemporary academical, experimental, sonoristic, electroacoustic, coloristic and concrete music. The tunes or certain elements of minimalism, serialism, electronics and academic avant-garde also are used here. The musicians make a marvelous combo of electronics and acoustics – the groups of bright and aggressive reeds and strings gently fit with synthetic and surprising electronics. Wide, universal, inspiring and abstract musical pattern is created. It has open form, free improvisation, splendid and engaging instrumentation, rich musical language and modern expressions, harmony and variable rhythmic. The instrumentation is just marvelous – experimental, schocking, radical, bright and innovative ways of playing, special effects are combined together with very well-known playing techniques, unusual sound's searches, outrageous tunes and effective musical decisions. Universal kit of instrumentation is used here – glissando, virtuosic ornaments, passages, arpeggio, trills, tremolo, pizzicatto, rubato and other traditional playing techniques are mixed up with glitch, drone, sonic system's experiments, ambient, alterated and modified tunes, synthetic sounds, sound machine's timbres, the sounds of computer and electronics, synthesizer's and objects, special effects and field recordings. Home-made and original playing techniques or instruments also are used here – organic, exotic or stunning intonations are brought in by them. Benjamín Vergara is a famous trumpeter. His music is expressive, warm and organic. It's based on deep and trembling tunes, sounds experiments, innovative ideas and free improvisation. Improviser has marvelous playing manner – it's hot, moody, dynamic and inspiring. From charming passages it goes straight to tremendous blow outs, dizzy glissando, dynamic and expressive solos or silent, relaxing and calm episodes. Trembles, thrills, blows, growls, hollows and urgling tunes of any kind create a wide palette of scales, timbres and tunes. It makes the trumpet's music bright, expressive and intense. Fred Lonberg-Holm is another one great jazz musician. His cello melodies are remarkable and passionate, vivid and soft, gentle, light or – furious, aggressive, moving, trembling and scandalous. No matter, what kind of technique mode is used – cellist always finds the best way to combine dozens of original playing techniques, textures, factures, composing techniques in one place. His improvisations are trembling, moving and bright – it's gently fit together with hollowing, blowing and expressive trumpet. Unusual timbres, outrageous tunes, strange sounds and search of inventive, rare and exotic combos is the main priority of all three musicians. The changes of moods always is heard – from subtle, abandoned or gloomy tunes, the music gets depressive and dark, ambient and aggressive, when goes straight to light, glorious, joyful, gentle or simply gorgeous improvisations, furious scandals, dramatic culminations, tremendous storms, primitive minimalism, repetitive sessions or any other mood or episode. Aaron Zarzutzki leads the electronics and synthesizer. It's moody, dynamic and vivid. Dozens of ambient, unusual, engaging and expressive tunes of electronics and synthesizer create an engaging and impressive mood. Musicians explore wide and impressive ways of playing and organically combine together synthetic electronics, surprising tunes, remarkable melodies, minimalistic and primitive figures. They manage tocreate rich, engaging and modern sound." / Avant Scena, Avant Scena, 7 February 2019
"Recently we spoke here of Harald Kimmig's remarkable solo effort on violin One Body One Bow One String. This time another new release by the Slovenia-based Inexhaustible Editions has our attention. It concerns a trio recording by Benjamín Vergara (trumpet), Fred Lonberg-Holm (cello) and Aaron Zarzutzki (synthesizer, objects), recorded at Elastic, Chicago on 8 December 2016. The name of Fred Lonberg-Holm needs no introductions, but Benjamín Vergara and Aaron Zarzutzki are new to me. Trumpeter Benjamín Vergara comes from Valdivia, Chile. He is involved in improvised as well as modern composed music and director of the Festival Of Experimental Music Relincha in Valvidia. Aaron Zarzutzki is based in Chicago involved in diverse projects of improvised music. Earlier (2011) Holm and Zarzutzki released a duo-work: Freminiazation Of The Tassel. The music by this trio is born from many different influences: improvisation, contemporary composed music, electronics etc. They use a wide range of playing and composing techniques. They don't exclude anything. For this meeting, the aria was in one way or another a point of reference. All five improvisations on this recording are titled Aria I up to Aria V. An aria is an expressive melody sung by one voice, often as a part of an opera. No idea why they chose this as a title. Listening to their radical improvisations it seems a little far-fetched to suggest they mirror their improvisations with the aria-format. In the opening improvisation, they develop very cautiously their sound-oriented textures. With Lonberg-Holm playing long-stretched notes and Zarzutzki playing even more long-stretched out patterns. And Vergara doing short attacks trying to play something of a melody. In the fourth Aria his solo has more melodic qualities. In the second Aria it is Lonberg-Holm who impresses with his intense playing. Zarzutzki is an inventive performer and his interventions fit organically with the cello and trumpet. They construct balanced abstract textures with fine timbres and colour. Relevant stuff!" / Dolf Mulder, Vital Weekly, 14 May 2019
"Inexhaustible Editions et son responsable Laszlo Juhasz ont fait le pari de présenter avec élégance et grand professionnalisme, la musique improvisée sans concession, nue et chercheuse. Chercheuse de sons, de textures, de bruissements, de connivences insoupçonnées, créatrice d'un univers imaginaire avec en exergue, l'esprit d'écoute, de partage et d'instants de grâce renouvelés avec le moins de redite possible. Le violoncelle (Fred Lonberg-Holm) se fait craquant, luisant, bruiteur, aiguillon, grogneur, siffleur, forcené dans la saturation physique, toujours imaginatif et ludique. Le trompettiste (Benjamín Vergara) suggère, frictionne la colonne d'air, questionne le tube et l'embouchure, détricote un motif mélodique, sussure des nuances étirées et articule en évoquant le Leo Smith du CCC. Le synthé (Aaron Zarzutzki), aussi aux objets, se fait minimaliste, ouvrant l'espace et s'immisçant avec perspicacité dans les liens qui sous-tendent les univers parallèles du cordiste et du souffleur. Le talent d'exécution des ritardandos et hésitations de la première des cinq arias, vaut à elle seule le détour… et le reste s'impose naturellement. Un album de musique honnête et conséquente qui illustre bien les possibilités et la fascination de l'improvisation libre: libre de référents, de méthodes, de buts et de prétentions. Remarquable et à (re)commander." / Jean-Michel Van Schouwburg, Orynx-improv'andsounds, 16 June 2019
"This set of five free improvisations recorded at Elastic performance space in Chicago offers a well balanced soundstage. This affords the three musicians, Benjamín Vergara (trumpet), Fred Lonberg-Holm (cello), and Aaron Zarzutzki (synthesizer and objects) the physical space to be heard. Let's attribute this to placement of microphones and engineered balance of this fine recording. Why note the layout of the sound reproduction? Because it is essential to the experience of this music.
Veteran of free improvisation, Lonberg-Holm is joined by two new names in improvisation, the Chilean Vergara and Chicagoan Zarzutzki. Zarzutzki can be heard on sessions with Tim Daisy and Dave Rempis, and Vergara released The Hallowed Plant (Relative Pitch Records, 2018).
The sounds are built mostly upon cautious advancements. Each Aria is constructed of tactile bowing, staccato plucks, slurred trumpet, electro colour splashes and more importantly interactions. Aria V is wound around Lonberg-Holm's bowing which chases butterflies and Zarzutzki's (seemingly) random generated synthesizer hiccups. It is Vergara's trumpet that keeps some semblance of time here with popping pursed trumpet notes. Aria III stretches lengthy notes by all three musicians before the trio each heads in a different direction. Not that the wanderings don't fit together, it is just another way for the players to expand the auditory landscape they are mining." / Mark Corroto, All About Jazz, 3 September 2019
"It makes me really happy that there seem to exist a million ways to explore the possibilities of sound. Inexhaustible Editions is one of those small labels trying to present parts of this adventurous sonic spectrum. The trio of Benjamín Vergara on trumpet, Fred Longberg-Holm on cello and Aaron Zarzutzki on synthesizer and various objects allow us to make assumptions about their unusual instrumentation.
Those assumptions are mostly based on the given that their willingness to explore leaves the listener within a constant flux of sounds. That is a good thing though… They approach their collective sound in the same abstract way the cover art presents us this CD. You, the listener, will find more questions than answers within the five tracks (Arias I to V accordingly) that comprise the bulk of this CD.
I would make a guess that calling each track an aria, considering the historical burden of the word, is a way to de-normalize, to provide it with a new meaning. Another thought would be that they really want to be humorous. Could be, but that wouldn't say anything about how serious they are in what they present us.
Vergara's trumpet is an instrument of airy blurbs and constant small noisy gestures that never dominate but rather articulate an ego-less way of playing. Longberg-Holm's cello starts, on the first two tracks, as a constant drone provider but in the process all noises are possible from its body and strings. The role of a synth or various objects in general in an improvisational recording always puts me in a position of trying to really listen hard so to understand what is going on. In Zarzutzki's case his experimental approach on the synth and his, less is more, attitude by using small objects as percussion instruments, works fine. In fact he provides the glue that brings all the separate pieces together.
I really enjoyed all arias of the CD. There's a constant flow of ideas, sometimes more than expected. If I had to pinpoint a flaw, it would be this saturation of ideas in some parts of the recording. But there's another side to this as well. In all five tracks there's never just a single idea of how the recording will proceed. They seem to decide on the spot, always ready to change direction or choose another path. This is probably the most important lesson learned in collective improvisation." / Fotis Nikolakopoulos, The Free Jazz Collective, 16 September 2019
---
RADIO PLAYS ↓
· No Wave at Tilos Rádió, Budapest, 23 June 2019
· Something Else! at KBGA 89.9 FM, Missoula, 14 November 2019
· DJ Grafiti at Radio Študent, Ljubljana, 8 February 2020
· Nová hudba at Rádio Devín, RTVS – Rozhlas a televízia Slovenska, Bratislava, 26 February 2023