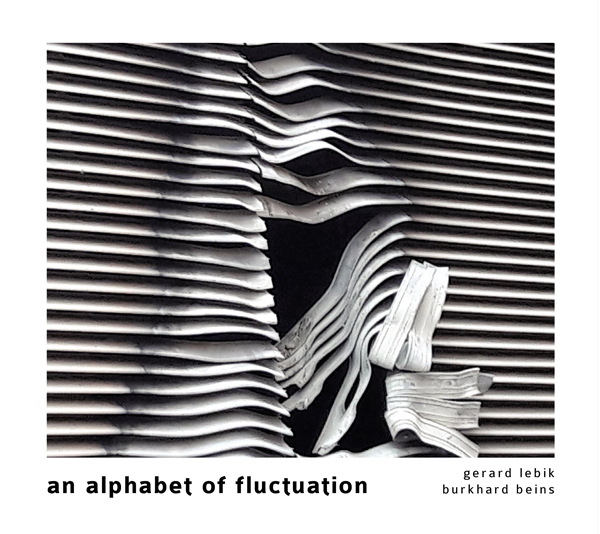 1. I (12:29)
2. II (8:50)
3. III (20:29)
4. IV (14:56)
· Gerard Lebik: pd, ppooll, zopan generator
· Burkhard Beins: amplified ride cymbal, additional sine wave and synth (on III and IV)
All music by Gerard Lebik & Burkhard Beins
Recorded by Gerard Lebik at Dr. Brehmer's Sanatorium / In Situ Foundation in Sokolowsko, Poland in August 2020 during the exhibition 'From Matter To Matter 2019' by Bożenna Biskupska
Mixed by Burkhard Beins
Sleeve notes by Paweł Szroniak
Cover photo taken by Angharad Davies, outside of Cafe Oto, London in 2017
Graphic design by László Szakács
Produced by László Juhász
Gerard Lebik and Burkhard Beins create musical forms of minimalist idiom, which consist of isolated sound events as well as gradually revealing harmonies and resonances. Metallic sounds from a large heavy cymbal are amplified and blend with electronically generated sine waves of varying amplitude, unfolding in a continuous glissando. An Alphabet Of Fluctuation is the evidence of how both artists rethink their approach towards deep reduction. One can see here a great sensitivity in determining the means of expression and formal concepts.
The artists do not shape the pieces into dynamic structures with a linear course but strive to achieve a specific effect of micro-flickering of sound – an illusion of suspension of time. These recordings should be considered as an environment, involving the listener to intensify perceptual activity. During their realization, an attempt was made to use the natural properties of space in the most nuanced way possible, treating the set of speakers as additional instruments. The experiments with sound directivity and density used here are aimed at creating specific acoustic machinery.
Paweł Szroniak
April 2021
Released: August 2021 / first edition of 300 cds
Direct purchase: Bandcamp / Discogs
---
GALLERY ↓
---
REVIEWS ↓
"C'est le deuxième album de Gerard Lebik pour Inexhaustible Editions après Psephite (ie-020) avec le violoncelliste Noid, album pour lequel je n'ai pas trouvé l'énergie suffisante de rédiger un compte-rendu. Lebik y était crédité « sound objects ». Pour cet Alphabet Of Fluctuation, on le retrouve maniant « pd, ppooll, zopan generator » face à la cymbale ride amplifiée de Burkhard Beins, instrument auquel Beins ajoute une sine wave et un synthé pour les morceaux III et IV, respectivement 20:29 et 14:56, sur la plus grande durée de l'album. Dans I (12:29) et II (8:50) durant lesquels Beins est crédité uniquement de sa cymbale amplifiée, les deux artistes produisent un seul son soutenu qui évolue imperceptiblement et se reflète dans un soupçon de vibration électronique qui effectue simultanément un crescendo et un glissando intangible vers une harmonique imaginaire. La qualité du son enregistré est plus qu'excellente et l'aspect « étude de timbres » de leur travail est sublimé. Ce type de musique minimaliste, baptisée « réductionniste » il y a une vingtaine d'années peut se révéler être une posture. Mais avec des artistes comme Burkhard Beins et Gerard Lebik, cela devient une révélation de l'indicible de la vie irréelle et sensitive des sons générés pour le plaisir de les entendre évoluer et planer dans l'espace auditif. Une expression signifiante des propriétés sonores intrinsèques de fréquences et de textures sélectionnées de manière très étudiée et hyper scrupuleuse et l'expérience de toute une vie. Incarnation d'une effective sculpture sonore plutôt qu'un « morceau » de musique ou une improvisation dans l'instant.
À lui seul, I est un véritable manifeste qui va se métamorphoser dans les trois autres morceaux procurant un sentiment de merveilleux et les caractéristiques d'une logique imparable. Variation d'un feeling dans l'infini, inouïes ondulations, réverbérations mourant dans un étonnant silence, parfois intersidéral. Au risque d'être barbants, nos deux acolytes nous posent des questions esthétiques et y répondent avec une conviction désarmante, fascinante. Se révèle ici, un des éléments constitutifs de la musique observé de mains de maître à la loupe. Comme toujours chez inexhaustible, production très soignée." / Jean-Michel Van Schouwburg, Orynx-improv'andsounds, 9 November 2021
"Gerard Lebik bringt als Sound-Installateur Klangobjekte zum Klingen und operiert improvisatorisch mit seinem Zopan Generator. Er war mit Piotr Damasiewicz oder David Maranha auf Bocian Records zu hören, betreibt in Wrocław Zopan Records und organisiert zusammen mit Zuzanna Fogtt das Sanatorium of Sound Festival im einstigen Kurort Göbersdorf, heute Sokolowsko. Statt wie einst Dr. Brehmer TBC-Kranken hydrotherapeutisch zu behandeln, wird dort in den kulturell verwandelten Räumlichkeiten seit 2015 mit EA, Improv und Sound Art rumgedoktort. Dort entstand 2018 mit "Gliss" auch schon ein Zusammenklang mit Beins. 2020 fand sich unser mit Perlonex, Polwechsel, Trio Sowari und The Sealed Knot aktiver Sublim-Perkussionist dort erneut ein, mit amplified ride cymbal und teils noch sine wave & synth, während bei Lebik pd, ppooll & zopan generator notiert sind und er von surgical instruments and a victorian synthesizer method spricht. Es wurden vier Räume des Dr. Brehmer-Komplexes beschallt, in einem waren die beiden umstellt von anthropoiden Skulpturen von Bożenna Biskupska, archaischen 'Bischöfen' ('Misterium czasu') und 49 hieroglyphischen Drahtskulpturen ('Od materii do materii'). Deren drahtige Materialität schlägt schneebesig ans Cymbal, ratscht übers Messing, zu raumgreifenden Dröhn- und Wummerwellen und selber raumgreifend verstärkt. Motor und Pulsar, surrend verhaftet und glissandierend ausgreifend, im zweiten Track durch einen Schlaghagel aufgemischt, doch vom harten Metall emaniert weicher Sound, immaterielles Mysterium, pulsend, schwellend, bebend, ein Uuuu, spektral zerlegt, metalloid getönt. Scharfe Akzente schlitzen den dritten Zusammenklang, Gongsound verdunkelt, Glissando erhellt ihn, Generator und Synth surren und sirren, Noise erscheint als Okkupant, die Phantasie sucht Nahrung – Gombrowicz, Kafka. Zuletzt mischte Beins ins raumhaltige Endergebnis monochrome und metalloide Tönungen, pfeifendes Sinusgeflacker, das den einen die Synapsen von Unrat spült, den andern die 'Gedankenverbrechen' weglasert." / Rigobert Dittmann, Bad Alchemy, BA 112, 21 November 2021
"An Alphabet Of Fluctuation focuses on creating a sonic air of slowly constricting unease and pressing stark tension. The four-track album is built around airless and oppressive drones, coldly reverberation tone detail, barrenly ringing percussive, and nerve slicing sine wave swoops.
The release appeared in August of this year on Slovenian label Inexhaustible Editions – presented as either a CD or digital download. I'm reviewing the former, and the CD comes presented in a monochrome six-panel digipak, on its front cover we get a close-up picture of what looks like a bent and buckled air vent. Inside we have texts discussing the album and its concepts. The CD had an edition of three hundred copies, and as of this review the label still have copies for purchase, so head here to score one/find out more.
The line-up here is Gerard Lebik – Pd, Ppooll, and Zopan generator; Burkhard Beins – amplified ride cymbal, additional sine and Synth on tracks 'III' and 'IV'. The tracks are simply named with Roman numerals, with each having a runtime between eight and twenty minutes, with over the album's length the sonic tension nicely swimming and building throughout, so this is certainly not an album to in any way relax or mellow out too!
We open with the just shy of twelve and a half minutes of 'I', here we start off with airlessly simmering and drifting drones, sudden slicing percussive detail, and fading tone falls. As we move on the elements nicely dip, ebb, and stretch into moments of drifting reverb and fading hover, and even at the barely heard moments the feeling of tense unease remains highly firm and focused.
By 'III' we initially find sinister percussion combs and gong chimes, meeting frigid drone hoovers, underfed by grain detail. As we move through this nearing twenty and a half minute track we barren reverb trails, sine wave drift and latter searing, and more forking-to-coldly striking percussive detail. The album is finished off with the just shy fifteen minutes of 'IV', this opens with a sudden high and grainy noise wash, before moving into pressing pitch and sine wave hazes, which is ever so often is edged by piecing and nerve stretching percussive pulling and ebb.
With An Alphabet Of Fluctuation Lebik and Beins have created an album that ebbs and builds airless tension, constricting unease, and pressing starkness. Like the sonic equivalent of being in an oxygen depleting and stark white light dimming ultra-modern tower block, so not easy listening by any means." / Roger Batty, Musique Machine, 13 December 2021
"I got a nice Christmas present from Gerard Lebik: his 'Lepomis Gibbosus' and a new electronic work, 'An Alphabet Of Fluctuation", recorded in August of 2020 with Burkhard Beins. This one CD reminded me that I have another CD of Gerard, on which he uses the famous ZOPAN generators. Indeed 'VHS EPS' is a recording of a sound installation. Changes in light intensity, saturation and uc859 tuations on the magnetic eld video cassette signal gives the micro changes in sound generated from TV PAL output. Mechanical and unplanned modulation arising from randomization image on video tapes recorded at the beginning of the 90's. Random image content. Four video recorders, audible range of the waves emitted by function generators type ZOPAN KZ 1406 0.0005 Hz-100 kHz, produced in the 80's by the Polish Institute of Scientic Equipment Manufacturing and three old TV's at a time were used to create these sound. 'VHS EPS' recorded by Gerard Lebik at Jaworowa 39, in Wroclaw in August 2013. The music clearly reminds me of the best of industrail music, including works of our own Zbigniew Karkowski. But, in a sense it is even more radical, science-ction related and all that. ZOPAN, or better to say Gerard, presents 3 minimalist pieces. 'A' last nearly 20 minutes is essentially a constant buzz sound, getting some rhythmic changes only at the end. 'B' is nearly 22 minutes long, and it is more aggressive, fragmented and rough. Finally, 'C' – even more fragmented, reminding me of sounds of pneumatic hammer with permanently changing rhythmic patterns. A masterpiece of this kind of music!
The second CD is not as radical, but maybe for this reason much more beautiful. The duo plays four tracks, combining various instruments and sounds. Gerard uses electronics, including ZOPAN generators, which Burkhard add subtle percussion background. 'I' is an example of this, also minimalist, but very colorful approach. 'II' is nine minutes long, and contains truly beautiful generator lines of Gerard. On 'III' and 'IV' Burkhards uses additional sine wave generators and synthesizer… This is a truly beautiful abstract electronic music at its best! The stu was recorded by Gerard Lebik at Dr. Brehmer's Sanatorium / In Situ Foundation in Sokolowsko, Poland in August 2020 during the exhibition 'From Matter To Matter 2019' by Bożenna Biskupska. For me a revelation!" / Maciej Lewenstein, Facebook, 26 December 2021
"Burkhard Beins and Gerard Lebik construct four environments for amplified ride cymbal, sine wave, and synth & pd, ppooll, and zopan generator on the 57' An Alphabet Of Fluctuation.
There is a continuous surface of sound woven from manifold pulses, hum, buzz, whirr, and oscillation in different frequencies sometimes stratified and sometimes interacting for beating patterns and perceptual distortions, sometimes as calm as a breeze and sometimes flexing the volatility of its electric air. Cymbal sounds crosscut, scraped, tapped, raked, pawed, their textures patchworked through the piece though played long enough to resonate with the rest and manifest beatings from the ether that hasten and slow with each activating intervention like drops in a pool refracting among each other. As the title suggests, not much changes and everything is always changing, in flux." / Keith Prosk, Harmonic Series, 1 January 2022
---
RADIO PLAYS ↓
· Música Dificíl at Radio Mirage, Barcelona, 21 September 2021
· Świeżynka at Radio Kapitał, Warszawa, 28 September 2021
· A Duck In A Tree at Resonance FM, and CJMP 90.1 FM, London and Powell River, 26 October 2021
· Glasni Novi Svet at ARS – 3. Program Radia Slovenija, Ljubljana, 24 November 2021
· Godbeni Imperializem at Radio Študent, Ljubljana, 16 December 2021
· No Wave at Tilos Rádió, Budapest, 31 July 2022