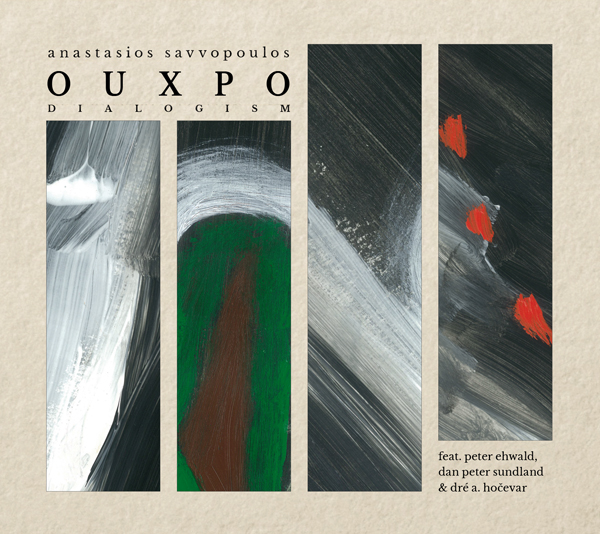 1. Dialogism I (7:56)
2. Dialogism II (34:52)
3. Dialogism III (5:13)
· Anastasios Savvopoulos: guitar
· Peter Ehwald: tenor saxophone
· Dan Peter Sundland: electric bass
· Dré A. Hočevar: drums
All music by Anastasios Savvopoulos, Peter Ehwald, Dan Peter Sundland & Dré A. Hočevar
Recorded at Tonstudio Hans-Werner-Henze, Berlin on 15 January 2019
Mixed and mastered by Sebastian Ohmert at Sonic Impuse Studio Berlin
Cover art by Anastasios Savvopoulos
Photos by Cristina Marx
Graphic design by László Szakács
Produced by Anastasios Savvopoulos
Executive producer: Nataša Serec
Associate producer: László Juhász
Anastasios Savvopoulos has always upheld his modern jazz roots, but is the utter case of a musician who is able to pass across and back the ever obscure territories of free improvisation. His ad-libber unit OUXPO (Ouvroir d'X Potentielle) is here again with their second take: Dialogism. After last year's debut live recording Deterritorialization, present OUXPO album features variant instrumentalists, diverse real-time composing techniques and a highly different sonic domain. OUXPO leader Greek guitarist Savvopoulos and his regular group member, Slovenian drummer Dré A. Hočevar are accompanied this time by German tenor saxophonist Peter Ehwald and Norwegian electric bass player Dan Peter Sundland – making all four musicians coming from different geographical, social, cultural and most importantly, musical environments.
The varied background of the players of this particular quartet incarnation again suggests broad-mindedness and a valiant willingness to oppose their music making head-on. Whilst most musicians are content to work in a fixed approach and foreseeable way for most of their careers, these four musicians constantly question and challenge their own stylistic and creative processes. And the ever-changing pool of OUXPO – with all its various members, ideas and pathways – is more than an impeccable playing field for that. The music can be heard on Dialogism perfectly reflects these diverse music-making situations, but displays an ideal consensus of thoughts and purposes that is a trademark of paragon improvising musicians.
With Dialogism, we may approximate to the limitless range of the OUXPO phaenomena: Savvopoulos' encounters with the theater of Antonin Artaud and his radical emancipatory project of the body through ritual, gesture and speech; Henri Bergson's ideas of duration and intuition; and Gilles Deleuze's concepts of deterritorialization, multiplicities, difference and repetition had all left traces on his compelling artistic direction as a bandleader.
And while you are listening to Dialogism, it seems that OUXPO is not about the stop: proves to be an ebullient perpetual-motion machine with all its differing variations, the next incarnation of OUXPO is already scheduled for its launching performance and album recording session early next year, again in Ljubljana.
The story continues. Onward.
László Juhász
August 2020
Released: October 2020 / first edition of 300 cds
Direct purchase: Bandcamp / Discogs
---
GALLERY ↓
---
REVIEWS ↓
---
RADIO PLAYS ↓
· Nová hudba at Rádio Devín, RTVS – Rozhlas a televízia Slovenska, Bratislava, 16 October 2022
· Nová hudba at Rádio Devín, RTVS – Rozhlas a televízia Slovenska, Bratislava, 8 January 2023
· No Wave at Tilos Rádió, Budapest, 4 June 2023