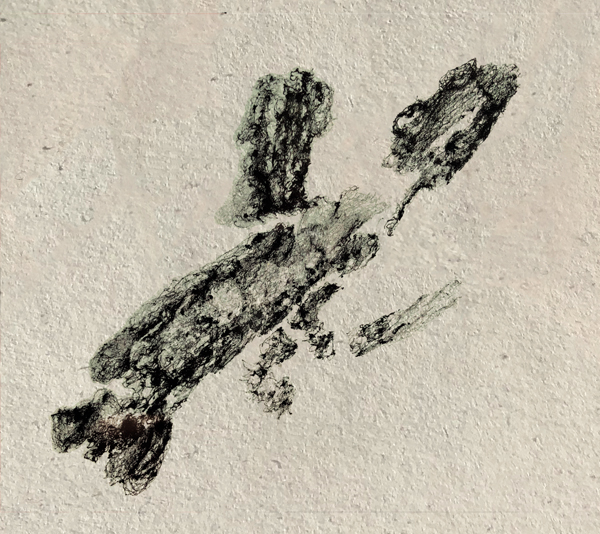 1. In Passing / Mimolet (10:03)
2. Newcomers / Prišleki (6:34)
3. Diwan To… / Divan za… (10:18)
4. Their Nocturnal Voicing / Njihovo nočno oglašanje (10:21)
5. Mycorrhiza / Mikoriza (14:27)
6. Waiting For A Sign / Čakajoč na znak (12:20)
7. Before The Deluge / Pred potopom (7:22)
· Samo Kutin: hurdy-gurdies, objects, acoustic resonators / hurdy-gurdya, predmeti, akustična resonatorja
· Pascal Battus: rotating surface, objects, cymbals / vrtljiva površina, predmeti, činele
All music by / glasba: Samo Kutin & Pascal Battus
Tracks 1-5 recorded in an old stable in Lesno Brdo, Slovenia on 12/9/2022 / Skladbe 1-5 so bile posnete v starem hlevu na Lesnem Brdu, Slovenija, 12. 9. 2022
Tracks 6-7 recorded in Tkalca cave in Rakov Škocjan, Slovenia on 13/9/2022 / Skladbe 6-7 so bile posnete v Tkalca jami v Rakovem Škocjanu, Slovenija, 13. 9. 2022
Guest on track 7, recorded, mixed and mastered by / Gost na skladbi 7, snemanje, oblikovanje zvoka in master: Jernej Babnik Romaniuk
Cover artworks by / naslovni podobi: Pascal Battus
Photo by / foto: Jernej Babnik Romaniuk
Graphic design by / oblikovanje: László Szakács
Executive producer / izvršna producentka: Nataša Serec
Associate producer / producent: László Juhász
Released: December 2022 / first edition of 300 cds
Direct purchase: Bandcamp / Discogs
---
REVIEWS ↓
"Sama Kutina in Francoza Pascala Battusa tukajšnjemu občestvu vsekakor ni treba posebej predstavljati. Dela obeh, v takšnih in drugačnih postavitvah, na Radiu Študent spremljamo relativno ažurno, njune ustvarjalne senzibilnosti pa se na domačih tleh ravno tako večkrat neposredno razležejo v raznorodnih, predvsem aktu improvizacije podrejenih godbenih srečanjih. Je pa treba ob izidu njune prve skupne plošče Living Bridges oziroma Živi mostovi iz lanskega decembra vselej spregovoriti o nekaterih bolj specifičnih postavkah. Tistih namreč, ki peljejo mimo neizpodbitnega dejstva, že skoraj kompletno dovršenih formacij ter plodovitih dolgoletnih izkušenj obeh in pravzaprav zadevajo sam temelj pojavnosti skupinske godbe na pričujočih posnetkih. Začeti velja s pomislekom, da, prvič, Kutina sploh pogostokrat ujamemo v improvizatorskih duetih in, drugič, da so tovrstna sodelovanja velikokrat zaznamovana z obojestransko sorodnim smislom za zvočenje in skoraj vedno svojsko recipročnimi načini tvorjenja. Rezultati so povečini plodoviti, a, v še bolj ključnem trenutku, občutno homogeni, ubrani, v procesu muziciranja tako osredinjeni na podobo in vsebino celostne zvočne slike, da se nemalokrat kažejo kot izrazito narativni, polni niansiranega, nelinearnega gibanja. Posneta sodelovanja z Ano Kravanja, Leejem Pattersonom, Jeanom-Lucom Guionnetom in Martinom Küchenom so vsa odlični primeri. Tudi na mestih navzven nekoliko neskladnih inštrumentarijev in z njimi tonskih barv je godba vpadljivo uravnotežena, kot da bi bila zavezana neki pripovedni niti, ki presega rezultat gole interakcije med glasbenikoma.
Kontekst sodelovanja s Pascalom Battusom vsekakor ne predstavlja večjih potencialov inštrumentalnega neskladja, prav zagotovo pa predstavlja ponovno situacijo neprimerljivo recipročne godbe, morda tokrat še bolj kot kadarkoli prej. Battus je v Slovenijo prispel že mesec pred konkretnim snemanjem. S kasnejšim sogodbenikom je najprej nekaj časa preživel na raznih lokacijah v naravi, predvsem z namenom hvaležnega medsebojnega spoznavanja in do neke mere verjetno tudi diskurzivnega konsolidiranja tistega ključnega odnosa do glasbenega materiala in načinov možne uporabe v praksi. Slednje je bržkone velik del njune vseobsegajoče ujetosti v nadvse kompaktni zvočnosti – sliši se, kot da, v smislu pristopa do generiranja, oba operirata z izredno sorodnimi osnovnimi izhodišči, da si v končni – in za to ploščo najpomembnejši – fazi, delita karseda komplementarna odnosa do iskanja. V bistvu gre stvar še dlje, saj se Kutin in Battus hkrati vseskozi ujemata v sorodno osnovanih zankah in periodičnih dovajanjih raznobarvnih ropotov, šumov in truščev. Uspe jima skratka zazveneti skoraj orkestrsko; se pravi združeno v isti končni namenskosti, preko iznajdljive uporabe preparacij in pripomočkov pa hkrati tako presneto barvno heterogeno, da je včasih težko verjeti, da v zvočno polje vstopata z zgolj dvema temeljnima aparaturama – hurdy gurdyjem in motorizirano vrtljivo površino.
Living Bridges pooseblja tip improvizacije, ki osnovni generativni vzvod namešča v skupnostnem nastavljanju plasti, ki nadalje tvorijo novo samostojno obliko. Glasbenika ne kažeta niti najmanjše afinitete do individualističnega muziciranja, kaj šele do kakršnegakoli solističnega preigravanja – v prvenstvu sta kolektivni proces in, kot že rečeno, grajenje atmosferično enotne tvarine. Na drugi strani pa imamo Kutinov in Battusov precej poseben pristop do konkretnega tvorjenja; vse prej gre namreč za, včasih malone pretresljivo natančno, približevanje oblikam zvočnosti naravnih izvirov, kot pa torej tistim, ki jih skozi ustaljene kulturne kode razumemo kot glasbene. Piš vetra skozi različno široke in globoke špranje, škripajoče drsenje nekih železnih vrat, jekleni in svojsko hladen industrijski metež … vse to so možne asociacije, ki jih pričujoča godba pretkano nastavlja interpretu. A bistvo teh asociacij je, da ne glede na inteziteto nikakor niso kaj prida stanovitne. Končni rezultat opisanega jezika je pravzaprav izredno premetena defamiliarizacija oziroma navidez skoraj celostna ločitev navzočih zvočnosti od njihovih resničnih izvirov. Poslušalska izkušnja je tako zlahka globoko iluzorna – abstrakcija zvoka ponuja nešteto čudovitih možnosti za sprotna subjektivna osmišljevajanja.
Koliko so tovrstne značilnosti muziciranja povezane s precej poglobljenim tipom odnosa do narave obeh glasbenikov in koliko z njunim splošnim rahločutjem za karseda intezivno neidiomatske improvizacijske akcije, je dobro vprašanje. Vsekakor pa neizpodbitno drži, da se oba izredno dobro počutita v eksplicitno naravnih prostorskih kontekstih – Kutin to precej jasno izrazi v nedavnem intervjuju v Svaštarnici, navsezadnje pa je tudi Living Bridges, še posebej v zadnjih dveh posnetkih, močno opazen odraz tega odnosa. Skladbi Čakajoč na znak in Pred potopom obe nakazujeta na primere nadvse iznajdljive neposredne uporabe danega okolja v procesu muziciranja. Posneti sta bili v škocjanski Tkalca jami in slednja se tako na prvem kot na drugem posnetku izkaže za, seveda v kombinaciji z že opisano naravo prisotnega inštrumentalnega zvena, docela ugodno orodje za dograjevanje celokupne tvarine. Lahko bi torej rekli, da Kutin in Battus na teh mestih akustično atmosfero jame direktno združita s svojim soundom – praktično vse, kar slišimo, od pronicljivo drsečega hurdy gurdyja in trenja različnih predmetov na Battusovi vrteči površini, pa vse do zbadajočih kapniških kapljic, kotalečega kamenja in odzvanjanj muhe, sove in krokarja v daljavi, vse je del iste, izrazito homogenizirane celote. Med glasbenim in neglasbenim skratka ostanejo le namišljeni, pa vendar vpadljivo živeči mostovi – stvarnost mej je očitna ravno toliko, kolikor se ves čas zlaga in ruši sama nase." / Luka Hreščak, Radio Študent, 19 February 2023
"Chi si somiglia si piglia, dicono. E infatti, avevamo incontrato tempo fa Pascal Battus, con le sue superfici rotanti, sulle quali strofinare oggetti e strumenti in maniera non convenzionale. Avevamo conosciuto un album fatto di soli piatti strofinati (http://www.musicmap.it/recdischi/ordinaperr.asp?id=9135) e, adesso, Battus collabora con il polistrumentista sloveno Samo Kutin. Il suo strumento principale è la ghironda (hurdy-gurdy), e però come Battus, il suo strumento a volte perde la propria connotazione, e non si sa cosa si stia ascoltando. Anche Kutin fa uso di stupefacenti sistemi per la risonanza acustica (che avevate capito?), e così entrambi si divertono a far roteare oggetti, prestando estrema attenzione al dato timbrico, alla qualità del suono che ne esce.
Living bridges è questo, un album che indugia sul rumore, dialogando con il silenzio. A volte si sentono flebili ronzii, a volte drone ambient carichi di boati microfonati ed amplificati. Tra rumori di tornio e segatura rimbombante, nel brano Prišleki la ghironda si fa riconoscibile, per un istante. Le tracce sono quasi tutte di durata dai 10 ai 14 minuti. In Diwan To… / Diwan Za…, gli arnesi sembrano fare le fusa, per un attimo. Salvo poi trasformarsi in sibili di difficile sopportazione. Ma in Mycorrhiza, dissimulato dal rumore, c'è una ricerca di tessitura orchestrale, con questi strumenti. Tessitura che tiene finché viene pesantemente distorta.
E boh, che dire, lo sperimentalismo è estremo, qui. Viene meno anche il dato di ritmo e percussione, per far spazio a un'esperienza non convenzionale. La domanda che continuo a pormi è: perché? Semplice: perché la sperimentazione è essa stessa una forma di musica. Non convenzionale, certo, ma pur sempre musica." / Gilberto Ongaro, Music Map, 26 February 2023
"Pascal Battus, improvvisatore e compositore francese alla ricerca di nuovi suoni: in archivio collaborazioni con Jean-Luc Guionnet, Seijiro Murayama, Thomas Lehn e Martin Tétreault: il suo parco strumenti comprende una non meglio specificata superficie rotante, oggetti e piatti. Con lui Samo Kutin, uno dei musicisti cruciali degli ultimi anni, un terzo di Širom, protagonisti nelle playlist 2022 con il loro The Liquified Throne of Simplicity (Blow Up #287), qui a ghironda, oggetti e risuonatori acustici. Non aspettatevi qualcosa di vicino alla magia timbrica, ritmica e melodica della band: in queste improvvisazioni, ispide e intimamente liriche, registrate tra un vecchio edificio e una caverna, assistiamo (perché sono suoni da vedere) a una luminosa discesa agli inferi dove, guidati da ombre e satori la cui origine sfugge dileguandosi sempre più in profondità, i due esplorano risonanze, fragori, bagliori, in una sorta di antica e selvatica teoria drone folk che, sotto un cielo plumbeo, invoca piogge che (non) arriveranno. Delirando: unplugged free dark ambient per luoghi deserti. Colonna sonora ferita (e) perfetta per le nostre quotidiane apocalissi in minatura. Piacerebbe molto a David Lynch per come sa evocare presenze, incubi, fantasmi." / Nazim Comunale, Blow Up #298, 1 March 2023
"It has been quiet with releases by Slovenia's Inexhaustible Editions. Perhaps we get less of the main label as all three new releases are on the sub-division Edition FriForma. Three sides to improvised music start with a most exciting release by Samo Kutin (hurdy-gurdies, objects, acoustic resonators) and Pascal Battus (rotating surface, objects, cymbals). They recorded five pieces in an old stable and two in a cave, and I assume these places are what they are, and no double as venues. I admit that I couldn't hear these places to be unique, as in having different resonant frequencies, just some water dripping in the two cave pieces and a bit more reverb. It's not easy to imagine how these two men play these instruments, but the emphasis lies powerfully creating overtones that act, at times, as pieces of feedback. There is something quite physical about this music, especially in resonances and vibrations. It seems on the brink of exploding into dissonant noise, but it never does. Sometimes the music reminds me of saxophone and feedback, which I certainly had on my mind before closely inspecting what I was hearing. While the music was improvised, I immensely enjoyed the dense approach towards the sound material. At times more like acoustic drones, sustaining sounds but not always on the endless sustain. The human element is not something they forget in their playing. Next to density, there is also a slight noise approach, which adds another interesting dimension to the music. It makes this a top-heavy release, but I love it very much." / Frans de Waard, Vital Weekly, 28 March 2023
"As you'd expect a rough and tumble improv set involving hurdy-gurdies, objects, cymbals etc. A couple tracks get into a surprisingly (to me) intense and volcanic drony sheet of noise – very impressive. I don't know Kutin's work very well, but this is one of my favorite things from Battus in a long time." / Brian Olewnick, Facebook, 31 March 2023
"Un bon génie du son alternatif d'envergure hante les hauteurs de Slovénie. Il a nom Samo Kutin et sa rencontre avec Pascal Battus, notoire guitariste français bruitiste, ici crédité rotating surfaces, objects, cymbals, s'annonce vraiment passionnante pour devenir envoûtante tout au long des sept pièces enregistrées dans des lieux inhabituels avec des résonances particulières 'old stable in lesno brdo, ou tkalca cave in rakov skocjan'. Samo manie des vièles à roue, objets et des résonateurs acoustiques. Je me souviens d'un album sauvage avec Martin Küchen (Stutter And Strike) et un autre complétement hanté avec Lee Patterson (The Universal Veil That Hangs Together Like A Skin). Si Sutter And Strike avec Samo étaii aussi vénéneu qu'allumé et orgiastiques, le présent compact i-e étire des drones sonores sourdes, grésillantes, sifflantes, métalliques, industrielles, frottements grinçants etc… avec une belle dynamique et des densités irréelles. Impossible de définir la source sonore, l'instrument ou les objets actionnés. Mais question qualité de timbres alliée à la profondeur de champ auditive, l'ionisation des vibrations et les imbrications de strates sonores en flux mouvant et oscillant, l'auditeur exigeant a décroché la martingale. Les notions de minimalisme, de lamination et autres avant-garderies récurrentes qui souvent/parfois génèrent la morosité et la vulgate didactique, n'ont cours ici. Même quand le morceau débute avec une cymbale frottée et ses harmoniques tenues, une expressivité, une truculence parfois s'impose. Des scories craquèlent, d'autres frictions d'objets ou de cordes s'élèvent, enflent, s'ajoutent, résonnent, crachouillent, ahanent. Le septième morceau nous envoie dans un autre monde. On est au pays des farfadets, des nutons cosmiques, de la lutherie sauvage, et l'alap des sorcières des Alpes de Kamnik Savinja s'apprête à voir bouillonner un rituel mystérieux. Edition FriForma est une succursale de l'incontournable Inexhaustible Editions." / Jean-Michel Van Schouwburg, Orynx-improv'andsounds, 16 April 2023
"Living Bridges makes a strong argument for the merit of improvised music recordings as viable artistic artifacts. Any improv appreciator already knows the skepticism held in certain quarters for listening to sounds conceived and organized in an instant, without recourse to seeing the extent to which the makers interact visually. More importantly, they know from experience that even a well recorded document does not convey what it was like to be there. This music is especially connected to the sights, feelings, and internal associations it instigates, to the extent that a record might feel like a document of what is missing. But a record can also be its own thing, an abstract concentration of sounds and associated information. And as abstract things go, Living Bridges is pretty swell.
Let's take it in layers. The artwork on the digipak reproduces what appears to be some smudges of ink upon textured, absorbent paper, whose texture-on-texture appearance corresponds sympathetically with the album's sounds. And a photo of the two musicians performing in a sunlit basement space gives clues to how the music was made. Slovenian Samo Kutin sits with a hurdy-gurdy on his lap, facing a pair of frame drums mounted on stands. Since the former can activate the latter, and feedback between proximate amplified items can take on a life of its own, one can surmise that elongated sounds rich in timbre, texture, and mutation are on the menu. Frenchman Pascal Battus's rig is harder to decode. He sits at a table, touching a small object on what appears to be a stand. If you could blow up the picture, and get close to his table, you'd know that the 'rotating surfaces' he wields comprise a collection of old walkmans, small cymbals, and other flat things that can be attached to stands that are rotated by the tape players. The amplified sounds that issue from this set-up can vary widely, and absent a visual explanation, are often hard to source.
Battus often collaborates with saxophonists, so his appearance with a musician whose instrument is geared for continuous sound is worthy of note. But since neither he nor Kutin is interested in making sounds that will plumb your memory bank of known licks, the seven tracks on Living Bridges probably won't direct your attention towards the duo's instrumental contrasts and complements. Absent visual input, it's rarely clear how many people are involved, what tools they're using, or how they're using them. Nope, this is a layered of creaks, flutters, grinds, groans, and plastic screams. Sometimes the sounds pile on, sometimes a couple of strata flex and shudder, and sometimes parts withdraw like a Jenga game that is heard, not seen, but somehow never quite makes it to the point of collapse. To misquote an odious politician that we will not name, it's a fascinating sequence of unknown unknowns – a catalog of cool sounds, involvingly combined." / Bill Meyer, Dusted Magazine, 20 April 2023
---
RADIO PLAYS ↓
· Svaštarnica at Radio Študent, Ljubljana, 23 January 2023
· Glasni Novi Svet at ARS – 3. Program Radia Slovenija, Ljubljana, 8 February 2023
· Tolpa Bumov at Radio Študent, Ljubljana, 19 February 2023