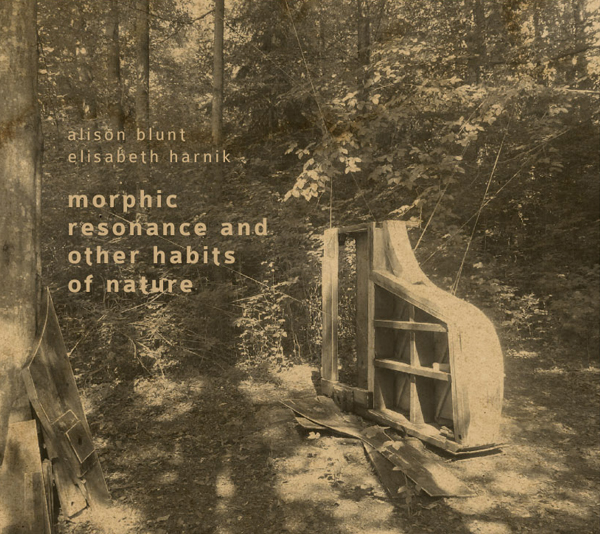 1. Threnody For Flora (6:27)
2. Wolf Lament (6:57)
3. Perilous Escape (4:38)
4. Truth And Mirages (4:53)
5. Playing For Dear Life (3:05)
6. A Bird Dreams Of Flying (3:36)
7. Advanced Warning (4:38)
8. Last Groovy Stone Grass Hop (3:54)
9. Alarm Of Skaftáreldur (4:25)
10. On Deck (4:15)
11. Eliomys Quirkyness Remembered (3:34)
· Alison Blunt: violin
· Elisabeth Harnik: piano
All music by Alison Blunt (PRS) & Elisabeth Harnik (AKM)
Recorded by Heimo Puschnigg at Kunsthaltestelle Streckhammerhaus, Austria on 13/11/2018
Mixed and mastered by Heimo Puschnigg
Liner notes by Pete Flood
Photos by Angelika Thon & Manfred Kummer ("Waldklavier", Pairidaeza 2017-18)
Graphic design by László Szakács
Produced by László Juhász
Grateful thanks to Pete Flood, Angelika Thon, Manfred Kummer, Heidi Richter & Heimo Puschnigg
All rights reserved, copyright held by composers
Released: December 2019 / first edition of 300 cds
Direct purchase: Bandcamp / Discogs
---
GALLERY ↓
---
REVIEWS ↓
"Morphic Resonance And Other Habits Of Nature is released on Inexhaustible Editions. An album was recorded by Alison Blunt (violin) and Elisabeth Harnik (piano). Both musicians are talented and creative masters of international avant-garde jazz scene – improvisers have their own and original sound, interesting and evocative conception, splendid virtuosity and rich musical language. All music of both improvisers is completely based on avant-garde and experimental jazz, free improvisation and the main tendencies of contemporary academical music. American and European avant-garde jazz are gently combined together – all these elements make an effort to original, bright and inspiring sound.
The fundaments of the album are created by both improvisers. Each of them brings something new, fresh and exciting to the compositions. Morphic Resonance And Other Habits Of Nature is written for violin and piano. This interesting compilation is placed in open form and free improvisation – spontaneous solos, shrieky tunes, aggressive riffs, splendid virages and flowing passages are used here. Both improvisers are experimentating on various fields of musical language – research of strange timbres, expansion of technical abilities, creation of peculiar, new, experimental and home-made playing techniques, special effects and integration of modern ways of playing related to contemporary academical music. That makes an effort to innovative and colorful instrumental section based on universal instrumental kit. Both improvisers are using effective, innovative and inspiring ways of improvising to create an exclusive and bright sound. Violin melodies by Alison Blunt is the source of energy, drive and expression. It's also highly related to contemporary academical and experimental music with its elements beautifully integrated to free improvisation, open form and the basics of avant-garde jazz. Violinist has an effective, evocative and expressive playing manner – she's going through all kinds of moods. Silent, ambient, deep, solemn, harsh or heavy tunes, strange timbres and abstract improvisations changed by minimalistic samples, are suddenly rising to wild attacks, expressive melodies, tremendous perturbations, vibrant solos, flowing sparkling passages, gentle virages, soft animated pizzicatto, swingy glissando, abbreviations, sonoristic experiments, strange timbres and experiments of all kinds. The music is bright, universal and multi-layed – emotions, moods, dynamic solos or steady tunes, calm pieces, lyrical deep contemplations and silent pauses are gently brought together to one place. Alison Blunt makes a great combo of all these elements – she finds the best and suitable way to connect absolutely uncompairable, crossing and contrasting episodes and styles. Violin becomes the center of the melody line and the source of energy. Piano by Elisabeth Harnik is simply fantastic – it's vital, dynamic, filled with driving riffs, virageous passages, tiny ornaments, wild perturbations and radiant attacks. Elisabeth Harnik is a famous improviser of avant-garde jazz scene – her music is completely based on free improvisation, avant-garde and experimental jazz. Her improvisations are filled with contrasts – here angry exclamations tinged with hysteric riffs, full blasts of energy, driving terrific solos, expressive remarkable melodies accompagnied by transcendental passages or frantic persecuting sequences, are connected to lyrical pieces, soft and gentle pieces, sophisticated contemplations, dark, haunted or neglected episodes, silent pauses or relaxing and calm mood. All these elements are brought together and make an impressive, vital and bright sound." / Avant Scena, Avant Scena, 26 December 2019
"I will begin by inviting the reader to take an attentive look at the album's cover. The skeleton of a keyboard instrument – plus sparse pieces – left alone in a forest; wood components close to their origin before the inevitable transition towards another kind of molecular constitution, courtesy of the passing time in combination with the laws of nature. A moving image, completely in line with the symbolization of life processes causing egotistical despair in those still mired in an implausible quest for 'understanding'.
But then comes the music – for violin (Alison Blunt) and piano (Elisabeth Harnik) – which, as always, delivers us from the duties of definition, instead opening the door to our most congenial type of decoding. Eleven improvisations, peculiar gems touching on the inexpressible constituents of existence without materially affirming them. Transient events born from unpredictable gestures, nonetheless capable of delineating a frame of eternity where micro-rhythms and frail atonal melodies find a raison d'être. Musicians seeking an affinity with the surroundings, prepared for the recognition of an otherwise impossible to reach conscious perception.
The acoustic imagery conjured up by the duo can be extremely subtle. Having arrived at a point of near-disappearance, the sounds return only moments later to a degree of contrast useful enough for ears unacquainted with the secrets of a barely broken silence. Blunt and Harnik probe unique depths across dialogues rich in evocative overtones (as in Alarm Of Skaftáreldur, a personal favorite if it's ever possible to name one). Seemingly playful at times, the delicate complexity of their reciprocity binds together the purity of a spontaneous action with a vague intuition of what lies well beyond our intellectual scope. The unpretentiousness of these atypical resonances, whispered harmonics and merely hinted modulations is an authentic gift." / Massimo Ricci, Touching Extremes, 28 January 2020
"Il faut vraiment suivre le label slovène Inexhaustible Editions à la trace. J'avais apprécié le travail de la violiniste Alison Blunt, musicienne douée et inspirée, dans plusieurs projets avec Gianni Mimmo, le trio Barrel, Hannah Marshall etc. Mais je suis particulièrement heureux de l'entendre réellement sortir de sa coquille et de mettre en jeu sa sensibilité et ses capacités d'improvisatrice. Sans doute, la compagnie de l'excellente pianiste Elisabeth Harnik y est pour quelque chose et la qualité de l'enregistrement Heimo Puschnigg dévoile le raffinement sonore et les détails infinis de leurs recherches au niveau des timbres et des intonations. Cette pianiste au toucher précieux sait aussi faire sonner les entrailles de son instrument dans les cordes, les mécanismes, l'ossature métallique et . La violoniste traduit habilement les intentions cachées de sa partenaire en faisant chuinter, gémir, trembler … les cordes par la grâce de frottements d'archet magiques – en relâchant la pression sur la touche. Sons flûtés, voix d'outre-tombe, sifflement fantomatique… sens décalé de la mélodie. Vous avez ici toute une gamme d'affects, un éventail de modes de jeux et d'approches sensibles qui se déclinent dans onze improvisations réussies. Chacune vous livre un supplément d'âme, des trouvailles. Le genre d'album qu'on garde précieusement pour pouvoir démontrer les ressources combinées du violon et du piano improvisés librement. Je me souviens très bien d'un magnifique album de Christoph Irmer et d'Agustí Fernández (Ebro Delta / Hybrid) avant qu'Agusti n'accède à la notoriété et n'enregistre à tour de bras. Ou encore de la récente Sonata Erronea de Gunda Gottschalk et Dusa Caljan-Wissel. Et bien ces Morphic Resonances partagent pleinement tout le plaisir et l'enchantement que j'ai ressenti alors. En conséquence, je recommande chaudement l'opus de Mesdames Harnik & Blunt." / Jean-Michel Van Schouwburg, Orynx-improv'andsounds, 11 February 2020
"This is a duo of violin (Blunt) and piano (Harnik). Elisabeth Harnik is a composer and pianist who studied classical piano and composition in Graz. As a performer she is focused on creating electric-acoustic sound worlds, using extended techniques and preparations. As a composer, she plays with the borders between improvised and composed music. Kenya-born Alison Blunt studied classical violin in England and developed an interest in projects exploring sound, motion and space in diverse arts. As an improviser, she is a member – for example – of the London Improvisers Orchestra. Their first duo-effort is comprised of 11 pregnant improvisations. Blunt emphasizes on sound qualities of the violin in her vibrating and expressive playing. Harnik is more focused on expanding techniques, creating special effects and contrasting manoeuvres, in the function of an intuitive playing style. More important, together they develop some very imaginative and dialogical improvisations, sounding very fresh and spontaneous. The violin introduces the most melodic ingredients, sometimes making allusions to existing songs. Their interactions are very communicative and engaging; multi-coloured and rich, touching on various aspects of speed, timbre, dynamics etc. An album needs a title. I'm often wondering how they are chosen, and what is their relevance. The title of this album refers to Rupert Sheldrake's theory of morphed resonance, a theory that holds that individual members of a species inherit a collective memory of past members of the species. The cover photo has a piano turned upside down placed amidst nature, another sign that they are alluding to some sort of connectedness." / Dolf Mulder, Vital Weekly, 18 February 2020
"London-based violinist Alison Blunt and Austrian pianist-composer Elisabeth Harnik have worked together continuously in the last decade, first in the free-improvising Barcode Quartet and later in the hommage project for Gertrude Stein, Rose Is A Rose Is A Rose Is A Rose… Blunt and Harnik wanted to frame their first duo album Morphic Resonance And Other Habits Of Nature in a different manner and invited ecologist Pete Flood (known also as the percussionist of the British folk groups Bellowhead and Oysterband) to write the liner notes.
Flood images the spontaneous improvisations of Blunt and Harnik, with no overdubs, no plan or road map, to a colorful ecology of fauna and flora, branching gently, feeding and supporting each other. The titles of all the pieces, recorded at Kunsthaltestelle Streckhammerhaus, Austria in November 2018 and released in a limited edition disc of 300 copies (with download option), reference transient natural sceneries, stressed by with the cover art depicting the stranded, skeleton of an old piano in the middle of a forest. This kind of framing highlights the organic, almost telepathic interplay that Blunt and Harnik have developed, but also point to the strong connection that we all have to the surrounding nature.
Blunt and Harnik are well-versed in the art of the moment and know how to shape their immediate, free-associative ideas and delicate, acoustic atmosphere into coherent, suggestive and rich compositions. Take, for example, the lyrical-folky Wolf Lament, with its twisted overtones and noises, or the exotic-Eastern Alarm Of Skaftáreldur and you may find yourself imagining a colorful, cinematic story. But Blunt and Harnik are also eager to explore dissonant, tense and chaotic textures on Perilous Escape, employing extended bowing and inside-the-piano percussive techniques, often enjoy the playfulness of exciting, fresh sounds as on A Bird Dreams Of Flying and On Deck or patiently sketching dream-like imagery on Advanced Warning." / Eyal Hareuveni, Salt Peanuts*, 19 March 2020
"Morphic resonance is a notion proposed by Rupert Sheldrake, a thinker whose field of inquiry shifted from biochemistry to parapsychology. It describes a process in which self-organizing systems inherit a memory from previous self-organizing systems. The concept has found little acceptance among mainstream scientists, who challenge its failure to take into account the influence of genetics upon development. But the idea may be useful when thinking about improvising ensembles, which are made up of people exercising impulse and intuition as well as diverse systems of musical training as they negotiate musical relationships.
If the titles that Elisabeth Harnik and Alison Blunt have given to this album's 11 pieces are anything to go by, they have sympathy for ways of understanding that reach beyond known quantities. One is named Truth And Mirages; another A Bird Dreams Of Flying. It opens with paired expressions of grief for things that do not speak, Threnody For Flora and Wolf Lament. Both women received plenty of classical training before plunging into the realm of improvised music, and Blunt's violin draws upon centuries of musical practice to project that anguish. But since a wolf tone (a sound that causes an instrument to audibly vibrate) is one that a trained string player is admonished to avoid, there might also be a bit of autobiography in the latter track.
Harnik delves into her piano's inside on Perilous Escape, drawing woozy bends and dense surges from its (wo-)manhandled strings. Her vigorous engagement with the instrument's interior implies that the album's cover images, which portray pianos that has been gutted, tipped on its side in a forest, and then photographed during three different seasons, pick up on and amplify the fears of antsy instrument custodians. But they might also transmit another bit of biography, for while this is Harnik and Blunt's first duo recording, the two women have been playing together for years in other setting. Perhaps the duo's organized sounds contain information received from earlier improvisational ensembles? If so, they certainly don't sound bound by habit. Their music may reference elements of both free and classical music, as well as proper and improper ways of playing, but the way it comes together feels consistently fresh and thrilling." / Bill Meyer, Dusted Magazine, 20 April 2020
"We have heard once from the Austrian pianist Elisabeth Harnik, as part of the trio RedDeer with Dominic Lash and Fay Victor, on the New York – St. Johann record they made for Evil Rabbit Records, where I noted her 'complex and intelligent piano delivers more than just jazz, somehow'. Today she's teamed up with the English violin played Alison Blunt to create the album Morphic Resonance And Other Habits Of Nature, containing eleven choice chunks of inventive and spirited improvisation.
The title of the album might be intended to evoke 'force of nature' associations, as do the cover photos which show the frame of a piano standing oddly in the middle of the woods, and printed in a faded manner which conveys a vaguely nostalgic vibe; the image of said piano frame capped with snow (inside cover) is especially evocative. As ever, finding it futile to try and describe this music, but will start out by stating that Alison Blunt is a revelation, performing with elan and a swiftness of mind and heart that produces fairly astonishing tones. I am always impressed when people can do this without sounding aggressive; it could be described as 'attack', but I feel enlivened by the music, not invaded or defeated. Harnik may have prepared the piano on some tracks, as we're getting an occasional muffled or non-natural tone from her stabbed chords and runs.
As a whole, the music has much of what I'm seeking from free improvisation – tension, dynamics, surprising gaps here, equally surprising leaps of faith there. The ability to do this in real time, making decisions quickly and with conviction and assurance, never ceases to amaze me. I can hear faint echoes of Cecil Taylor and Leroy Jenkins, a match which would be made in heaven for me. Bonus for civilians who claim they hate free improv: there are on this record traces of classical elements, perhaps coming from the Austrian half of the act, which means the music has seconds of melody and structure which might be enough to draw you in, and while remaining free as a flock of wild eagles, it doesn't deny conventions to the point of idealistic purity.
I'd like to think both these musicians have developed their skills using a lot of intuition and inner conviction, rather than signing up to some strict intellectual charter of how free music 'ought' to be played. A gem." / Ed Pinsent, The Sound Projector, 11 July 2020
"A true revelation of extraterrestrial beauty! The phenomenal Alison Blunt meet equally phenomenal Elisabeth Harnik in an atmospheric violin-piano duo. Recorded by Heimo Puschnigg at Kunsthaltestelle Streckhammerhaus in November 2018, and was released just before the COVID era, in December 2019. For me is is obvious to compare it with another favorite piano-violin duo of the recent times, the semninal Antipodal Suites by Agustí Fernández and Sarah Claman. The similarities are obvious, both Elisabeth and Agustí are masters of improvised music and prepared piano. Both Alison and Sarah play free improvised violin using a lot of effects and 'fake' or alternative sounds. Finally, both albums are masterpieces of this kind of music.
But the similarities end here. The music of Alison and Elisabeth is, in a sense, complimentary to that of Sarah and Agustí. It is very abstract, yet full of melodic motifs, it contains a lot of the mentioned fake sound, but includes also plenty of very clearly played tone. Alison and Elisabeth play eleven moderately long/short tunes. Threnody For Flora is very abstract and full of effects, while Wolf Lament exemplifies well the motifs approach. Perilous Escape is notable for a great combination of the pizzicato/bowing and inside piano techniques. Truth And Mirages is perhaps my favorite: a lyrical free improvised ballad with delicate piano keystrokes and inside piano generated sounds. Playing For Dear Life is notable for incredibly expressive violin part. A Bird Dreams Of Flying is a quiet piece, in which both instruments explore the world percussion playing à la Vasco Trilla. Advanced Warning has repetitive motifs and a touch of free minimal music. In contrast, Last Groovy Stone Grass Hop is a lively track reminding me of contemporary chamber music. Alarm Of Skaftáreldur sounds relatively traditionally, maybe with elements of some folk music (?) – the piano lines here in the low registers are wonderful. This amazing album ends with On Deck – another excursion into the land of contemporary classical chamber music, and Eliomys Quirkyness Remembered a completely crazy exploration of false and alternative sounds.
A great album, another masterpiece in the catalogue of Elisabeth Harnik." / Maciej Lewenstein, Facebook, 12 July 2020
"Abstraktion, gepaart mit fast lyrischen Gesten – die britische Geigerin Alison Blunt und die steirische Pianistin Elisabeth Harnik spielen seit mehreren Jahren in verschiedenen Konstellationen zusammen. Ihre Duo-CD schreitet verschlungene Pfade ab, durch geräuschhaftes Unterholz und helle Lichtungen, auf denen der Blick weit in die Landschaft zu schweifen vermag. Assoziationen an Melodisches, an Melancholisches, an Mystisches mögen auftauchen, bei diesem ziellosen (hörenden) Schweifen in die Ferne. Konkrete Gesten flechten die beiden Musikerinnen in geräuschhafte Passagen ein, wechseln zwischen zart-luftigen und klanglich-dynamisch dichten Abschnitten." / Nina Polaschegg, freiStil, August/September 2020
---
RADIO PLAYS ↓
· No Wave at Tilos Rádió, Budapest, 5 January 2020
· No Wave at Tilos Rádió, Budapest, 12 January 2020
· Freeness at BBC Radio 3, London, 19 January 2020
· DJ Grafiti at Radio Študent, Ljubljana, 8 February 2020
· The Ambrosia Rasputin Show at Resonance FM, London, 16 February 2020
· The Sound Projector at Resonance FM, London, 15 May 2020
· The Wire: Adventures In Music And Sound at Resonance FM, London, 15 June 2023