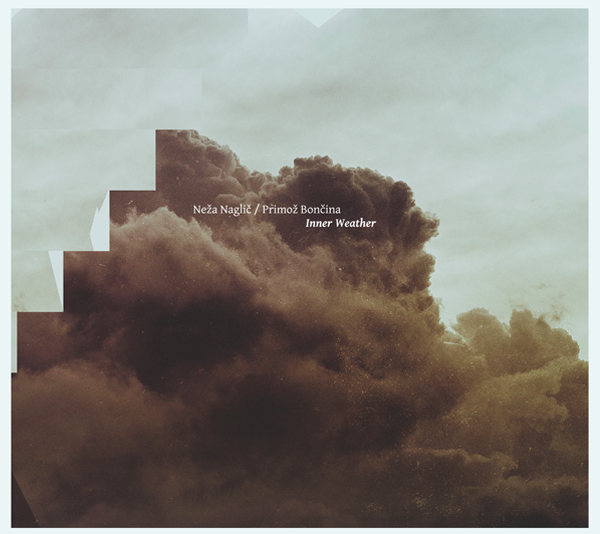 1. Pinpoint (3:39)
2. Theoretical Monastic Complex (8:26)
3. Wolfpack (6:41)
4. Containment (7:47)
5. Alien Ethnologies, Pt. 1 (6:54)
6. Alien Ethnologies, Pt. 2 (4:50)
7. Nocturnal Flight (8:38)
8. Daylight Emerges, Gradually (6:50)
· Neža Naglič: prepared piano, objects
· Primož Bončina: electric guitar, HP 200CD oscillator, electronics
A diagonal chance encounter – chromatic undergrowth blossoming to a myriad tints of inner weatherings.
Formations, fields, densities gather and dissipate. Outwards inverted, spiralling across.
Orange dawn flowers upon the temple of the addicts. Radiating motionless fire. Sipping the morphium of the aether.
Choir of the undertow and the roots of the air.
All music by Neža Naglič & Primož Bončina
Performed and recorded live between 28/12/2019 and 8/3/2020 in Neža's living room
Recorded, edited and mixed by Primož Bončina
Mastered by Nathan Moody at Obsidian Sound
Cover artwork and layout by Primož Bončina
Executive producer: Nataša Serec
Associate producer: László Juhász
Released: October 2022 / first edition of 300 cds
Direct purchase: Bandcamp / Discogs
---
REVIEWS ↓
"There is a link between these two releases, and that is Primož Bončina. He is the musician on the first CD, and he's the label boss on the second. I had not heard of Neža Naglič, who plays prepared piano and objects. Bončina plays electric guitar, HP200CD oscillator and electronics. The eight pieces on Inner Weather were recorded in Naglič's living room between 28/12/2019 and 8/3/2020. The music has quite a direct feeling as if this is a concert recording. I guess the sound is picked up from the living room, adding to the vibrancy of the recording. There is a bit of reverb, creating a bigger space to let these sounds sparkle around. The music stems from the world of improvisation, but it also touches upon a few other things. Naglič's piano is at times quite melodic, almost like she's a member of The Necks, but at other times she has lengthy passages in which she uses a lot of objects on the strings, resonating through the reverb. Bončina does something similar with his guitar. Plucking a string here and there, but just as easily goes into a dark modus, full of atmosphere. And that's the keyword in these pieces, atmosphere. Perhaps it's the, at times, cavernous use of reverb, but also the execution of these pieces. Sounds linger on for a while, in a long sustain, with sound not absent, but also not all too present; this duo creates some resonating space between the notes. Suppose improvised music is not necessarily your thing, but you'd wish some of your atmospheric drones were a bit livelier, perhaps more daring. In that case, this is something you should certainly investigate. The music on offer on this release is a bit of many things (electro-acoustic, improvisation, atmosphere and even a bit of noise, in Alien Ethnologies, Pt. 2) and finds crossroads that not a lot of people have found before. Not the easiest music to digest, but an excellent trip all around." / Frans de Waard, Vital Weekly, 25 October 2022
"Oktobra je založba Inexhaustible Editions v seriji Edition FriForma objavila dva albuma z domačimi izvajalci, in sicer dronovsko lomastenje Inner Weather Neže Naglič in Primoža Bončina ter freejazzovski Pelletron / Dynamitron CUT tria. Ti izdaji in zasedbi sta rezultat kuratorskega dela Nataše Serec in Laszla Juhasza v okviru koncertnega cikla FriForma, ki že dobro desetletje na različnih prizoriščih organizira koncerte sodobne akademske in eksperimentalne glasbe, elektronike, elektro-akustike, svobodne improvizacije in avantgardnega jazza. V zadnjem času se je koncertnim dogodkom pridružila še edicija objavljenih posnetkov FriForma, ki so nastali kot koncertni posnetki ali na glasbenih rezidencah, ki jih omogoča FriForma.
Album Inner Weather je bil posnet v Nežini dnevni sobi na snemalnih srečanjih med 28. decembrom 2019 in 8. marcem 2020, gre torej za več kot dve leti stare posnetke, ki so preživeli preizkus časa. Ko vstopimo v zabeležena notranja razpoloženja ali preperevanja, kakor bi lahko tolmačili angleško besedo weather, če jo beremo kot glagol, čas izgine.
Zvočna pokrajina, ki se razpre ob poslušanju, se v teku osmih skladb spreminja počasi in komaj zaznavno. Zvočni inštrumentarij Primoža Bončine, sestavljen iz električne kitare, oscilatorja HP 200CD in druge elektronike, vzpostavlja dronovsko pokrajino, ki s svojim nenehnim vibriranjem razkraja vse v njej. V tej pokrajini se Neža Naglič s prepariranim klavirjem odlično znajde. Z maličenjem njegovega drobovja vzpostavi objekt, ki ga opazujemo s poslušanjem. Če najprej še slišimo igranje po tipkah, se to počasi zgosti v drobovje klavirja. Kombinacija zvokov, ki jih ustvarjata glasbenika, se učinkovito povezuje v celoto, ki deluje brezčasno in kljub vztrajni napetosti in temačnosti prinaša optimistično sporočilo. Avtorja ga opredelita z naslovom zadnje skladbe, Daylight Emerge, Gradually.
Ovitek albuma, delo Primoža Bončine, učinkovito povzame razpoloženje na njem. Oblak prahu z ostrimi kvadratnimi robovi je lahko iluzija ali pa simbol težkega časa, v katerem smo se razgradili in sestavili v nekaj novega, močnejšega." / Žiga Jenko, SIGIC – Odzven, 30 November 2022
"Impressive evocation of a wide range of emotional states, from percussive rattling tensions to droning ennui and calm to breathless expectancy and wide-eyed wonder. Like performing a So Hum meditation, listening to this thoughtful and pensive album opens your mind to both universal and internal truths." / Dave Aftandilian, Bandcamp
---
RADIO PLAYS ↓
· Daily Tune #2121 at A Jazz Noise, Barcelona, 6 October 2022
· 100 Decibelov at Radio Študent, Ljubljana, 11 October 2022
· Injazero at Resonance FM, London, 3 November 2022
· Glasni Novi Svet at ARS – 3. Program Radia Slovenija, Ljubljana, 30 November 2022
· The Wire: Adventures In Music And Sound at Resonance FM, London, 15 June 2023
· Nová hudba at Rádio Devín, RTVS – Rozhlas a televízia Slovenska, Bratislava, 15 October 2023
· Nová hudba at Rádio Devín, RTVS – Rozhlas a televízia Slovenska, Bratislava, 5 November 2023