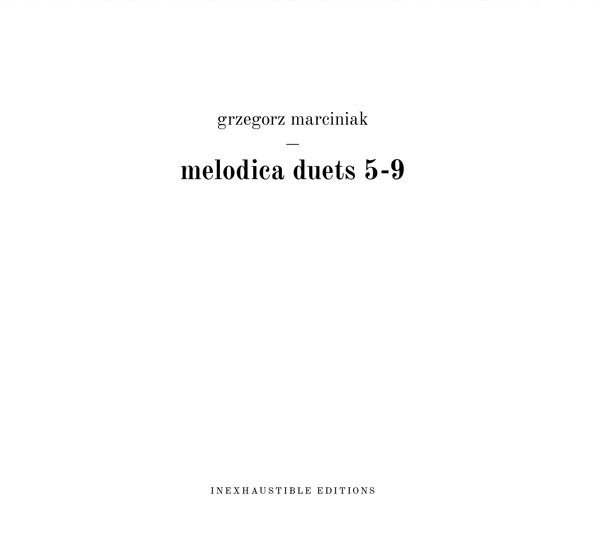 1. No. 5 (9:37)
2. No. 6 (5:55)
3. No. 7 (7:47)
4. No. 8 (6:56)
5. No. 9 (6:14)
· Grzegorz Marciniak: melodicas
All music composed and performed by Grzegorz Marciniak
Recorded by Grzegorz Marciniak in Brussels, Belgium on 17-21/7/2023
Sleeve notes and scores by Grzegorz Marciniak
Mixed and mastered by Assaf Gidron
Graphic design by László Szakács
Produced by László Juhász
Special thanks to Tilen Lebar
Melodica Duets 5-9 is a set of pieces written for two melodicas. These works are a direct continuation from Melodica Duets 1-4; they follow straightforward forms and play with different textures and techniques idiomatic to the instrument. Every duet is composed as an independent unit that can fit with a larger form.
Consistency and a sense of continuity with the previous set were key factors when composing Melodica Duets 5-9. Given that each Duet can be performed either as a whole, in fragments, or in loops, performers can choose which Duets to play and in which order to play them (including Duets from the previous set). Optionally, any Duet can be performed with a pre-recorded material. Depending on the size of a space, these Duets can be performed acoustically or with a sound system.
It is worth noting that only sounds produced by acoustic instruments are used in these works. No delays, reverb, or other electronic effects are applied. The illusion of using delays in No. 6, 7 and 9 results from the juxtaposition of two takes of the same material recorded on two different melodicas. Moreover, these two melodicas are not in perfect tune hence the tuning imperfections through the entire set.
Melodica Duets 5-9 were completed in June 2023.
Grzegorz Marciniak
August 2023
Releases: October 2023 / first edition of 300 cds
Direct purchase: Bandcamp / Discogs
---
REVIEWS ↓
---
RADIO PLAYS ↓