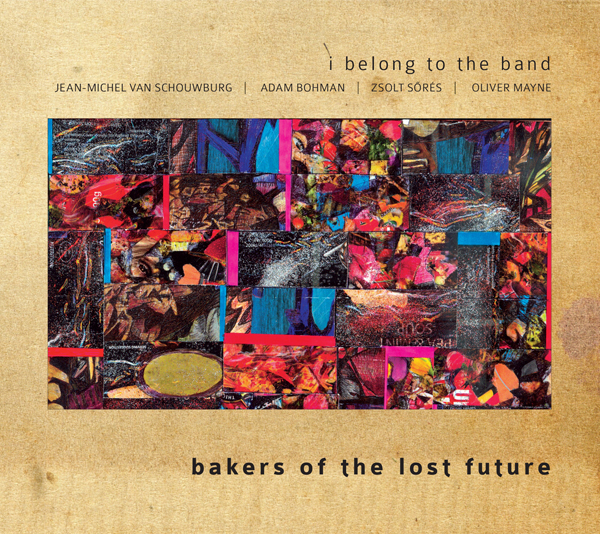 Disc #1: Spontaneous Ephemeral Sound Pipers Of Garlic
1. Elephant Pastry Dream (25:42)
2. Gastric Samba Honkers (24:14)
3. Poets Of The Absurd On Chalk (25:48)
Disc #2: Intergalactic Gulash Vs Sneezawee Gaspacho
4. Intergalactic Gulash Vs Sneezawee Gaspacho (61:13)
· Jean-Michel Van Schouwburg: voice
· Adam Bohman: acoustic & amplified objects
· Zsolt Sőrés: viola, toy synthesizers, circuit bent toys, dictaphone tapes, lo-­fi sound sources, contact microphones, effects, objects
· Oliver Mayne: vibraphone, synthesizers, contact microphones, effects, objects
· Katalin Ladik: voice on "Poets Of The Absurd On Chalk"
Track 1 recorded at Bioton Rehearsal Space, Budapest, 13/12/2010; engineered by Dávid Fehér & Csaba Füle, mixed by Dávid Fehér at Noise Lab Studio
Track 2 recorded live at Roham, Budapest, 11/12/2010; engineered by Csaba Füle, edited by Zsolt Sőrés, pre-mastered by Szabolcs Puha at Stray Dog Studio
Track 3 recorded live at Fuga, Budapest, 27/9/2013; engineered & pre-mastered by Zsolt Sőrés
Track 4 recorded live at Mika Tivadar Mulató, Budapest, 25/9/2013; engineered by Dávid Tamás Pap, pre-mastered by Zsolt Sőrés
Mastered by Szabolcs Puha at Stray Dog Studio, 2 & 6/6/2016
Collages by Adam Bohman
Photo by Peter Strickland
Graphic design by László Szakács
Thanks to László Juhász, Sándor Győrffy, Rudolf Szilágyi, Tamás Kürthy, Ernő Zoltán Rubik, Zoltán Papp, András Juhász, Peter Strickland
It was only meant to be for one night. In 2010, I invited Jean-Michel Van Schouwburg and Adam Bohman to Budapest to appear in a demonstration version of my second feature film, Berberian Sound Studio. Since these two wayward musicians were travelling all the way from Brussels and London for just a few hours of filming, it made sense for them to try and squeeze in another activity during down time. The Hungarian musician Zsolt Sőrés knew Messrs Van Schouwburg and Bohman well enough to organise an evening of musical improvisation with them and Budapest-based English musician Oliver Mayne. They christened themselves I Belong To The Band, and despite the ad hoc nature of their initial appointment, their first concert was a wonderful occasion and naturally, since then they have played again and again over the years. Now we have their first album, Bakers Of The Lost Future, with a heady mix of atmospherics culled from both live and studio sojourns in which the inimitable voice maestro Van Schouwburg navigates through a spatially intense broth of vibraphones, violas and amplified objects. The phenomenal Katalin Ladik makes a guest appearance on Poets Of The Absurd On Chalk with her ineffable vocal apparitions. What I find most gratifying about this formidable double album is how it all came together so seemingly effortlessly. Bakers Of The Lost Future was made in a spirit of curiosity and cooperation in which the musicians involved threw themselves into the moment, listening to one another and reporting back with their own interpretations of the sonic environment around them. I was wrong when I thought it was only going to be for one night.
Peter Strickland
July 2016
Released: August 2016 / first edition of 100 hand-numbered double cds
Direct purchase: Bandcamp / Discogs
---
REVIEWS ↓
"There is over-the-top music and then there is music that is over the top of that. I Belong To The Band and their Bakers Of The Lost Future belongs to the second tier of outness. It is a collective snort into deep space. I mean the snoring snort. The deep dream snort.
All came together, as these things sometimes do, as a near accident. Vocalist Jean-Michel Van Schouwberg and live concrète artist Adam Bohman were invited to Budapest to do the soundtrack for Peter Strickland's second film, Berberian Sound Studio. Multi-instrumentalist and electronician Zsolt Sőrés booked studio time and gathered together with the two and resident vibraphonist-synth-miscellanea transforming Oliver Mayne. Add Katalan Ladik on vocals for one cut and you have the spontaneous two-cd set on hand.
It is one of those sessions where everyone intuits the objectives and comes up with premier ultra-outer collective improvs that, to me anyway, completely nail down a long moment of utterly alien sound art. The melange of sound-timbre-tones is bracing, brilliant, bewitching and things too complex to give a name to.
Just listen to the cd-length Intergalactic Goulash Vs Sneezawee Gaspacho for starters. It goes a long way and covers many spontaneous movements where no one is attempting to stand out and in the process ALL stand out. It is a remarkably successful, poetically fulsome blast of creative nihilist affirmation.
This is seriously out music that manages to be great fun at the same time. The Budapest air must have had just the right makeup! Everything very much hangs together.
Anyone into a new outness, a collage of meaningful noise, seek no further!" / Grego Applegate Edwards, Gapplegate Music Review, 24 October 2016
"It was in 2010 that film director Peter Strickland invited Jean-Michel Van Schouwburg and Adam Bohman to Budapest for work on his Berberian Sound Studio movie. To make the trip more worthwhile, Strickland arranged a concert of both with Zsolt Sőrés and Budapest-based English musician Oliver Mayne. This turned out to be a successful combination. So we have following line up on this extensive release: Zsolt Sőrés (viola, toy synthesizers, circuit bent toys, dictaphone tapes, lo-­fi sound sources, contact microphones, effects, objects), Oliver Mayne (vibraphone, synthesizers, contact microphones, effects, objects), Jean-Michel Van Schouwburg (voice) and Adam Bohman (acoustic and amplified objects). With guest vocals by Hungarian poet and performance actress Katalin Ladik on Poets Of The Absurd On Chalk. Elephant Pastry Dream and Gastric Samba Honkers, both pieces lasting about 25 minutes, were recorded in 2010 on their first meeting. Poets Of The Absurd On Chalk, lasting about 20 minutes and the one hour-long Intergalactic Gulash Vs Sneezawee Gaspacho were recorded in 2013. On Intergalactic Gulash…, but the other tracks as well, the abstract vocal work by Van Schouwburg impressed me. He is a bit of an obscure artist for me. He is from Brussels and worked for years as a member of the Collectif Inaudible since about 1984. On Poets Of The Absurd On Chalk we witness an intense duet between the vocals of Van Schouwburg and Ladik. But there is more to enjoy in these improvisations. These are very open and spatial sound- and noise oriented improvisations for voice, viola and vibraphone, accompanied by a whole battery of objects and effects. Fine textures and not a dull moment if you take time to plunge into their sonic world. The recordings differ in quality but are well balanced. A release by the London-based Inexhaustible Editions." / Dolf Mulder, Vital Weekly, 16 January 2017
"Indescribable double cd of improvised vocal noises along with non-musical sounds and eruptions… this is the combined talents of four international mavericks, i.e. Adam Bohman, the UK sound poet, performer, bricoleur and cassette diarist; Oliver Mayne, English musician living in Budapest; Jean-Michel Van Schouwburg, described here as "the inimitable voice maestro"; and Zsolt Sőrés, the Hungarian musician. Budapest is the connecting zone, the area where these four met and climbed into a musical melting pot. Bohman and Jean-Michel were invited there in 2010 by the film-maker Peter Strickland, and once Zsolt Sőrés got wind of this he quickly set up an improvising situation and asked Oliver Mayne to join in. What has supposed to be a fortuitous one-off occasion soon developed into a regular event, and in the years since the four have performed together many times, now working under the strange and awkward name of I Belong To The Band. The double cd we have before us documents four such occasions from 2010 and 2013, all of them happening in Budapest, and shows the foursome captured either live or in the studio. On one occasion, a live event at Fuga, they were joined by the vocalist Katalin Ladik. Ladik's impressive vocal work may be known to some for her contributions to recordings of Ernő Király, the Yugoslavian modern composer.
This package, titled Bakers Of The Lost Future, shows how the combo require a lot of space and time to spread out – some might unkindly call it a sprawl – to realise their need for self-expression. Musical instruments are involved, including vibes, synths, and stringed instruments, but I get the impression that amplified objects are much more the weapon of choice in the IBTTB stable. Bohman's a past master of selecting and hitting strange objects in the service of sound production; Zsolt Sőrés has his own personal selections, and also brings circuit-bending and dictaphone tapes to the table in his quest for the ultimate in lo-fi distortion and mangled groink. Mayne too is no stranger to clipping a contact mic onto anything that stands still long enough. Together, these three weave a cluttered but intense din of rubbly and unfamiliar textures, producing a dense soup that makes no concessions whatsoever to "art music" or jazz-inflected improvisation, nor is it as opaque and mystifying as the inert over-processed murk that Das Synthetische Mischgewebe often creates using similar methods. I haven't heard such a compelling layered and over-crowded racket since my last DDAA listen. Over this scrambly foundation, Van Schouwburg yawps out his nightmarish vocalising, a bad dream of opera singing caused by a night of indigestion at the Magyar Állami Operaház. All the pieces have been assigned nonsensical titles, word-salad arrangements such as Intergalactic Gulash Vs Sneezawee Gaspacho and Gastric Samba Honkers, as if attempting to realise the same sense of mental indigestion through the channel of literary expression. The references to food and the stomach in these titles are most fitting.
I would also single out the uncanny escapades of Katalin Ladik on the track where she features, Poets Of The Absurd On Chalk. She's pretty much carrying on an unintelligible argument with Van Schouwburg as if the two were actors/opera singers playing husband and wife in a grotesque marriage, or perhaps simply play-acting a garbled version of Punch and Judy. It's by turns comedic and ugly, yet still infused with moments of mysterious and terrifying beauty. Both the vocalists here sound certifiably insane, but they deliver their loopy barks with great assurance and confidence. We could say the same about the music, which is pretty much fragmented and bonkers in the extreme, but played with gravitas and conviction. There is no doubt in my mind that this is down to the personalities involved (very strong personalities); you could never train a classical musician to play this way in a million years, even if they had been raised on John Cage since birth. It's an instinctive thing, and a very personal thing. The effect here is intensified because these are four like-minded souls, who have nothing to prove to the world… the music is as much a product of that bond as anything else, the sound of an amazing conversation, on which we are lucky enough to eavesdrop.
Peter Strickland, though he doesn't play a note, is also pivotal to the record. He also happens to have been part of the Sonic Catering Band in a former life, and the strange formless non-musical performances he was responsible for are could be seen as one of the many tributaries that have flowed into Bakers Of The Lost Future. He also directed the movie Berberian Sound Studio, which used the talents of Katalin Ladik for its soundtrack, and which briefly featured the Bohman Brothers making a cameo appearance. Another gem from the Slovenian label Inexhaustible Editions." / Ed Pinsent, The Sound Projector, 11 June 2017
---
RADIO PLAYS ↓
· Towards The Margins #74 at futuremusic FM, London, 7 August 2016
· The Sound Projector Radio Show at Resonance FM, London, 24 February 2017
· No Wave at Tilos Rádió, Budapest, 26 March 2017
· No Wave at Tilos Rádió, Budapest, 12 January 2020