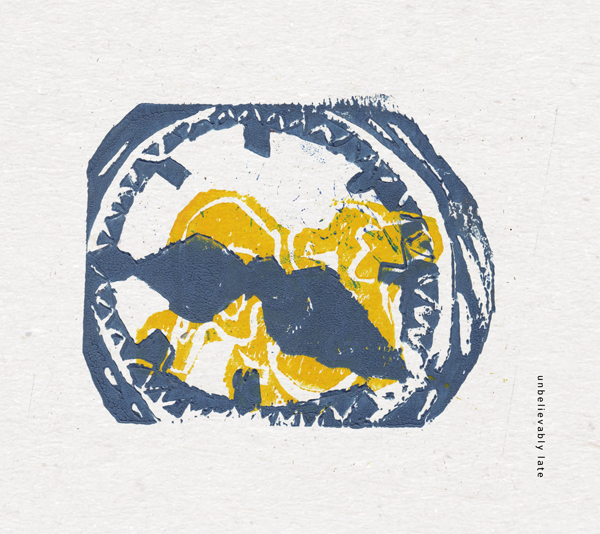 1. Nocturne (4:50)
2. The Third Wait For A Second (7:29)
3. Vlad Is Still Waiting (9:13)
4. Un Lapin Blanc (5:59)
5. Attendre La Fin (6:18)
6. Histoire Du Prince C.E. (4:32)
· Franz Hautzinger: amplified trumpet
· Éric Normand: electric bass, motors
All music by Franz Hautzinger (AKM) & Éric Normand
Recorded by Franz Hautzinger & Éric Normand at different locations in 2020-2021
Edited and mixed by Éric Normand
Mastered by Mario Gauthier
Cover linocut artworks by Nina Normand
Photos by Daniel Cemborek (Hautzinger) & Marie-Êve Campbell (Normand)
Graphic design by László Szakács
Produced by Éric Normand & László Juhász
It is possible that Alfred Jarry and Guillaume Appolinaire never met. How could this be? How could two of the weirdest guys in Paris never crossed paths? A letter from 1905 actually confirms they did meet. In this letter Appolinaire writes to Jarry that he still has his copy of "Histoire du prince C.E. et de la princesse F." Subsequent letters show that all other possible "rendez-vous" plans fell through. The book never came back to Jarry.
Hautzinger and Normand met in 2016. Alongside Michel F. Côté, Philippe Lauzier and Xavier Charles, they formed the band Torche ! which sought to create music that is really moving. They have since tried to meet again and keep pursuing this idea, but the reunion of the quintet has still not materialized even though Franz and Éric have played as a duo, trio or quartet with Tom Mamendier and Erikm.
The music on this album is the music that was possible to put together during a pandemic; a collage of different moments in time, the result of a "rendez-vous" that became unbelievably postponed.
Released: April 2022 / first edition of 300 cds, in co-production with Tour de Bras
Direct purchase: Bandcamp / Discogs
---
REVIEWS ↓
"Depuis Gomberg, le premier album solo de Franz Hautzinger à la quartertone trumpet, le paysage de la trompette est universellement chamboulé; de même pour le Trumpet d'Axel Dörner et le Kunststoff de Birgit Ulher avec Ute Wassermann. Mais il ne suffit pas de découvrir quelques facettes inouïes de la 'méta-trompette' amplifiée, d'enregistrer au plus près de l'instrument, de faire bourdonner la colonne d'air et percuter l'embouchure. Cette recherche doit nourrir un message poétique, une narration musicale, faire du sens pour l'auditeur. La nouveauté de ce postulat sonore et instrumental peut très bien se transformer en gimmick, posture ou auto-caricature. Mais un musicien de la stature de Franz Hautzinger est bien conscient que cette esthétique relativement 'minimaliste' d'infrasons basée sur des techniques de souffle aussi contraignantes pourrait aboutir à une voie sans issue et sa démarche pourrait finir par tourner en rond. Comme ses deux collègues (Axel et Birgit), Franz recherche sans relâche les moyens, l'inspiration et l'énergie pour faire avancer expressivité, technique et trouvailles dans ses improvisations en compagnie d'un ou deux collègues qui partagent sa vision musicale. Les six pièces ci-enregistrées en 2020-21 entre 4 et 9 minutes chacune conjuguent bien des atouts. On est médusé par sa capacité à faire évoluer sur la durée ces effets sonores, bruissements de l'embouchure, coups de langue et frémissements des lèvres ces passages chuintants ou sifflants de l'air délicatement pulsé dans le tube, notes tenues acides… Les interventions discrètes et diversifiées d'Éric Normand, ses effets électroniques ou le toucher subtil des cordes de la basse électrique (instrument ingrat dans ce contexte) contribuent superbement à la mise en valeur de leurs dynamiques conjointes à cet esprit de neutralité – no man's land sonore d'interaction tangentielle, cette fantômisation mystérieuse des sons instrumentaux. Mention spéciale pour la sensibilité d'Éric Normand. Par de là le bruissement sonore se dégage un sens secret de micro-mélodie et d'intuitions harmoniques indéfinissables basées sur l'écout et cette expérience de longue haleine. D'avoir persévéré dans cette voie singulière leur a ouvert les portes de signes et syntaxes neufs ou renouvelés par 731des coïncidences ludiques conscientes ou spontanées. Un bien curieux univers sonore destiné à une écoute apaisée et concentrée. Excellent!" / Jean-Michel Van Schouwburg, Orynx-improv'andsounds, 16 April 2023
"The final release is a bit older; Tour de Bras might not have seen what we have about older releases. Maybe they took the title into account? Franz Hautzinger plays the amplified trumpet and Eric Normand's electric bass and motors. They met in 2016 for the first time when they toured Canada with a band called Torche!, which also included Michel F. Côté, Philippe Lauzier and Xavier Charles. Oddly, perhaps, this, too, is an album resulting from the exchange of sound files during the pandemic. The results are quite different than with Lauzier/Costa. The music here is more in improvised music land, but the result is also quieter and more spacious throughout. Maybe everybody is on their guard with these online meetings. I'm not complaining; I enjoy this more deliberate approach quite a bit. The amplification and the motorization add an exciting edge to the music; it never gets loud or extraordinary, but it sort of lingers below the surface, adding a fine presence. On top, the bass and trumpet do their thing, and this trumpet is much more appreciated than on Dubrovay disc. Hautzinger's trumpet is an object that makes all sorts of sounds, some of which happen to sound like a trumpet. There is some significant interaction despite the distance, but maybe that should be because of the space. Either way, it works fine, and there is some solid music here. See in and out these releases by these labels." / Frans de Waard, Vital Weekly, 1 August 2023
"Éric Normand and Austrian trumpeter Franz Hautzinger first met in 2016 when both played in the quintet Torche! with Xavier Charles, with fellow Canadian bass clarinetist Philippe Lauzier and drummer Michel F. Côté (Torche!, Tour de Bras, 2017). They continued to collaborate in different formats, with Belgian Tom Mamendier and French sound artist eRikm. Unbelievably Late was recorded by Hautzinger and Normand at different remote locations during 2020 and 2021 due to the Covid-19 pandemic and is a 'collage of different moments in time, the result of a rendezvous that became unbelievably late'.
Hautzinger plays here on an amplified trumpet and Normand adds motors to his effects-laded electric bass, and needless to add, both improvisers use their instruments as resourceful sound generators. The atmosphere is similar to the minimalist and spacious, sound-oriented one of Balises, but more intimate. Hautzinger's extended breathing techniques as well as his breathy articulations and Normand's motors add at times an enigmatic aroma of percussive rustles, sometimes even of hypnotic electronic drones (check Attendre La Fin). At other times both Hauzinger and Normand sound like they were involved in a busy yet subtle chat of restless birds (check The Third Wait For A Second). Mysterious and suggestive, and highly gratifying." / Eyal Hareuveni, Salt Peanuts*, 19 August 2023
---
RADIO PLAYS ↓
· The Wire: Adventures In Music And Sound at Resonance FM, London, 15 June 2023