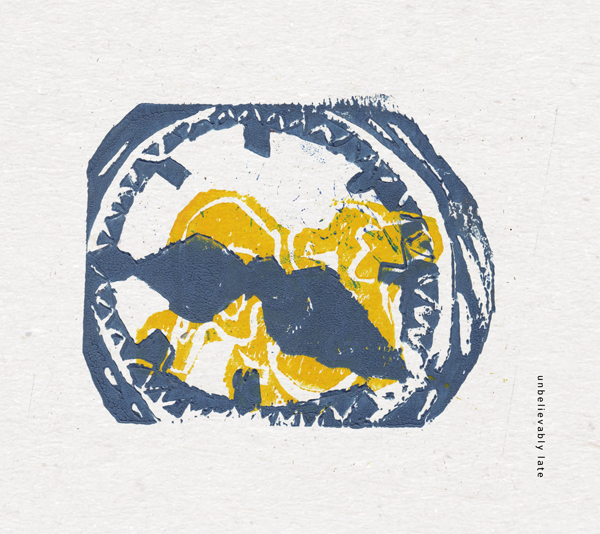 1. Nocturne (4:50)
2. The Third Wait For A Second (7:29)
3. Vlad Is Still Waiting (9:13)
4. Un Lapin Blanc (5:59)
5. Attendre La Fin (6:18)
6. Histoire Du Prince C.E. (4:32)
· Franz Hautzinger: amplified trumpet
· Éric Normand: electric bass, motors
All music by Franz Hautzinger (AKM) & Éric Normand
Recorded by Franz Hautzinger & Éric Normand at different locations in 2020-2021
Edited and mixed by Éric Normand
Mastered by Mario Gauthier
Cover linocut artworks by Nina Normand
Photos by Daniel Cemborek (Hautzinger) & Marie-Êve Campbell (Normand)
Graphic design by László Szakács
Produced by Éric Normand & László Juhász
It is possible that Alfred Jarry and Guillaume Appolinaire never met. How could this be? How could two of the weirdest guys in Paris never crossed paths? A letter from 1905 actually confirms they did meet. In this letter Appolinaire writes to Jarry that he still has his copy of "Histoire du prince C.E. et de la princesse F." Subsequent letters show that all other possible "rendez-vous" plans fell through. The book never came back to Jarry.
Hautzinger and Normand met in 2016. Alongside Michel F. Côté, Philippe Lauzier and Xavier Charles, they formed the band Torche ! which sought to create music that is really moving. They have since tried to meet again and keep pursuing this idea, but the reunion of the quintet has still not materialized even though Franz and Éric have played as a duo, trio or quartet with Tom Mamendier and Erikm.
The music on this album is the music that was possible to put together during a pandemic; a collage of different moments in time, the result of a "rendez-vous" that became unbelievably postponed.
Released: April 2022 / first edition of 300 cds, in co-production with Tour de Bras
Direct purchase: Bandcamp / Discogs
---
REVIEWS ↓
"Depuis Gomberg, le premier album solo de Franz Hautzinger à la quartertone trumpet, le paysage de la trompette est universellement chamboulé; de même pour le Trumpet d'Axel Dörner et le Kunststoff de Birgit Ulher avec Ute Wassermann. Mais il ne suffit pas de découvrir quelques facettes inouïes de la 'méta-trompette' amplifiée, d'enregistrer au plus près de l'instrument, de faire bourdonner la colonne d'air et percuter l'embouchure. Cette recherche doit nourrir un message poétique, une narration musicale, faire du sens pour l'auditeur. La nouveauté de ce postulat sonore et instrumental peut très bien se transformer en gimmick, posture ou auto-caricature. Mais un musicien de la stature de Franz Hautzinger est bien conscient que cette esthétique relativement 'minimaliste' d'infrasons basée sur des techniques de souffle aussi contraignantes pourrait aboutir à une voie sans issue et sa démarche pourrait finir par tourner en rond. Comme ses deux collègues (Axel et Birgit), Franz recherche sans relâche les moyens, l'inspiration et l'énergie pour faire avancer expressivité, technique et trouvailles dans ses improvisations en compagnie d'un ou deux collègues qui partagent sa vision musicale. Les six pièces ci-enregistrées en 2020-21 entre 4 et 9 minutes chacune conjuguent bien des atouts. On est médusé par sa capacité à faire évoluer sur la durée ces effets sonores, bruissements de l'embouchure, coups de langue et frémissements des lèvres ces passages chuintants ou sifflants de l'air délicatement pulsé dans le tube, notes tenues acides… Les interventions discrètes et diversifiées d'Éric Normand, ses effets électroniques ou le toucher subtil des cordes de la basse électrique (instrument ingrat dans ce contexte) contribuent superbement à la mise en valeur de leurs dynamiques conjointes à cet esprit de neutralité – no man's land sonore d'interaction tangentielle, cette fantômisation mystérieuse des sons instrumentaux. Mention spéciale pour la sensibilité d'Éric Normand. Par de là le bruissement sonore se dégage un sens secret de micro-mélodie et d'intuitions harmoniques indéfinissables basées sur l'écout et cette expérience de longue haleine. D'avoir persévéré dans cette voie singulière leur a ouvert les portes de signes et syntaxes neufs ou renouvelés par 731des coïncidences ludiques conscientes ou spontanées. Un bien curieux univers sonore destiné à une écoute apaisée et concentrée. Excellent!" / Jean-Michel Van Schouwburg, Orynx-improv'andsounds, 16 April 2023
---
RADIO PLAYS ↓