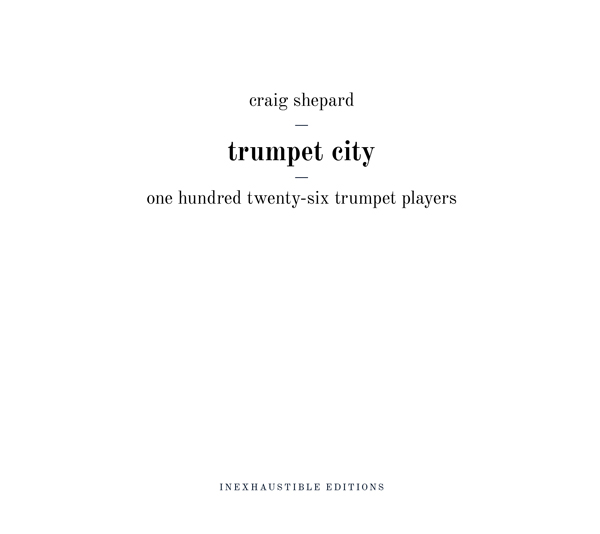 Disc 1:
1. Trumpet City: Manhattan (63:26)
Disc 2:
1. Trumpet City: Brooklyn (62:42)
Trumpet City is a 60-minute live installation of 40 or more trumpets performing outdoors in a public space. Commissioned by the Präsidialdepartement and the Musikpodium of the City of Zürich, the work premiered on 28 March 2009 on the shores of Lake Zürich. This release features two installations realized in 2014.
Trumpet City: Manhattan, the third realization, took place on Saturday, 2 August 2014 from 11.30 am to 12.30 pm on Park Avenue from 46th Street to 72nd Street. Presented by the New York City Department of Transportation's Summer Streets and supported by Christ Church. This recording was made at 51st Street.
Performed by Omar Abdulkarim, Kate Amrine, Jose Luis Armengot, Hugh Ash, Alex Asher, Luke Balslov, Lewis Flip Barnes, Alex Bender, Steven-Jon Billings, Eric Biondo, Seneca Black, Cyril Bodnar, Austin Boyer, Nicholas Catino, Jonathan Challoner, Andre Chesimar, Joseph Christianson, Marco Coco, Sandy Coffin, Jim Coleman, John Cummings, Tim Cronin, Clyde Daley, James Duncan, John Eckert, Jonathan Finlayson, Anna Garcia, Matt Gasiorowski, Matt Giella, Brian Glass, Frank Gyeabour, Rob Henke, Tiffaney Hoffer, Evan Honse, Ryan Howard, Carou Johnson, Minerva Johnson, Danny Jonokuchi, Brandon Joza, Andy Kemp, Chulho Kim, Ji Woong Kim, Evan Kirshen, Andy Kozar, Peter Kuan, Bruce Kung, Jo Ann Lamolino, Will Lang, Matt Lavelle, Paul Lewis, Glenn Makos, Pablo Masis, Katie Mattina, Eli Maurer, David McCabe, Kevin McCormack, John McDonough, Tom McGee, Aaron Meicht, Jon Menges, Josh Mizruchi, Russell Moore, Hugo Moreno, Mark Morgan, Sam Nester, Matt Peskanov, Joe Pino, Alicia Rau, Waldron Ricks, Satish Robertson, Chloe Rowlands, Jonathan Saraga, Ian Schaefer, Richard Seibert, Michael Sinicropi, Tony Sisson, Alexandria Smith, Steve Smyth, Jessica Stein, Rebecca Steinberg, Erol Tamerman, Atse Theodros, John Thomas, Wayne Tucker, Theo Van Dyck, Tyler Vandenberg, Thomas Verchot, Andy Warren, Warren Wernick, Jason Wiseman, Clynt Yerkes and Emma Zeger.
Trumpet City: Brooklyn, the fourth realization, took place on Saturday, 20 September 2014, from 3.00 pm to 4.00 pm along Meeker Avenue from Metropolitan Avenue to Graham Avenue in Williamsburg and Greenpoint, Brooklyn. It was produced in cooperation with Our Lady of Mount Carmel – Williamsburg, and sponsored, in part, by the Greater New York Arts Development Fund of the New York City Department of Cultural Affairs, administered by Brooklyn Arts Council (BAC). This recording was made at Meeker Avenue between Lorimer and Leonard Streets.
Performed by Hugh Ash, Lewis Flip Barnes, Jelani Bauman, Dustin Beardsley, Steven-Jon Billings, Eric Biondo, John Blevins, Paul Brandenburg, Germain Brito, Nicholas Chavarria, Andre Chesimar, Jim Coleman, Sandy Coffin, John Cummings, Clyde Daley, Leenie Doran, James Duncan, Tricia Dyer, John Eckert, Jonathan Finlayson, Pam Fleming, Steve Fowler, Matt Giella, Matthew Gomm, Roger Hartnett, Dennis Hernandez, Tiffaney Hoffer, Matt Holman, Carou Johnson, Minerva Johnson, Brandon Joza, Lauren Klein, Andy Kozar, Peter Kuan, Scott Kulick, Jo Ann Lamolino, Will Lang, Matt Lavelle, Roger Lent, Daniel Levine, Bruno Lourensetto, Spencer MacLeish, Pablo Masis, Eli Maurer, David McCabe, Tom McGee, Brian McKenzie, Eliza Minster, Josh Mizruchi, Aquiles Navarro, William Olenick, Matt Ragsdale, Ryan Resky, Satish Robertson, Jonathan Saraga, Richard Seibert, Michael Sinicropi, Nate Sparks, William Stevens, Paul Tafoya, Erol Tamerman, Matthew Timm, Theo Van Dyck, Bryan Walters, Andy Warren, Warren Wernick, John S. William, Harry H. Wise, III and David Zalud.
Craig Shepard
October 2020
Score composed by Craig Shepard
Realized by one hundred twenty-six trumpet players in Manhattan and Brooklyn
Disc 1 recorded at 51st Street, Manhattan on 2 August 2014
Disc 2 recorded at Meeker Avenue between Lorimer and Leonard Streets, Brooklyn on 20 September 2014
Recording engineer: Andrej Radovsky
Edited and mastered by Nicholas Prout for True Sonix Inc.
Photos by Jocelyn Gonzales (Manhattan), Richard Howe & Matt Minucci (Brooklyn)
Graphic design by László Szakács
Produced by Craig Shepard & László Juhász
© 2009 Craig Shepard, all music copyrights reserved
© 2014 Craig Shepard, all recording copyrights reserved
www.onfoot.org/trumpetcity
Released: December 2020 / first edition of 300 double cds
Direct purchase: Bandcamp / Discogs
---
GALLERY ↓
---
REVIEWS ↓
"The biggest ensemble is to be found on the last release, Trumpet City, a composition by Craig Shepard. It is for forty or more trumpet players in a public space. On disc one this is Manhattan (51st Street and on the second disc Brooklyn (Meeker Avenue between Lorimer and Leonard Streets). These two discs are recorded on these locations, so we hear all the surrounding activities, cars honking, people talking, tires screeching and all such things. It is as much a field recording as it is a musical composition. It reminds me of Bill Fontana's Fog Horns work but now set in a slightly more buzzing city surrounding it. I open up both pieces in an audio editor to see which fragment would work best in the podcast and out of curiosity I played both discs at the same time. That gave also a most interesting result, especially because I didn't start them at the same time. In general, the Brooklyn disc has the trumpet sound at quite a distance, whereas on Manhattan these are closer to the microphone. I have no idea how any of this was captured. I must admit I wasn't blown away (no pun intended) by this piece. Sure, there is an aspect here that is interesting, playing a lot of instruments on the streets, but I can imagine this is all a most exciting piece of music to witness as it plays in a public space. A compact cisc is of course not an equivalent to that." / Frans de Waard, Vital Weekly, 20 April 2021
"Installés dans la Park Avenue à Manhattan une après-midi du 2 août 2014 et dans un quartier de Brooklyn le 20 septembre de la même année, 126 trompettistes rassemblés par Craig Shepard délivrent des drones enchaînés – superposés à même les bruits de la ville (traffic de voitures, bruits de fond, bruits de moteurs, bribes de voix humaines, crissements de freins, sifflets, …) qui envahissent la bande son et les microphones. Les souffleurs jouent des notes tenues en suivant les indications de la partition de Craig Shepard et sont répartis à distance ou proches des micros créant un effet de perspective, de relief immergés/submergés dans la masse sonore environnementale qui finit par se fondre dans un bruit indéfini comme le naufrage des sens. La prise de son est ici un élément déterminant du projet tel qu'on peut l'entendre et met en relief les effets de crescendo – decrescendo tuilés et répartis dans la masse. Cette performance Trumpet City connut sa première sur les bords du Lac de Zürich en mars 2009 et fut réalisée à NYC pour la troisième et quatrième fois consécutives dans le cadre du New York City Dept of Transportation's Summer's Street avec le soutien de la Christ Church à Manhattan et sponsorisé par le Greater New York Arts Development Fund du NY Department of Cultural Affairs à Brooklyn. Bref, cette composition expérimentale exécutée à même la rue semble être une œuvre de salubrité publique permettant à des artistes – instrumentistes d'envahir l'espace collectif, son enregistrement démontre aussi l'aliénation de la vie urbaine au grand air tant notre ouïe est happée par le puissant bruit de fond de la pollution sonore. Inexhaustible Editions justifie encore sa réputation de label unique en son genre." / Jean-Michel Van Schouwburg, Orynx-improv'andsounds, 18 June 2021
"While living in Zurich, Shepard worked as a member of the Wandelweiser collective. Returning to New York in 2006, ha carried their ethos with him, leading walks designed for silent listening and organising concerts of music for contemplation. A trombonist by training, Shepard has a keen ear for brass sonorities. This release presents his installation Trumpet City as realised on two occasions, amid incessant hubbub on the streets of Manhattan and Brooklyn. 126 players participated in these carefully organised events, spaced out along sidewalks, apart from yet aware of other trumpeters in their vicinity. Each follows Shepard's score at their own chosen tempo. Long-tone melodies emerge, starting low and steadily rising in pitch over the course of an hour. Urban noise and incidental voices seem to become less random, to cohere mysteriously around this brass axis." / Julian Cowley, The Wire – Issue 451 (September 2021)
"For well over a decade we've been paying attention to the actions of Craig Shepard, a trumpeter, composer, tireless wayfarer and, especially, a keen analyst of any category of surrounding environment. Aside from the nice memory of a gracious personal message included in the promo copy of his book/CD On Foot (Edition Howeg) that I still keep close to me since 2011, Shepard is the type of artist who finds methods to engage our discernment through the subtlest complexities of a 'here-and-now' reality – everyday, urban, or bucolic, as you will – that is increasingly difficult for any sympathetic being to perceive nowadays.
It would be nearly impossible for an undocumented audience to imagine Trumpet City as anything other than a large group of trumpeters, dispersed around specific areas of Brooklyn and Manhattan (each of the two CDs in this set contains a recording occurred in those locations), improvising in the middle of chaotic traffic and typically talkative passers-by. Instead, this is a veritable composition where scored parts are handled by individual instrumentalists in a temporal mode left intentionally flexible by Shepard, following the acoustic input coming from the players nearest to them. 'The piece starts when one player at the end of the line begins to play. The next player starts when he can hear the first player' says the composer, which is particularly fascinating: a single human constituent effectively giving rise to a spreading signal phenomenon bordering on collective contemplation. In fact, this is the most crucial element of the entire project for yours truly, but every reader will interpret it as they see fit.
The listener at home will take in, almost subconsciously, gradually unfolding lines and notes held in steady overlapping for extended periods of time. They're seldom interspersed with brief outbursts and calls, as if to wake the creature up from an excessive reverie (which, believe it or not, can happen despite the agitation of some mercilessly honking drivers, probably overdosing on daily stress). However, those who authentically identify with sound – something Shepard is undoubtedly aware of – build a barrier against the negative impacts of forced social living while also creating a more dependable communication network at very subtle levels. In that regard, the 126 participants clearly had a one-of-a-kind experience. For us, the mere reviewers of a CD, to be able to at least partially recognize their focus in the midst of supposedly 'normal' life is essential for preserving the awareness of a purity that is inexorably evaporating."/ Massimo Ricci, The Squid's Ear, 12 January 2023
---
RADIO PLAYS ↓
· No Wave at Tilos Rádió, Budapest, 28 November 2021
· Glasni Novi Svet at ARS – 3. Program Radia Slovenija, Ljubljana, 2 February 2022