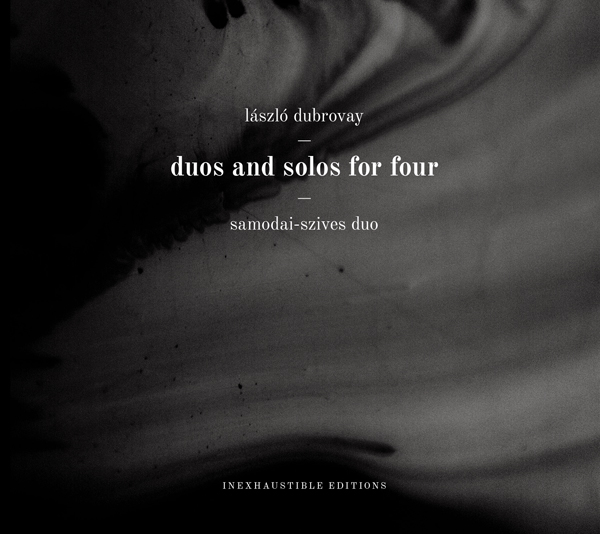 Three Movements For Trumpet And Percussion (2006)
1. Vivace (4:52)
2. Libero, Adagio (7:55)
3. Allegretto (5:42)
· Bence János Samodai: trumpet
· Márton Szives: percussion
Solo No. 15/B For Marimba (2021)
4. I. Allegro Con Fuoco (2:10)
5. II. Andante (4:00)
6. III. Moderato Scherzando (2:47)
7. Toccata (2:56)
· Márton Szives: marimba
Lament For Vibraphone (2021)
8. Lament For Vibraphone (4:05)
· Márton Szives: vibraphone
Solo No. 11 For Trumpet (1993)
9. Libero, Moderato (3:05)
10. Libero, Lento (3:42)
11. Allegro (4:49)
· Bence János Samodai: trumpet
Sei Duo (1967)
12. I. Largo (1:06)
13. II. Allegro (1:06)
14. III. Andante (1:41)
15. IV. Allegretto (0:40)
16. V. Aon Moto (1:43)
17. VI. Presto Possibile (2:36)
· Dávid Pintér: violin
· Márton Szives: percussion
Valse Triste et Tres Vite (1996)
18. Valse Triste (3:23)
19. Tres Vite (4:05)
· Bence János Samodai: trumpet
· György Klebniczki: piano
All music composed by László Dubrovay (Artisjus)
Performed by Samodai-Szives Duo (Bence János Samodai & Márton Szives), György Klebniczki & Dávid Pintér
Recorded by Zoltán Osváth at the Bartók Hall of Béla Bartók Secondary Music School in Békéscsaba, Hungary on 18-21/7/2022
Artistic direction by László Dubrovay
Mixed and mastered by Zoltán Osváth
Liner notes by László Juhász
Artworks by Katalin Matild Nagy
Photo by Fanni Boros
Graphic design by László Szakács
Produced by Samodai-Szives Duo & László Juhász
Supported by NKA
samodaiszivesduo.hu
This album is the second recording by the Samodai-Szives Duo that is dedicated to the colorful and innovative style of László Dubrovay. The members of the duo have been working with the composer for many years to master new techniques and musical challenges he set up for the new generations of musicians. On this album, they have teamed up with two guest musicians and recorded pieces that had never been captured in these forms.
Three Movements is one of a kind piece: it is one of the most difficult pieces for a trumpet-percussion duo, and demands extra versatility from both players. Regardless, this is the second recording of the piece from the duo.
Solo No. 15/B is a virtuoso and vibrant marimba piece written for Márton Szives, where he can show the ever-changing sound of the marimba.
Lament is again written for Szives, and originated from Solo 15/B's second movement; both the musician and the composer thought that this movement can live even on a vibraphone.
Solo No. 11 is the world's most challenging trumpet solo with techniques unique only to Dubrovay's style.
Sei Duo is a violin-percussion piece with perky little movements. It had been recorded previously only once, but never with the direction of the composer himself.
Valse Triste et Tres Vite is originally a virtuoso piece for harp and trumpet, and besides its original recording, it has never been archived again or with a piano.
László Juhász
March 2023
Released: April 2023 / first edition of 200 cds
Direct purchase: Bandcamp / Discogs
---
REVIEWS ↓
"As one who spent thirty-plus years with a trumpet and marimba/percussion duo, I am so happy to see this wonderful instrumental duo express to many different and wonderful sound-worlds, and know now that this combination is one of the bests. Bence János Samodai and Márton Szives both should be very proud of this body of work, which has taken enormous work and dedication. I know of no other chamber music group currently that is demonstrating the versatility of the marimba in such a setting.
The music of László Dubrovay showcases the Samodai-Szives Duo amazingly well. The variety and beauty of the music is remarkable, showing the versatility of these amazing musicians in different chamber and solo settings. Samodai-Szives Duo are a duo of incredible expression, communication and unity. This recording is amazing. If you enjoy contemporary music, you will love this CD." / Gordon Stout, 20 July 2023
---
RADIO PLAYS ↓
· The Wire: Adventures In Music And Sound at Resonance FM, London, 15 June 2023
· Ars nova at Bartók Rádió, Budapest, 10 July 2023
· Ars nova at Bartók Rádió, Budapest, 11 July 2023
· Nová hudba at Rádio Devín, RTVS – Rozhlas a televízia Slovenska, Bratislava, 3 September 2023