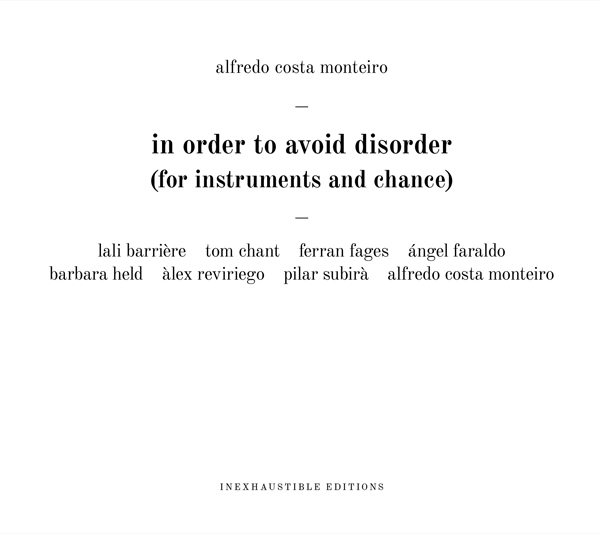 1. In Order To Avoid Disorder (For Instruments And Chance) (43:44)
· Lali Barrière: synthesizer
· Tom Chant: tenor and soprano saxophones
· Ferran Fages: acoustic guitar
· Ángel Faraldo: no-input mixing board
· Barbara Held: C and alto flutes
· Àlex Reviriego: double bass
· Pilar Subirà: percussion
· Alfredo Costa Monteiro: accordion
Composed by Alfredo Costa Monteiro
Performed by Lali Barrière, Tom Chant, Ferran Fages, Ángel Faraldo, Barbara Held, Àlex Reviriego, Pilar Subirà & Alfredo Costa Monteiro
Recorded by Pablo Miranda at L'Auditori de Barcelona as part of the Sampler Sèries in Barcelona, Spain on 17/1/2021
Edited, mixed and mastered by Alfredo Costa Monteiro at Mont Efímer, Barcelona
Sleeve notes and photos by Alfredo Costa Monteiro
Graphic design by László Szakács
Produced by László Juhász
Special thanks to Didier Aschour & Santi Barguñó
Commissioned by GMEA – Centre National de Création Musicale Albi-Tarn in 2018
Between order and disorder, chance slips in. Being the fundamental element of this composition, it serves as a guide for each performer and gives them the possibility to reinterpret each order as the idea of a sound to come.
With a score in the form of a card game or a fortune telling session and a music consisting of the combination of the key figure of three notes, the performers are placed in the space so as to evoke the apparent randomness of a constellation.
Chance is supposed to have no obvious cause, but here, it's precisely the same cause that allows sounds to appear: that of a simple card draw, offering the likelihood that each time a different incidence on reality and its structured nature is being experienced.
Alfredo Costa Monteiro
August 2021
Released: February 2022 / first edition of 300 cds
Direct purchase: Bandcamp / Discogs
---
REVIEWS ↓
---
RADIO PLAYS ↓