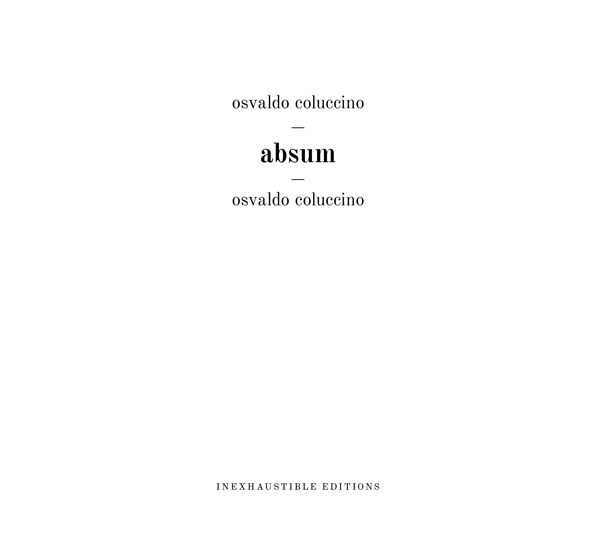 1. Absum I (3:19)
2. Absum II (5:51)
3. Absum III (4:04)
4. Absum IV (for blown objects and processing) (9:06)
5. Absum V (for two violins and magnetic tape) (10:35)
6. Absum VI (9:34)
"Absum" is a Latin word that has various meanings, including: 1) not being there, being absent, 2) being free, 3) abstaining, opposing, being alien, 4) differing, being different, 5) (regarding places) being distant, being far away, 6) being inferior.
· Osvaldo Coluccino: electronics, violin, objects
All music by Osvaldo Coluccino (SIAE)
Played, processed, recorded and mixed by Osvaldo Coluccino in Italy in 1999
Sleeve notes and photos by Osvaldo Coluccino
Graphic design by László Szakács
Produced by László Juhász
©+℗ 1999 Osvaldo Coluccino (SIAE), all music and recording copyright reserved
Presence of the work, absence of the author
So muffled, vapor escaping from an old coffer, so dusty and apparently, in some ways, timbrically "primordial" and yet elusive, the first three compositions of the album unfold. The following three increase the dynamism and openness of the timbre.
As always in my albums, also in Absum a journey takes place along the tracks that, joined together, make it up.
Even in this "raw" timbre paste, emblem of adherence to the roughness of life (or death), there is multiplicity and mutability: the carpet is perturbed by rivulets of inserts, wave shifts and degrees of spatial depth. The first three pieces have a more intimate, dark, slow, melancholy character; Absum IV presents asymmetrical weaves and movements mainly generated by altered puffs and airy doughs in three-dimensionality; Absum V bewitches us with metamorphic mixtures in space created by two violins that expressively and ineffably "sing" at the two opposite wings of the hall and in the distance, and by the related processings; Absum VI would seem a development of what was previously sown, it expresses a wealth of intent and then takes leave with a whirlwind closure, as if it were the final movement of a symphonic composition in which the themes or, as in our case, the stylistic elements, return, but in a fragmented way, mix each other, and then close the work in a dizzying way.
In the prevailing harmonic indeterminacy, or along this texture of the noise, it is also possible to detect a couple of "interference" according to traditional harmony, eg. in the opening of Absum II an interval of perfect fourth appears (B flat-E flat), and in the closing a repeated descending minor third (D flat-B flat). This same last interval (minor third) is repeated, but ascending, at the end of Absum III. Obviously this should not be interpreted as a retrograde (wink to the tonality) or manneristic event, but on the contrary as an emotional necessity.
"Absum", a Latin word that would mean: "despite all this, the self has nothing to do with it", "the self has 'gone out' for a moment", "there is something else that is more entitled to attend or to stay than the self"… As if to say, aiming for a sort of resistance to the centrality (arrogance) of the author and, consequently, for a certain ontological dissipation… in favor of the work itself.
It is an album that had its gestation in the mid-90s of the last century, then not so distant, in terms of aesthetics, from a certain charm of "early electronic" nor many years away from some rare high-profile electroacoustic research by classical composers in the mid-1980s. Two conservatory students, in the course of Analysis of Electroacoustic Music taught by Maestro Antonio Doro, in 2005 presented their diploma thesis on two of Absum's pieces.
Osvaldo Coluccino
Releases: March 2021 / first edition of 300 cds
Direct purchase: Bandcamp / Discogs
---
REVIEWS ↓
---
RADIO PLAYS ↓