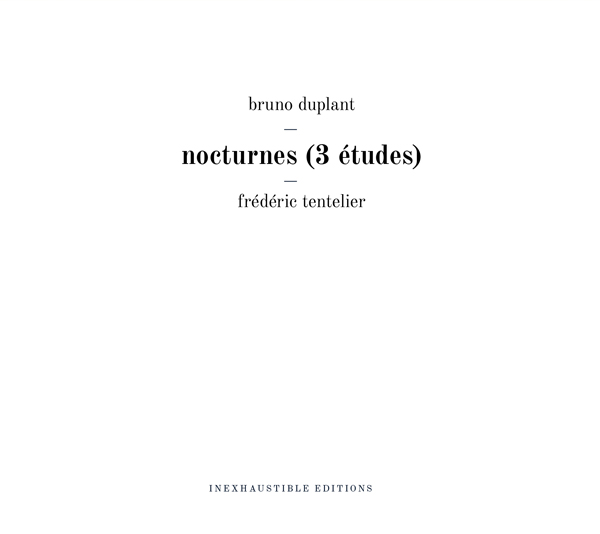 1. Premier Nocturne (19:00)
2. Second Nocturne (22:40)
3. Troisième Nocturne (16:20)
· Frédéric Tentelier: Fender Rhodes
Score composed by Bruno Duplant in July 2019
Realized by Frédéric Tentelier
Recorded by Frédéric Tentelier in July 2020
Edited, mixed and mastered by Bruno Duplant
Texts by Frédéric Tentelier
Photos by Bruno Duplant
Graphic design by László Szakács
Produced by László Juhász & Bruno Duplant
Released: August 2020 / first edition of 300 cds
Direct purchase: Bandcamp / Discogs
---
GALLERY ↓
---
REVIEWS ↓
"The Slovenian label Inexhaustible Editions continues to enrich its Composed Music Series, which together with Another Timbre's releases represents an excellent viaticum for discovering the Wandelweiser collective and the contemporary reductionist aesthetics in general. After the collaborative album with the duo of Taku Sugimoto and Minami Saeki (Étendues Silencieuses, 2019), today is presented another original and fascinating project by Bruno Duplant: an artist both generous and of a strongly inclusive nature, whose works are conceived in close dialogue with their designated performer, thus elevated to the role of co-author.
The familiarity and sensitivity of the instrumentalist involved in relation to the post-Cagean poetics are therefore decisive: but while the dynamics of indeterminacy and free interpretation came into play especially with the pianist Reinier Van Houdt (Lettres et Replis, Elsewhere, 2019), in these 'Nocturnes' entrusted to Frédéric Tentelier the focus shifts on maintaining an atmosphere of ambiguous suspension, taking full advantage of the distinctive timbre of the Fender Rhodes electric piano, at once caressing and surreal, reassuring and sinister.
The domestic recording, made in July 2020 by Tentelier himself, demonstrates how little is necessary to completely change the perception of a space, the more or less sharp imaginative quality that every sonic instance inevitably brings with it: a common professional studio and a more circumscribed microphonation would have rendered these three long and pensive études somewhat similar to the generative suites of the later Brian Eno; instead, a series of discreet microsounds – an impalpable and constant room tone, a stool creaking under the weight of its guest – give concreteness and humanity to the overall picture, a two-tone watercolor with a gentle chiaroscuro effect.
Tentelier's musical gesture feeds on darkness like the murkiest plots of Dostoevskij and Simenon, supports the interrogative phrases of the right hand with faint static tones, slowly consumes itself by means of its own 'harmonies against the day'. Duplant's nocturnes capture with subtle poignancy the intrinsic duality of the small hours, parentheses both of rest and of inexpressible restlessness, pages that only the half-asleep mind can fill." / Michele Palozzo, Esoteros, 20 September 2020
---
RADIO PLAYS ↓
· Weeding at Dublin Digital Radio, Dublin, 6 September 2020