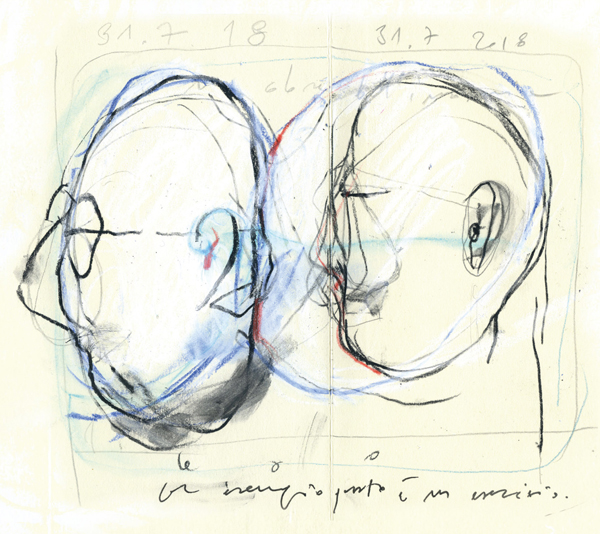 1. I (3:04)
2. II (2:41)
3. III (5:02)
4. IV (5:14)
5. V (2:31)
6. VI (5:27)
7. VII (3:42)
· Sebi Tramontana: trombone
· Guilherme Rodrigues: cello
All music by Sebi Tramontana & Guilherme Rodrigues
Recorded by Guilherme Rodrigues at Friedelstrasse 5 in Berlin, Germany on 22/2/2020
Mixed and mastered by Primož Bončina
Drawing by Sebi Tramontana (Unfolding Story, 2018)
Text by Han Jiae
Graphic design by László Szakács
Produced by László Juhász
Special thanks to Frank Gratkowski, Massimo Fiorito, Ernesto Rodrigues & Carlos Santos
They must be night animals
I mean, something like owls on the trees or lonely fox wandering around the city.
With no expectations, they find themselves out of darkness, putting all their efforts to go back to the night but too late. All they could do is to sympathise each other and finding ways to survive during the day time.
They go through the courses of adjustment, invention, and resistance but at the end, transcendence.
It was not only their first time to see and face the light, but also, after all, they had their first lunch in their whole life made by Han Jiae.
Released: June 2020 / first edition of 300 cds
Direct purchase: Bandcamp / Discogs
---
GALLERY ↓
---
REVIEWS ↓
"William H. Gass has a quote (which I will bungle in paraphrase here) about how the amount of time and effort it takes to comprehend a novel is proportional to the time and effort needed to compose it. When taken to the realm of music this principle doesn't quite hold as much weight, but it presents an interesting issue: is free improvisation disposable music? No matter how much practice goes into forming the skills necessary for it or how obtuse the theory is that binds it together, improvisation is inherently a 'tossed off' thing. As Steve Lacy put it: 'The difference between composition and improvisation is that in composition you have all the time you want to decide what to say in 15 seconds, while in improvisation you have 15 seconds.'
While I can sympathize with those who hear nothing but aimless noodling and pretentious ego in free improv, for me the clarity of musical identity and richness of expression in the form are unrivaled. In no other genre is the choice of how to approach each note given such fundamental importance, and nowhere else are the performers so naked before the audience, tasked as they are with complete responsibility for what they play. Han Jiae is as good of an album of contemporary free improvisation as I have heard. While staying firmly in a melodic mode they run the gamut of techniques and expressions, tastefully and thoughtfully showcasing the unique sonics of each instrument. Sebi Tramontana and Guilherme Rodrigues play with the kind of sympathetic rapport that improv duos thrive on, the kind that allows them to finely thread the needle between supporting the other players ideas and responding to them with original material. It's the kind of sound you can only get from free improvisation, and it's exactly why the style will never be disposable." / Samuel McLemore, Tone Glow, 29 June 2020
"Following which the fourth duo is something of a breath of fresh air. Sebi Tramontana on trombone and Guilherme Rodrigues on cello sat together in Berlin on 22 February of this year and recorded seven pieces of improvised music. There is no processing, no difficult acoustic approach, just an intense duet of just under thirty minutes, recorded directly to tape. You can even hear a bit of hiss when a piece is started and that adds to the intensity of the music. This direct approach gives a wonderfully vibrant character to the music. It bursts and it cracks under the pressure put on by both players. Sometimes it leans towards the world of free jazz, such as in 'II'; I enjoyed it when it all was a bit more abstract and working the surfaces of the instruments, along with bending strings and clipping tones. Maybe all a bit too free improvisation/jazz for my taste, but following the three more serious releases, this felt like a fresh breeze at the end." / Frans de Waard, Vital Weekly, 1 September 2020
"Le violoncelliste Guilherme Rodrigues et le tromboniste Sebi Tramontana se rencontrent ici, sans doute fortuitement, dans un magnifique échange – partage en sept actes numérotés de I à VII et assez courts (maximum 5'27"). Ils ont plaisir à altérer les sons de leurs instruments, étendant et transformant les possibilités sonores, en renouvelant continuellement les éléments de langages: lexique, grammaire, syntaxe, extrapolation dans une dimension ludique souveraine, la spontanéité du dialogue instantané. Si le violoncelliste fait vibrer le timbre et l'élasticité sonore de son instrument en y ajoutant des techniques alternatives à bon escient, le tromboniste excelle à chanter dans l'embouchure, vocalisant à l'instar des grands anciens (Tricky Sam Nanton, Lawrence Brown ou Roswell Rudd), ses inflexions vocales travaillent et zigzaguent autant que ses sourdines et que sa coulisse. Tout l'intérêt de cet enregistrement réside dans l'adaptation de chacun des deux protagonistes, deux artistes assez, voire très différents, dans la personnalité musicale de l'autre au fil d'improvisations spontanées ET millimétrées. Rien à jeter! Une forme de contraste chaleureux, humain, une connivence naturelle et joyeuse, débouche sur les même histoires (de I à VII) racontées en coups d'archets brefs, glissandi, cadences brisées, phonèmes instrumentaux, vibrations élégiaques, unissons informels, glossolalies du pavillon, bribes de mélodies, concassages du timbre, simplicité apparente des matériaux, bonne humeur sans clin d'œil, grattements de cordes, passage de l'air dans le tube, compressions de la colonne d'air, multiphoniques, col legno… Guilherme et Sebi ne se perdent pas dans des avalanches de sons, le moindre détail de leurs jeux contribuent à faire passer leur message d'un jour (22-02-2020). J'avais beaucoup apprécié le solo récent de Guilherme Rodrigues, 22 miniatures exquises au violoncelle, Cascata (Creative Sources). Et donc, Han Jiae est sans doute le plus beau et surtout le plus touchant des albums de ces deux improvisateurs. L'image de pochette reproduit un dessin – portrait des duettistes signé Tramontana. À écouter attentivement. Un vrai plaisir!" / Jean-Michel Van Schouwburg, Orynx-improv'andsounds, 22 September 2020
---
RADIO PLAYS ↓
· Something Else! at KBGA 89.9 FM, Missoula, 24 June 2020
· The Sound Projector Radio Show at Resonance FM, London, 13 November 2020