Alison Blunt / Elisabeth Harnik – Morphic Resonance And Other Habits Of Nature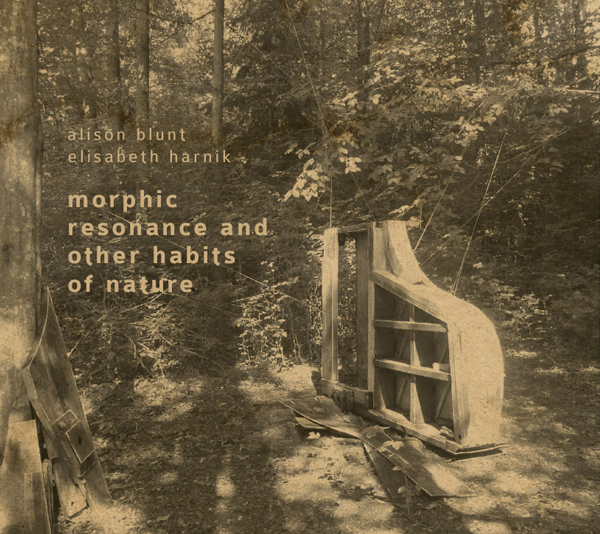 1. Threnody For Flora (6:27)
2. Wolf Lament (6:57)
3. Perilous Escape (4:38)
4. Truth And Mirages (4:53)
5. Playing For Dear Life (3:05)
6. A Bird Dreams Of Flying (3:36)
7. Advanced Warning (4:38)
8. Last Groovy Stone Grass Hop (3:54)
9. Alarm Of Skaftáreldur (4:25)
10. On Deck (4:15)
11. Eliomys Quirkyness Remembered (3:34)
· Alison Blunt: violin
· Elisabeth Harnik: piano
All music by Alison Blunt (PRS) & Elisabeth Harnik (AKM)
Recorded by Heimo Puschnigg at Kunsthaltestelle Streckhammerhaus, Austria on 13/11/2018
Mixed and mastered by Heimo Puschnigg
Liner notes by Pete Flood
Photos by Angelika Thon & Manfred Kummer ("Waldklavier", Pairidaeza 2017-18)
Graphic design by László Szakács
Produced by László Juhász
Grateful thanks to Pete Flood, Angelika Thon, Manfred Kummer, Heidi Richter & Heimo Puschnigg
All rights reserved, copyright held by composers
Released: December 2019 / first edition of 300 cds
Purchase: Bandcamp / Discogs
---
Reviews ↓
"Morphic Resonance And Other Habits Of Nature is released on Inexhaustible Editions. An album was recorded by Alison Blunt (violin) and Elisabeth Harnik (piano). Both musicians are talented and creative masters of international avant-garde jazz scene – improvisers have their own and original sound, interesting and evocative conception, splendid virtuosity and rich musical language. All music of both improvisers is completely based on avant-garde and experimental jazz, free improvisation and the main tendencies of contemporary academical music. American and European avant-garde jazz are gently combined together – all these elements make an effort to original, bright and inspiring sound.
The fundaments of the album are created by both improvisers. Each of them brings something new, fresh and exciting to the compositions. Morphic Resonance And Other Habits Of Nature is written for violin and piano. This interesting compilation is placed in open form and free improvisation – spontaneous solos, shrieky tunes, aggressive riffs, splendid virages and flowing passages are used here. Both improvisers are experimentating on various fields of musical language – research of strange timbres, expansion of technical abilities, creation of peculiar, new, experimental and home-made playing techniques, special effects and integration of modern ways of playing related to contemporary academical music. That makes an effort to innovative and colorful instrumental section based on universal instrumental kit. Both improvisers are using effective, innovative and inspiring ways of improvising to create an exclusive and bright sound. Violin melodies by Alison Blunt is the source of energy, drive and expression. It's also highly related to contemporary academical and experimental music with its elements beautifully integrated to free improvisation, open form and the basics of avant-garde jazz. Violinist has an effective, evocative and expressive playing manner – she's going through all kinds of moods. Silent, ambient, deep, solemn, harsh or heavy tunes, strange timbres and abstract improvisations changed by minimalistic samples, are suddenly rising to wild attacks, expressive melodies, tremendous perturbations, vibrant solos, flowing sparkling passages, gentle virages, soft animated pizzicatto, swingy glissando, abbreviations, sonoristic experiments, strange timbres and experiments of all kinds. The music is bright, universal and multi-layed – emotions, moods, dynamic solos or steady tunes, calm pieces, lyrical deep contemplations and silent pauses are gently brought together to one place. Alison Blunt makes a great combo of all these elements – she finds the best and suitable way to connect absolutely uncompairable, crossing and contrasting episodes and styles. Violin becomes the center of the melody line and the source of energy. Piano by Elisabeth Harnik is simply fantastic – it's vital, dynamic, filled with driving riffs, virageous passages, tiny ornaments, wild perturbations and radiant attacks. Elisabeth Harnik is a famous improviser of avant-garde jazz scene – her music is completely based on free improvisation, avant-garde and experimental jazz. Her improvisations are filled with contrasts – here angry exclamations tinged with hysteric riffs, full blasts of energy, driving terrific solos, expressive remarkable melodies accompagnied by transcendental passages or frantic persecuting sequences, are connected to lyrical pieces, soft and gentle pieces, sophisticated contemplations, dark, haunted or neglected episodes, silent pauses or relaxing and calm mood. All these elements are brought together and make an impressive, vital and bright sound." / Avant Scena, Avant Scena, 26 December 2019
"I will begin by inviting the reader to take an attentive look at the album's cover. The skeleton of a keyboard instrument – plus sparse pieces – left alone in a forest; wood components close to their origin before the inevitable transition towards another kind of molecular constitution, courtesy of the passing time in combination with the laws of nature. A moving image, completely in line with the symbolization of life processes causing egotistical despair in those still mired in an implausible quest for 'understanding'.
But then comes the music – for violin (Alison Blunt) and piano (Elisabeth Harnik) – which, as always, delivers us from the duties of definition, instead opening the door to our most congenial type of decoding. Eleven improvisations, peculiar gems touching on the inexpressible constituents of existence without materially affirming them. Transient events born from unpredictable gestures, nonetheless capable of delineating a frame of eternity where micro-rhythms and frail atonal melodies find a raison d'être. Musicians seeking an affinity with the surroundings, prepared for the recognition of an otherwise impossible to reach conscious perception.
The acoustic imagery conjured up by the duo can be extremely subtle. Having arrived at a point of near-disappearance, the sounds return only moments later to a degree of contrast useful enough for ears unacquainted with the secrets of a barely broken silence. Blunt and Harnik probe unique depths across dialogues rich in evocative overtones (as in Alarm Of Skaftáreldur, a personal favorite if it's ever possible to name one). Seemingly playful at times, the delicate complexity of their reciprocity binds together the purity of a spontaneous action with a vague intuition of what lies well beyond our intellectual scope. The unpretentiousness of these atypical resonances, whispered harmonics and merely hinted modulations is an authentic gift." / Massimo Ricci, Touching Extremes, 28 January 2020
---
Radio plays ↓
· No Wave at Tilos Rádió, Budapest, 5 January 2020
· No Wave at Tilos Rádió, Budapest, 12 January 2020