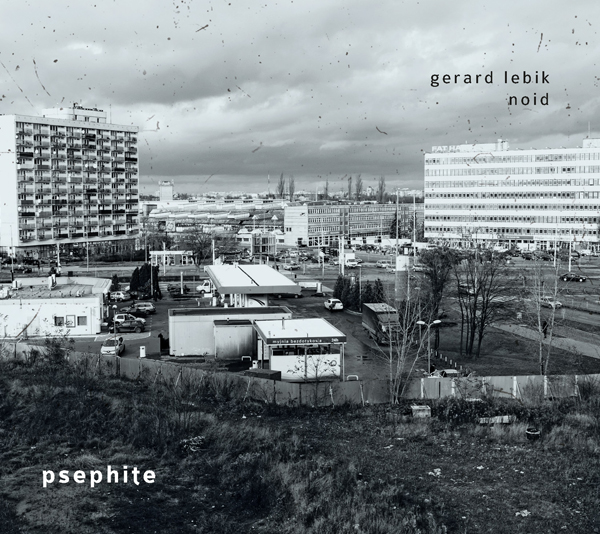 1. Basalt Pebbles (15:18)
2. Roof Slate (12:26)
3. Basalt Bloc (6:39)
4. Grass Pavers (13:42)
· Gerard Lebik: sound objects
· Noid: cello
All music by Gerard Lebik & Noid
Recorded by Gerard Lebik & Noid at BWA Studio Wrocław, Poland on 30/10/2013
Mixed by Gerard Lebik
Mastered by Noid
Two times ten keywords by Gerard Lebik & Noid
Photos by Noid & Piotr Damasiewicz
Graphic design by László Szakács
Produced by László Juhász
Special thanks to BWA Studio Wrocław
brute, cluster, compressed
drastic, feral, industrial
sparse, statement
tackling, unpredictable
combustion, cutting
desultory, flash, lax
psephite, raise, rambling
straight lines, vane
Released: June 2020 / first edition of 300 cds
Direct purchase: Bandcamp / Discogs
---
GALLERY ↓
---
REVIEWS ↓
"What is a note, if not a sound deprived of its phenomenal freedom? This assumption seems to have guided the entire history of 'spontaneous music', originated from the radical improvisation practices introduced in the sixties: an anti-academic approach which, thanks to the enthusiasm of its pioneers, first manifested itself in thunderous forms to then follow, a few decades later, the path of reduction, meaning a renewed attentiveness to the 'musical' dignity intrinsic to sound matter in its most elementary forms, revealed in its less evident qualities. So we re-enter the domain of oblique expression and instant composition, made with known instruments played as if they were manual work tools, and vice versa. Gerard Lebik and Arnold Haberl (aka Noid) put one's sound objects and the other's cello on the same level, proceeding with Psephite to coin a common (non)musical language from scratch.
The notes executed in the classical sense are, in fact, relatively few: even if among Noid's extended techniques sometimes arise recognizable tonalities, their rendition is uncertain, flimsy, dissonant (Basalt Pebbles) or just grotesquely decontextualized, like a foreign sound body (Basalt Bloc). A deliberate expressive renouncement that tends to go along with the electroacoustic inputs arranged by Lebik, who with its elaborate microphone systems seemingly gives voice to the latest energies contained in the discarded items of an industrial landfill: pulsations, intermittent clicks and feedbacks, mechanical buttons without response, ultrasonic frequencies that cut the stereo channels horizontally. Lastly there's a third hidden element: the surrounding space, the almost imperceptible rumble of the walls refracting the inscrutable dialogue of the performers, while also amplifying their silences within an invisible frame, yet clearly discernible from the emptiness that follows the album's playback.
Without asking questions nor offering answers, with the utmost seriousness the duo takes part in a post-apocalyptic concert for an unknown audience, more likely formed by inert objects rather than sentient beings: but the sense of absolute extraneousness to their hybrid phonetics ends up increasing one's will to observe their relational practice and understand its elusive logic. Seven years separate the recording and the release of these studio sessions in Wrocław – under the imprint of László Juhász's increasingly noteworthy Inexhaustible Editions – but the discreet aura of the gestures performed in the unrepeatable 'here and now' that they document extends to our present and renews itself in all its hermetic otherness." / Michele Palozzo, Esoteros, 26 July 2020
"The third duo is Gerard Lebik on sound objects and Noid on cello. I don't think I had heard of Noid before; Lebik was part of VeNN Circles and worked with David Maranha. The music on this disc, four pieces spanning some fifty minutes was already recorded in 2013, but for whatever reason, it took some time before it was released. If the two releases by Inexhaustible Editions contained difficult music, then this is the next level. Quite a bit in these four pieces deals with silence, silent space and short controlled bursts; in those cases, the cello is played with some seemingly uncontrolled violence. It disappears as suddenly as it arrived. Then we feel fall back onto something very quiet, in which the cello becomes an object, moving across the floor, rubbing it. And then there are the mysterious 'sound objects' from Lebik, of which I have no idea what they do; sometimes they seem to be very acoustic and stumble around, fall on the floor, but there is an electronic component to these sounds, making loud beeps, feedback moves and such. This is not very easy to access, partly due to the differences in volume, which can be loud or very quiet. As I said, this is some radical music. It might be uneasy music but that doesn't mean this is not enjoyable. I enjoyed this very much, but it took me some time to discover what I liked about." / Frans de Waard, Vital Weekly, 1 September 2020
"Three excellent, recent-ish releases from Inexhaustible Editions made there way to my abode last week. Annette Krebs / Jean-Luc Guionnet – Point Sèche. A spacious, imaginative duo from 2018 with Krebs at her Konstruktion #4 (an amalgamation of various items) and Guionnet on church organ. The latter used in extreme fashion, but not loudly or garishly, rather with subtle, smoky attenuations weaving among the welter of sounds generated by Krebs, very enveloping – some of my favorite work from either musicians in a while. Gerard Lebik / Noid – Psephite. A wide-ranging 2013 date with Lebik on sound objects and Noid on cello. Either player moving through steady-state forms, traditional playing and rambunctious, sharp-angled work. Disorienting and absorbing; good work, always surprising. Antoine Beuger – Dedekind Duos. Performed by Carl Ludwig Hübsch (on tuba) and Pierre-Yves Martel (on viola da gamba). A fuller-sounding piece than much of Antoine's work, this pair also takes things more aggressively than typically heard in a Wandelweiser performance, the tuba robust and deep, the viola da gamba forthrightly grainy and richly complex. Interesting to hear this approach and I find the result intriguing and often exciting. All three well worth hearing." / Brian Olewnick, Facebook, 5 September 2020
"Psephite brings together Polish sax player and sound artist Gerard Lebik, playing here on sound objects, and cellist and sound artist Noid (one of the developers of the ppooll software), playing here only on the cello. This meeting was recorded at BWA Studio Wrocław, Poland in October 2013.
Both Lebik and Noid share a similar interest in our perception of sound waves in time and in space. The four pieces are titled after sediments. All offer minimalist and almost silent, disorienting, and fragmented interactions between the acoustic cello of Noid, sporadically played in a conventional manner and more often as a sound generator with an extended array of bowing techniques, and the unworldly and mundane electronic sounds and noises of Lebik. Psephite is an uncompromising work of abstract sound art, developed patiently with unpredictable courses, and sketching dissonant, desolate, and alienated sonic landscapes, with rare and brief glimpses of musical comfort. Enigmatic and weird but also quite expressive (in its own unsettling interpretation of the concept of expressiveness)." / Eyal Hareuveni, The Free Jazz Collective, 31 January 2021
---
RADIO PLAYS ↓
· Godbeni Imperializem at Radio Študent, Ljubljana, 2 June 2020
· Something Else! at KBGA 89.9 FM, Missoula, 24 June 2020
· Sanatorium Dźwięku at Radio Kapitał, Warszawa, 23 July 2020
· The Sound Projector Radio Show at Resonance FM, London, 13 November 2020
· No Wave at Tilos Rádió, Budapest, 31 January 2021