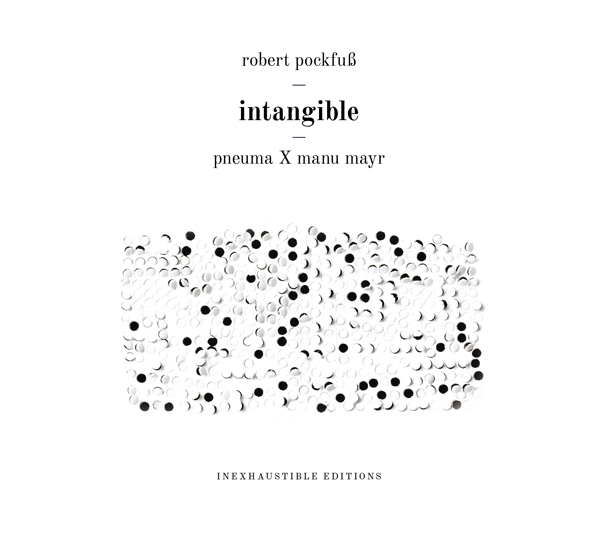 1. I (7:52)
2. II (3:23)
3. III (5:23)
4. IV (4:41)
5. V (3:29)
6. VI (3:40)
7. VII (5:41)
8. VIII (4:12)
9. IX (2:48)
10. X (5:45)
· Christine Gnigler: recorder, vocals
· Jakob Gnigler: tenor saxophone
· Bernhard Höchtel: synth
· Robert Pockfuß: electric guitar
· Manu Mayr: electric bass, effects
Composed by Robert Pockfuß
Performed by Pneuma (Christine Gnigler, Jakob Gnigler, Bernhard Höchtel & Robert Pockfuß) with Manu Mayr
Recorded live by Manu Mayr at NeuLe Studios, Vienna, Austria on 22/11/2020
Mixed by Manu Mayr at NeuLe Studios
Mastered by Alexander Yannilos
Text by Robert Pockfuß
Cover artworks by Inga Hehn
Graphic design by László Szakács
Produced by László Juhász
About Intangible
The imagination of static yet moving sound fields was the driving force while composing this piece. I wanted to create something that stays in its place, not wanting to go anywhere: something radiating calmness, resting within itself but still abstractly pulsating, having an intangible rhythmic motor.
The composition is divided into 10 parts. Each part has its own way of moving that mostly stays the same but can also accelerate, expand or come to an abrupt halt. Once set into motion some become blurry, some spiky, some shiver or mumble, some meander or are even prayer like. For that to occur all instruments play very similar repeating structures and melt into one swaying pattern creating an ambient but very active atmosphere, with a multitude of ever changing rhythms.
About Pneuma
Pneuma is dedicated to contemporary composed and improvised music. The pieces of their repertoire are located between rhythmic acrobatics and meticulous sound research, between benevolent perfectionism and latently provocative nonconformity. For the Intangible project they teamed up with long time friend and companion Manu Mayr on electric bass and effects.
Released: May 2022 / first edition of 300 cds
Direct purchase: Bandcamp / Discogs
---
REVIEWS ↓
"Intangible is completely different. It is an intricate, chamber 10-part composition of guitarist Robert Pockfuß for the contemporary Pneuma quartet, augmented by bassist Manu Mayr. It is the debut album of the ensemble, and here Gnigler is part of the ensemble. This composition imagines static yet moving sound fields, and Pockfuß says that he wanted to create something that stays in its place, not wanting to go anywhere, 'something radiating calmness, resting within itself but still abstractly pulsating, having an intangible rhythmic motor'. Each of the ten parts offers its distinct way of elusive, suspended moving, with a focus on the collective sound of the augmented Pneuma. All instruments keep repeating the same minimalist, rhythmic patterns, but with a multitude of ever-changing rhythms, until all melt into an almost transparent ambiance. Within this highly disciplined and provocative approach, the quintet varies its approach and sometimes emphasizes the celestial vocals of Christine Gnigler, blurry or noisy textures, or even with hymn-like colors." / Eyal Hareuveni, Salt Peanuts*, 26 June 2022
---
RADIO PLAYS ↓