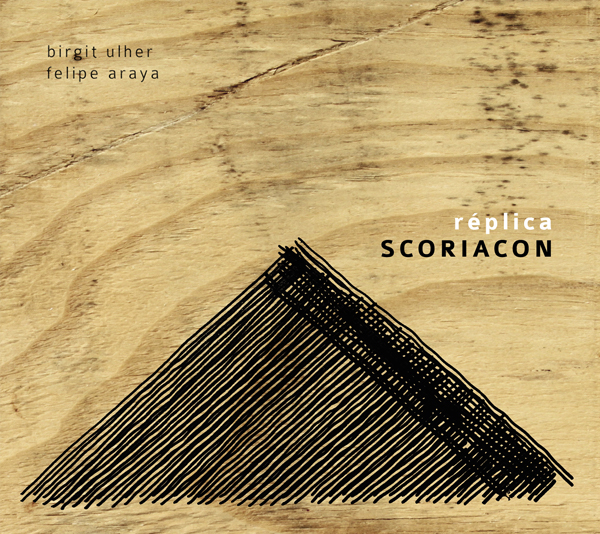 1. Riolita (3:27)
2. Andesita (8:36)
3. Fonolita (6:24)
4. Nefelinita (10:31)
5. Traquita (5:14)
6. Dacita (6:03)
· Birgit Ulher: trumpet, radio, mini sound stations, speaker, objects
· Felipe Araya: peruvian cajón, objects
All music by Birgit Ulher (GEMA) & Felipe Araya
Recorded by Gunnar Lettow on 15/06/2015 at Ulher's flat
Mixed and mastered by Boris Vogeler
Photos by Felipe Araya
Graphic design by László Szakács
Thanks to Gunnar Lettow, Boris Vogeler, László Juhász
Released: October 2016 / first edition of 100 hand-numbered copies
Purchase: Bandcamp / Discogs
---
Reviews ↓
"Enregistré à Hamburg, le duo Réplica de Birgit Uhler et Felipe Araya incarne la recherche sonique hors des sentiers battus: Scoriacon. Six titres en espagnol latino américain: Riolita, Andesita, Fonolita, Nefelinita etc. Si la trompette toute spéciale de Birgit Uhler avec ses timbres inusités et ses techniques alternatives, ses sourdines improbables (des plaques de cuivre, par exemple), son jeu introspectif internalisant des pulsations débridées fait partie du décor de l'avant-garde improvisée (c'est une artiste unique), Felipe Araya semble sortir de nulle part avec son cajon, un instrument de percussion en bois en forme de caisse, évidée et munie d'orifices. Étrange, il le caresse, le gratte, le frotte, promène des objets insolites sur sa surface, bruissant comme un soundfield-paysage sonore. Un son moite et granuleux où comme un étrange oiseau des îles, sa partenaire vient glouglouter dans d'imaginaires et exubérantes fleurs tropicales. Tout à fait dans la ligne des projets de Birgit Ulher avec Gino Robair, Heinz Metzger, etc… J'avoue avoir un faible pour l'art de l'intransigeante Birgit, car son jeu austère intègre le sens de la pulsation et l'intuition d'un vrai sens musical et est contextualisé dans le déroulement de la performance au point qu'il quitte sa coquille hermétique pour révéler les intentions et l'émotion de la musicienne. Si on retrouve régulièrement des traces de cet artiste, qu'on qualifierait trop malheureusement de minimaliste ou de réductionniste, sur de nombreuses scènes et auprès d'artistes universelles comme la chanteuse Ute Wassermann, c'est qu'elle a su cristalliser des intuitions relatives à la nature de son instrument et à l'utopie lower-case pour créer un univers sonore incontournable. Birgit Ulher dure et durera sur la scène, car elle est convaincante pour un non-initié. Tout comme Derek Bailey pour la guitare, et à l'instar de son collègue le trompettiste Franz Hautzinger, Birgit Uhler a su découvrir et exploiter avec le plus grand succès les possibilités sonores insoupçonnées et les réalités acoustiques cachées de son instrument en explorant minutieusement les combinatoires de positions des pistons, d'intensités de souffle, d'effets de timbre et ses sourdines atypiques. Avec Felipe Araya et ses bruissements, elle va encore plus loin dans sa recherche et l'aboutissement de sa démarche. Ce duo vient de tourner en Amérique Latine en novembre. À suivre!" / Jean-Michel Van Schouwburg, Orynx-improv'andsounds, 1 December 2016
"Если не ошибаюсь, дуэт сложился несколько лет назад во время первых поездок немецкой трубачки Биргит Ульхер (Birgit Ulher) в Латинскую и Центральную Америку: меня чрезвычайно радует тот факт, что все чаще на сцене появляются составы музыкантов из разных частей земного шара, за которыми необходимо следить. Все мы привыкли к европейцам, японцам, американцам и даже южнокорейцам, а вот «рынок» южной части Америки знаком мало. Биргит представляет работу с чилийским музыкантом Фелипе Арайя (Felipe Araya), который играет на необычном для импрова инструменте — кахоне. Он использует его как стол, на котором играет пальцами или задействует различные объекты. Фелипе — музыкант опытный. Он играет на ударных и перкуссионных инструментах с 1994-го года, а в 2007-м его основным интересом стала современная импровизационная музыка. Ульхер, как обычно, использует трубу, радио, мини-динамики и объекты. Альбом издан словенско-венгерским лейблом Inexhaustible Editions, для которого этот альбом стал пятым релизом.
Альбом записан в 2015-м году на квартире Биргит в Гамбурге, однако, ничего не говорит о том, что это не студия: альбом звучит просто отлично! Оба инструмента находились близко к микрофонам, а значит слушатель может уловить малейшие детали тех или иных оттенков звука. Различные шорохи, поскрябывания, поглаживания у Арайи и чистые тона, шум и перкуссивные элементы у Ульхер: вот далеко не полный набор этих самых оттенков, которыми владеет дуэт. Надо заметить, что это не «тихушная» импровизация, а что-то средней громкости, когда тебе не нужно прислушиваться к едва слышимым событиям, но и когда нет необходимости убавлять громкость, замечая излишнее давление со стороны музыки. Кажется, я уже упоминал слово «естественность» в обзорах к музыке Ульхер. Точно то же впечатление у меня сложилось и сейчас: плавно и последовательно сменяются треки, характер и природа звуков имеют основу, с которой не сворачивают. Стоит сказать, что данный вид импрова уже вполне устоялся в сознании многих музыкантов, появились свои правила и рамки. Кто-то скажет, что это скучно и предсказуемо, но ведь это музыка, а не игра с неожиданностями ради развлечения ума. Если люди играют отлично, то какие могут быть претензии?
Крепкая работа, которая является прекрасным добавлением к обширной дискографии Ульхер и стала одним из первых «больших» релизов для Арайи." / Илья Белоруков, Syg.ma, 4 January 2017
"Recently Birgit Ulher pointed out that I often spelled her name wrong; but I was in good company as more people made the same mistake of writing Uhler instead of Ulher. I hopefully will do better in the future. Ulher plays trumpet, radio, mini sound stations, speaker and objects and on the 15th of June 2015 she recorded with Felipe Araya in her own flat six pieces; Araya played Peruvian Cajon and objects. The Cajon is nominally a box-shaped percussion instrument originally from Peru, played by slapping the front or rear faces (generally thin plywood) with the hands, fingers, or sometimes various implements such as brushes, mallets, or sticks – as Wiki explains. Knowing Ulher one expects and gets a disc of improvised music but if one expects to get something that uses a lot of rhythm, one is perhaps a little disappointed. The Cajon as played by Araya is the subject of objects being played on the surface; shuffling, vibrating, hitting (a bit), and with a wide variety of objects. I have no idea what these objects would be, but they surely have different surfaces, so the colour of the sound changes throughout these six pieces. Ulher plays her trumpet like she perhaps always does, which is as an object, rather than as an instrument. She adds her other instruments on the spot, and all of this gives a very vibrant interplay between these two players. Mostly careful but it never goes down to being very quiet, or beyond that. The rattling of objects in combination with some of the more sustaining scratches, peeps and feedback are delivered with much passion and flair. This is music from the world of improvisation but is very well at home in that of electro-acoustic music, and altogether an excellent release." / Frans de Waard, Vital Weekly, 6 February 2017
"In 1977 percussionists Paul Lytton and Paul Lovens entitled a duo album Was It Me?. It's a classic free improvisor's question, and there are many moments on Scoriacon when it seems applicable to the duo Réplica's close interaction and converging voices.
Yet Réplica bring together Hamburg based trumpeter Birgit Ulher and Chilean percussionist Felipe Araya, instrumentalists with ostensibly distinct functions and identities. Listen to trumpeter Don Cherry's duets with drummer Ed Blackwell and you hear consistently lucid definition with no real scope for uncertainty about who is playing what. But Ulher has redefined the trumpet's character and, as she pointed out to me in The Wire 264, her unconventional techniques tend to be "too quiet to play in a free jazz context". Listening to Réplica you hear threshold articulations, shadowy collusion and mutating whispers.
Araya is credited, enigmatically, with use of objects, but the focus of his attention is a cajón, a box-like Afro-Peruvian drum. As in Ulher's earlier encounter with Gino Robair on 2005's Sputter, the role of percussion is textural rather than rhythmic. Araya rubs and scrapes, rattles and rumbles. Ulher also gets an objects credit, and she integrates sporadic emissions from a radio and mini sound stations into her horn's burbling flow, warbling multiphonics and plosive pops. Ulher's reconception of her trumpet as a sound source is arguably no less radical than Derek Bailey's approach to the guitar. She too has stripped away conventions of expressiveness that have come to seem natural for the instrument.
Still Ulher clearly recognises, as Bailey did, the need for improvising company that continues to stretch as well as to complement her stylistically and technically personalised voice. Scoriacon may not quite achieve the telepathic affinities of Radio Tweet, last year's superb collaboration with vocalist Ute Wassermann, but Araya draws Ulher beneficially into a different order of syntactic relationships than those she encountered while improvising with another breath based performer. This trumpet and percussion alliance may lack the free jazz brilliancy of Cherry and Blackwell but in their own quiet and cryptic way Ulher and Araya are no less enthralling." / Julian Cowley, The Wire – Issue 398 (April 2017)
---
Radio plays ↓
· Godbeni Imperializem at Radio Študent, Ljubljana, 8 December 2016
· The Sound Projector Radio Show at Resonance FM, London, 6 January 2017
· No Wave at Tilos Rádió, Budapest, 26 March 2017